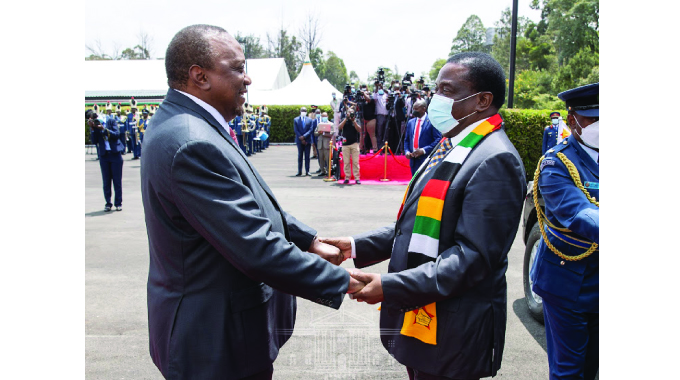 The Sunday News
Judith Phiri, Business Reporter
THE Kenya Export Promotion and Branding Agency has said the Zimbabwe International Trade Fair (ZITF) 2022 has given them an opportunity to identify and expand markets for their products in Zimbabwe.
According to the United Nations COMTRADE database on international trade, Kenya exports to Zimbabwe stood at US$27.18 million in 2021.
Kenya was among foreign exhibitors that participated in this year's show representing 13 foreign countries.
The other participating countries included Belarus, Botswana, Indonesia, Japan, Nigeria, Malawi, Mozambique, South Africa, Switzerland, Tanzania, United Kingdom and Zambia.
Kenya Ministry of Trade and Cooperative's International Trade deputy director, Mr Boniface Makau said the ZITF was an opportunity for them to see what they can export to Zimbabwe and import to Kenya as well.
"We have been participating at ZITF every year, except in 2020 when it was cancelled due to the Covid-19 pandemic measures and regulations.
If you recall last year the judges assessed all the stands and the Kenyan Embassy was the second best. So, this is a chance to give traders an opportunity to showcase what they produce and a learning ground to know what other countries are producing.
"It gave us an opportunity to see what we can sell to Zimbabwe and what they can buy from us," he said while showcasing some of the products on display at the Kenya Export Promotion and Branding Agency stand.
Some of the products on display included a variety of Kenyan products ranging from clothes, cooking oils, dairy products, their beers, macadamia, cashew nuts, Kenyan teas and coffees, among others.
He said the 62nd edition of the ZITF was also another platform for networking which provided them with vast opportunities for bilateral business arrangements, not only with Zimbabwe but also with other foreign countries.
"We need to empower our people back home (Kenya) in terms of doable business arrangements we would have gotten through some of the business forums that were held on the sidelines of the ZITF.
"We got an appreciation of what is it that is stopping certain country A from trading with country B. So those are the things that we want to clean up so that we do clean business for the benefit of our citizens," said Mr Makau.
He said a lot was learnt from the ZITF and they encouraged other countries to attend such events, while they got the opportunity to invite others to visit Kenya for the same reasons.
Mr Makau said not only were they displaying products but they also provided information about some of their services and best facilities/ institutions.
"We have some of the good hospitals in the Comesa region such as the Nairobi Hospital and even some of the best universities. In terms of financial services Kenya has a robust financial services sector, with our Kenya Commercial Bank recently launching and opening a branch in DRC."
Meanwhile, Zimbabwe and Kenya have agreed to eliminate trade tariffs to enhance trade between the two countries while the existing free visa regime will see visitors getting passes on points of entry for a duration of 90 days.
This is part of a raft of agreements that were reached during President Mnangagwa's State visit to Kenya recently in March preceded by the Zimbabwe-Kenya Joint Permanent Commission on Co-operation (JPCC).
The JPCC saw the two countries signing seven Memorandums of Understanding (MoUs) that are designed to strengthen relations between the two countries.
In a communique published after the State visit, which was signed by Minister of Foreign Affairs and International Trade Ambassador Fredrick Shava and the Kenyan Cabinet Minister for Foreign Affairs, Ambassador Raychelle Omamo, the two countries committed to supporting each other on various platforms.