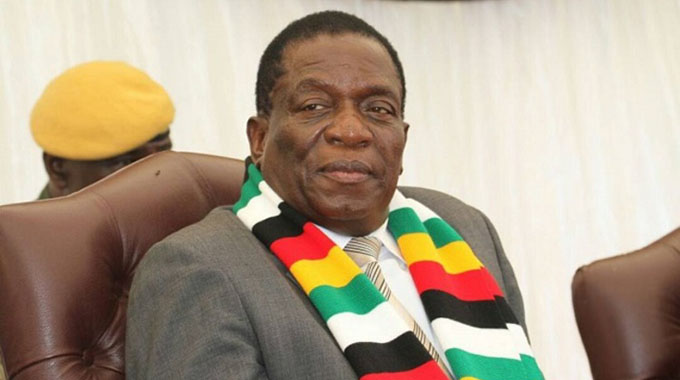 The Sunday News
The National Development Strategy (NDS1), which was launched in Harare last week by President Mnangagwa is the successor to the Transitional Stabilisation Programme (TSP) and is the first five-year Medium Term Plan aimed at realising the country's Vision 2030.
The strategy will build on the success realised by TSP as well as addressing its challenges, particularly the unfinished efforts in the area of macroeconomic stability and growth. The NDS1 outlines the policies, legal and institutional reforms and the programmes and projects that will be implemented over the five-year period, 2021 –2025,to achieve accelerated, high, inclusive, broad based and sustainable economic growth as well as socio-economic transformation and development.
The NDS1 framework is organised around the key interconnected pillars that are aimed at achieving sustainable economic development namely, macroeconomic stability and financial re-engagement, inclusive growth, governance, infrastructure and utilities, social development in line with vision 2030 agenda.
These key pillars will enable economic growth through policy interventions related increased investments in agriculture, mining, manufacturing, tourism, energy, public infrastructure investments, improved service delivery in education and health as well as communication. Following are key pillars of the country's economic blueprint.
Economic Growth Strategies
The objective of the NDS1 Macroeconomic Frameworks to sustain a positive high economic growth of above 5% will be driven by agriculture, mining, electricity and manufacturing. This is also based on swift implementation of structural reforms aimed at removing bottlenecks and improving economic efficiency.
Food Security and Nutrition
NDSI seeks to improve food self-sufficiency and to retain the regional breadbasket status. The main objective is to increase food self-sufficiency from the current level of 45% to 100% and reduce food insecurity from the current peak of 59% in 2020 to less than 10% by 2025. 55. In agriculture, fundamental to the projected economic growth is resolving the security of land tenure and adoption of climate smart agriculture strategies. NDS1 will facilitate access of affordable agricultural financing through various strategies namely, establishing a Land Bank, strengthening the use of Public-Private Partnerships, as well as reviewing contract farming provisions to cover all crops and livestock.
Value Chain and Structural Transformation
The process of structural change is central to stimulating inclusive and sustained growth pattern that enable more people to benefit from higher productivity levels in more advanced segments of the economy. During NDS1 period (2021–2025), the broad objective is to rebalance the economy through: Gradually improving the contribution of the secondary sector to GDP from 11.7% (year) to 15% by 2025; and increasing the contribution of value added exports to total exports from 9% in 2020 to 20% by 2025.57.Broadly, the key link to structural transformation is value addition and beneficiation of agriculture and mining products. Priority will be to develop and strengthen already existing value chains, decentralization of industrialisation initiatives and consistent stable policy environment.
Infrastructure and Utilities
During NDS1, efficient infrastructure delivery will be key in the realisation of National Priorities and overall socio-economic development. This will involve restoring of basic infrastructure services including expansion in critical areas mainly targeting key sectors of energy, transport, water and sanitation, Information and Communication Technology and Housing.
Digital Economy
Information Communication Technologies (ICTs), are key enablers for economic development, hence its entrenchment across all national development strategies is indispensable, for universal access by 2030 to be attained. In order to ensure improved access and usage of ICTs during the Strategy Period, Government targets to increase in internet penetration rate from 59.1% in 2020 to 75.42%by 2025. Further, mobile penetration rate is also expected to be increased to 100% by 2025.
Housing Delivery
Given the huge housing backlog and the inadequacies of attendant infrastructure, Government will, through NDS1, prioritise citizens' access to affordable and quality settlements in urban and rural areas. Delivery of affordable and quality settlements is a shared responsibility with various contributing development partners in the public, private and non-governmental sector as well as local communities, and international Development Partners, hence Government will create an enabling environment for all parties to work together for an effective housing delivery.
Governance
The overarching objective of Governance Priority Area during the Strategy Period is to improve Public Service Delivery; Justice Service Delivery; and uphold National Unity, Peace and Reconciliation as the building blocks for achieving equitable and sustainable National Development. NDS1 will also seek to improve on public sector transparency and accountability, improved disaster risk management, enhanced ease of doing business, improved justice delivery and rule of law and reduction in corruption among others.
Social Protection
During NDS1, Government will ensure availability of social protection for all. This will entail undertaking measures that will improve access to inclusive social protection. The objective of NDS1 is to reduce extreme poverty and improve access to basic social services in all its forms and dimensions, including narrowing inequalities. Vulnerable groups need to be protected and these include persons with disabilities, children and the elderly. These need to be cared for and accordingly NDS1 will ensure these groups are taken care of through new interventions and modification of existing programmes.
Image Building, International Engagement and Re-Engagement
The advent of the Second Republic ushered in a strategic opportunity to improve the country's image and international relations. The good image and improved international relations will provide leverage for the country's quest for competitiveness to attract investment, promote economic growth and national wealth within the environment of globalization. A robust information management and dissemination, making Zimbabwe an attractive investment destination and building a highly competitive national brand bolstered by the implementation of the engagement and re-engagement drive in support of a shift from traditional to economic diplomacy, has huge potential to improve the country's image, strengthen relations with the international community and boost the economy in line with Vision 2030.
Devolution
During the Strategy Period, the Government seeks to maintain at least 5% allocation for devolution, to ensure full implementation of the following strategies: Formulation and enactment of the necessary legislative frameworks; Improve ease of doing business in Provinces; and Promote investment to attract local and foreign investment.
Fiscal
On the fiscal front, the Government thrust is to maintain prudence by keeping deficits under control and reducing public debt to below 70% of GDP. This will be anchored on strengthening revenue collection effort through reviewing and streamlining tax incentives, taxing the informal sector, upgrading of the audit and tax services of large taxpayers as well as linking the Zimbabwe Revenue Authority (ZIMRA) systems with other agencies. On the expenditure side, the strategy will be to strictly adhere to the approved budget and stop accumulation of arrears, review subsidy policy to ensure better targeting, fast track State Enterprises and Parastatals reforms and full roll out of the Public Finance Management System to ensure full utilisation.69.With regards to managing public debt, the strategy will be to ensure zero recourse to Central Bank borrowing and listing of Bonds on the Securities Exchange Market. External debt arrears clearance will be determined by progress made on engagement and re-engagement with the international community.
Money and Financial Sector
The Government seeks to consolidate the monetary and financial stability with the goal of gradually reducing inflation to single digit levels by 2025. This will be based on implementation of a monetary targeting framework and stabilisation of the exchange rate system. Further, monetary stability will be underpinned by strengthening coordination between Ministry of Finance and Economic Development and the Reserve Bank of Zimbabwe. On the financial sector side, stability will be enhanced through adoption of prudential supervisory policy framework that includes implementation of Financial Sustainability Standards, re-enforcing capital adequacy levels, full implementation Basel III accord, and operationalisation of Collateral Registry.
External Sector
On the external front, the objective is to maintain a sustainable current balance of not more that -3% of GDP and gradually build foreign reserves to around three months of import cover by 2025. 73. This will be underpinned by promotion of export products and export markets diversification as well as implementation of reforms aimed at streamlining and simplifying exporting and importing procedures, eliminating customs delays and improving customs administration.