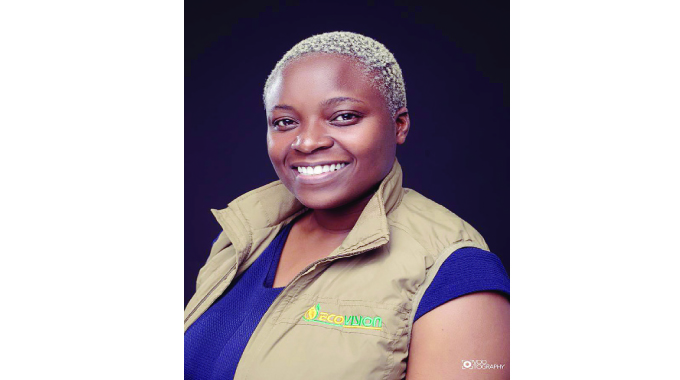 The Sunday News
Charity Chikara, Business Reporter
A 32-year-old woman from Kezi, who runs a water engineering company, is thriving in the male dominated industry after taking up the challenge of ensuring the provision of clean water in the country.
Ms Cleopatra Ngwenya is the chief executive officer and founder of Ecovision, a water engineering company based in Bulawayo. She said her company serves local authorities, several municipalities, hospitals, hotels, among others.
She highlighted that her main agenda was to ensure the provision of safe and clean water to the people.
"We serve all industries as long as there is water, we do treatment of water for local authorities, municipalities, hospitals and hotels.
In Zimbabwe there are a lot of areas with high mineral contents in water, so one of our main aims is to make sure that the water is drinkable by reducing the mineral contents," said Ms Ngwenya.
Ms Ngwenya said she is a woman whose rural background did not affect her dreams. She has taken the male dominated industry by storm and defied all odds motivated by zeal to eradicate water borne diseases.
"I am a rural girl, I like calling myself that because I was born and bred in Kezi. I am a water engineer, I recently attained my Masters Degree in Water Engineering with Henan University of technology in China.
Basically what motivated me to specialise in water engineering was my passion in environmental issues, specifically water issues and the need to help in the provision of safe water in order to eradicate cholera.
We have been hit by cholera a lot of times, Zimbabwe is in fact among the cholera red zones in the World. We aim to eradicate cholera through the provision of clean and safe water," she said. Ms Ngwenya also stressed the importance of practicing water recycling.
"We do water recycling, we want to save water as much as possible, we are looking at climate change as we also need to be the champions in climate change.
We are making sure that we save every drop as every drop counts. We reserve underground water and discourage the use of drinkable water for irrigation purposes," she said.
Championing business in the vastly male dominated industry has been a challenge for Ms Ngwenya as patriarchal beliefs seemed to be her main stumbling block.
She, however, highlighted that the business strived anyway and she now has gained ground in terms of clientele.
"I am the leader of a water engineering organisation, this is mostly a male dominated industry, breaking the barriers has not been easy neither has it been easy to penetrate the market.
Some people are still very much patriarchal, people who believe that certain jobs are not meant for women. I however, believe that jobs are meant for those who are determined and have the ability to do them. It's therefore difficult for those people to accept solutions coming from a woman.
"I am also grateful to the Zimbabwe International Trade Fair, it gave some of us a voice. I was with my team at ZITF, we gained ground in terms of exposure.
We won an award, a silver medal for being the best mining and engineering exhibitor in the whole country. This has been a great experience for me as a business woman, more so because we were first time exhibitors.
This has opened doors that we didn't even know existed, helped us to meet new people and potential clients," she said. Ms Ngwenya urged young women anticipating to venture into business to never give up and put in extra efforts.
"To young women, not only in Matabeleland but the whole of Zimbabwe message is that determination, hard work and trust in God will get you anywhere you want.
We often want to hide behind the idea that no one is helping me, I have no funding etc. We need to discard the dependency syndrome," she said.
Ms Ngwenya said even though the Covid-19 pandemic disrupted business they had like most people learnt the co-existing essence of doing business.