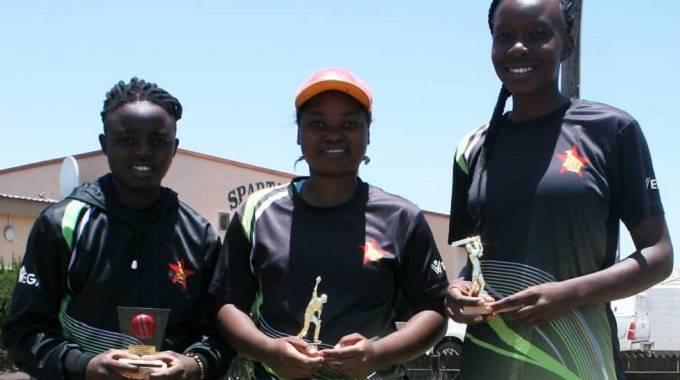 The Sunday News
Mehluli Sibanda, Senior Sports Reporter
ZIMBABWE national women cricket team captain, Mary-Anne Musonda is excited after their five nil whitewash of Namibia in the Namib Desert T20 Women Challenge, which concluded last Thursday at Sparta United Club in Walvis Bay.
It was Musonda's first series as captain following her appointment as Lady Chevrons skipper last month. She has described winning the series against Namibia as something heartening seeing that they last played against international opposition in May last year.
"It's an encouraging feeling. Coming into this series I believed we could win all five games. I tried to channel my energies towards this goal.
I'm pleased it worked out as I believed it would,'' Musonda said.
On what was vital in accomplishing this goal, the all rounder pointed to sticking to the game plan and carrying it out.
"The key to this was sticking to the team plan. The execution of this plan really came together in each game. The ladies applied themselves and played their roles,'' she said.
Prior to leaving for Namibia, Musonda said they had to be honest with each other in order to stimulate the whole team to deliver.
"It took a lot of honest and sincere conversations in the changing rooms to get the team motivated to perform at their best. It became easier as we approached the end of the training camp."
With the International Cricket Council Twenty20 World Cup Africa Qualifier coming up in May, the Zimbabwean women have to come up with a solution to beat Uganda, a team that has troubled them since 2017. It was the Ugandans who beat Zimbabwe by three wickets in ICC Women World T20 Africa Qualifier in Windhoek, in September 2017.
Uganda also defeated Zimbabwe by seven runs in the final of the Women's T20 Challenge held in Harare in May last year. "I think just sticking to our game plan will put us in a winning position. Everyone in the team has to come to the party and give their best. That game (Uganda game) will be more of a mental game more than it is just a normal game considering our previous loss,'' Musonda said.
Lady Chevrons coach, Adam Chifo gave all the praise to his players for putting up a polished display top clean sweep Namibia. "It's always a good feeling to win 5-0, credit must go to the ladies for putting up a good all round performance in all departments. Our top four batters really applied themselves in every innings and our bowling was very good both the seamers and spinners bowled in partnership,'' Chifo said.
According to Chifo, the players will be given a one- week break prior to playing matches against Under-16 boys in Harare every Saturday from 26 January.
"The girls have a week's break when we return home. From the 26th of this month we will be playing under 16 boys team in Harare two T20s every Saturday plus a batting a camp, followed by a bowling camp in February. We also have a fitness programme that they will be doing in their respective provinces,'' outlined Chifo.
Plans are also being made for the South Africa-based duo of Chiedza Mzembi and Lorraine Tshuma as well as other players domiciled in the neighbouring country to be part of the camps so that the country gets to field their best team in the Qualifier.
Chifo is convinced that they are a better team than Uganda in all aspects of the game, all they need is to have an optimistic approach when they clash with the East Africans.
"We are better than Uganda in all departments, we just have to keep a positive attitude when we play them. Both losses were due to pressure which wasn't there really but we can overcome that when we meet them this time,'' he said.
The Zimbabwean women, who have been in Namibia since 3 January returned home last night.
— @Mdawini_29