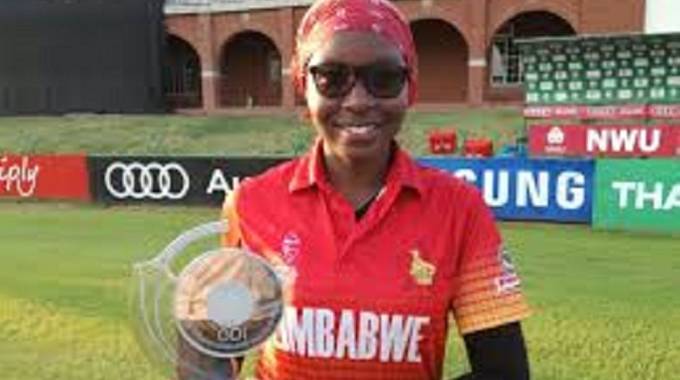 The Sunday News
Mehluli Sibanda, Senior Sports Reporter
FOLLOWING an announcement by the International Cricket Council that tournaments planned from July have not yet been called off, the Zimbabwe national women's cricket team is geared up for the World Cup Qualifier to be held in Sri Lanka.
Lady Chevrons skipper, Mary-Anne Musonda said with the ICC announcing that the qualifier had not yet been cancelled means that they have to stay geared up.
"We are relying on communications from the ICC. I read an article where they mentioned that our qualifiers in July remain unchanged until further notice. With that, we will prepare as if nothing will change. It is better to be prepared than not to be prepared come the qualifiers in July. Not easy but we can only control what we can,'' Musonda said.
The Lady Chevrons recently had a camp in Bulawayo where 22 players got to train together for over a month. For Musonda, the time the team was together was well-composed as they got time to get used to the 50 over format of the game.
"I found the camp well-balanced. Our road to the ICC World Cup qualifiers in July meant we were left with a little over four months to prepare when we started camp on 15 February. Considering we last played as a team in May 2019, there was a lot of work we needed to do.
Six weeks in camp gave us a decent start for the 50 over format preps."
The Lady Chevrons got time to work on their skills as well as fitness with practice matches organised for them against age group boys.
Musonda found the deliberations motivating to an extent that they left the players with a lot to ponder about.
"I found that most of our team discussions were stimulating. This left us with a lot to think about, and you know once you start thinking about your game linking it with such discussions, your performance becomes more expressive and freer," said Musonda.
One of the last activities was a team bonding trip to the Matobo National Park, something that was an enjoyable experience for the skipper.
"Off the field well, Bulawayo is such cool place. We had a chance of visiting the Matopos. I really enjoyed it there."
Coach Adam Chifo said he managed to cover the bulk of what they intended to do during the camp.
"We did cover almost everything we had intended to during the camp. The first two weeks of camp focused on mental, physical and technical skills of the game which we covered very well. The third to fifth week on top of the other skills was more on game sense and tactical awareness and I'm glad the ladies did extremely well,'' Chifo said.
Due to restrictions brought about by the coronavirus, the Lady Chevrons had to end their camp a few days early, with the players sent home.
For a team that last played international cricket in May last year, the Lady Chevrons are eager to represent the country again.
@Mdawini_29