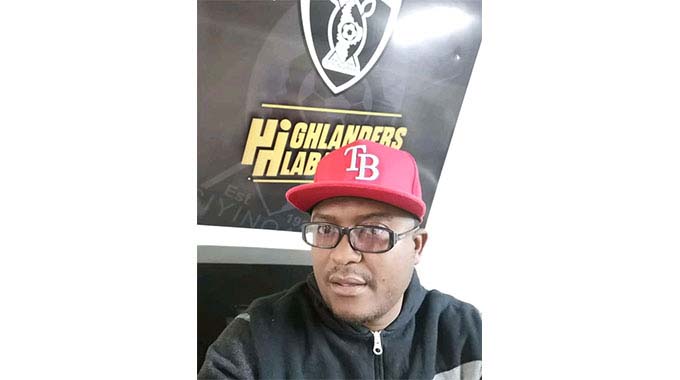 The Sunday News
Mehluli Sibanda, Senior Sports Reporter
HIGHLANDERS aspiring candidate for the post of treasurer, Xolisani Moyo has declared that he is nobody's candidate as he planned on contesting for the post in 2019.
In the leaked but not so clear audio, Highlanders chairman Johnfat Sibanda is heard discussing the candidacy for the post of treasurer insinuating that the Bosso leader of the executive wants one of the candidates, Busani Mthombeni to lose.
The impression has been created that Moyo is Sibanda's preferred candidate for the treasurer's post since the Highlanders chairman is concerned about having someone not based in the country occupying such a crucial position at the club.
Mthombeni is based in South Africa and is relocating to Shangani as he launches a bid to oversee the club's finances.
In the audio, Sibanda suggests that the aspiring candidate has to lose because it will be difficult to run the club with someone not based in Bulawayo since the treasurer is a signatory to the Bosso accounts. Sibanda has not denied it was his voice in the leaked audio recording and insists that he was expressing his opinion.
Moyo, who is now labelled "Johnfat's candidate" has, however, hit back, proffering that he already had ambitions to become Highlanders treasurer before he even knew the Bosso chairman.
"How am I be his candidate? I have already been preparing myself for that post since 2019 before Johnfat became Chair. I had ambitions before I even knew him,'' said Moyo.
The 43-year-old Moyo, a commercial executive at United Refineries said he has been a Highlanders member since 2007 with his inspiration being former Highlanders treasurer, Odiel Nkomo.
"I bought my life membership card in 2007, by then I was an accountant at United Refineries. Odiel Nkomo was finance manager at United Refineries and was treasurer of Highlanders at that time. We used to go together at Clubhouse and he inspired me, I told him that my time would come for me to take over that post,'' Moyo said.
Moyo is the treasurer for Arsenal Bosso fans who have donated towards fixing the generator, fixing the cold room, putting up a merchandise display window at Clubhouse and a gate to the Clubhouse among other things.
"I pledge to improve every financial and control system at Highlanders, any institution that doesn't strive to improve begins to die. To further buttress the vision of the club we should increase the frequency of appraising members of the financial situation at the club rather than wait for AGMs,'' Moyo promised to the electorate.
Mthombeni said his love for Highlanders and the fact that he is what has made him stand for the post of treasurer.
"Love for Bosso, possession of the required skills and knowledge to contribute to the progress of the club, and experience gained within the Highlanders system while working on different club projects,'' said Mthombeni.
He declined to comment on Sibanda's leaked audio but clarified that he will be running the family business in Shangani where he will be mostly domiciled in Zimbabwe.
"I will not comment on issues that are not part of my campaign focus. Like a horse I am running my race, horses have blinkers so they don't look at other horses, but to run their own race. I run the family farming business in Shangani where I will be predominately based. I also have a financial service business based in Johannesburg,'' Mthombeni said.
With no other candidates emerging, it means the positions of treasurer and vice-chairman will have two contestants each when elections are held on 6 February. Sifiso Siziba and Babongile Sikhonjwa are the candidates who have declared their interest in the position of vice- chairman. Modern Ngwenya, the Highlanders VC is stepping down after serving two consecutive terms together with treasurer, Donald Ndebele. (See also Sunday Life P3). — Follow on Twitter @Mdawini_29.