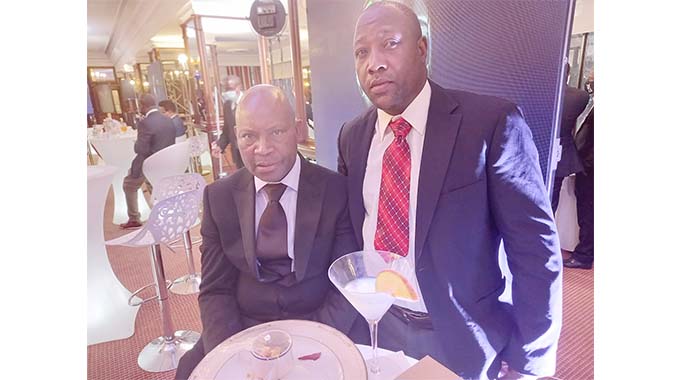 The Sunday News
Lovemore Dube
MADINDA Ndlovu who last week received a donation of a house worth US$90 000 from Sakunda Holdings believes the gesture is a challenge to the entertainment and sporting ecosystem.
Entertainers in this country have for long been forgotten the day they have their last dance on the pitch or stage. But the energy giant made a big statement about honouring heroes. A few have managed to return as coaches or administrators as opportunities at any given time are few.
In Zimbabwe sport is not much of a rewarding career unless one breaks into high paying leagues. Sakunda took the entire nation by surprise with a first when they presented Madinda's contemporary Moses Chunga with a house of similar value while George Shaya's wife Agnes will get a house worth US$120 000.  Shaya is considered the best Zimbabwean footballer ever while Chunga and Ndlovu were the most outstanding stars for Dynamos and Highlanders in the 1981-1990 decade.
In an interview on Friday the Highlanders legend who set the scene alight with his quicksilver pace, creativity, dribbling and goals for country and club, said he was grateful to Sakunda for the gesture and hoped that the nation would from now onwards consider the welfare of yesteryear greats.
He said their failure in life after playing could not be blamed on them entirely as they had not been prepared for life after the game.
"I am so grateful to Sakunda for the surprise big gift on an evening Zimbabwe football won big when the two biggest clubs Dynamos and Highlanders FC received a lifeline. True to the gesture to the two clubs, the pleasant surprise is a lifetime investment for me and my family, an inspiration to young players that their efforts will not go unnoticed if they are disciplined and work hard and serve club and country with distinction.
"To my brother Moses and Mama Mrs Shaya, I am so happy for you too. The Sakunda gesture should indeed be a landmark feature in recognising service to the game, our teams and country as the trio of us. I thank Sakunda a thousand times for the house," said Madinda as he responded to an estate agent's call to view another property in Bulawayo's leafy suburbs.
Madinda said he was taken by surprise as he had gone to Harare just as a celebrity invitee.
"I was really taken by surprise to an extent that I shed a tear when I heard we were receiving houses with Moses. I thought I was just one of those invited to grace the occasion where our famous two clubs were receiving a lifeline in the form of sponsorship not knowing I will walk away happier than I arrived when it was announced we are getting houses.
"Sakunda have given value to legend status and I am happy to be considered as such along Moses and the Mastermind. It's sad that Shaya could not celebrate this present next Sunday on his birthday and the launch of his documentary The Mastermind One George Shaya," said Ndlovu.
Shaya died a month ago. Ndlovu said the entertainment industry in the country needed a new paradigm shift with players prepared for life after their playing days.
"Life skills and education is what we need to see invested in so that we are not a laughing stock when we retire. We can't all be team coaches and managers, there is need for assistance so that we are assimilated into life and other jobs," said the legendary winger considered Highlanders' best player of the 1980s.
Madinda inherited the load of delivering for Bosso from the late Tymon Mabaleka who retired from the game in the early 1980s. If Mabaleka was the outstanding player for Tshilamoya in the 1970s, there is no doubt that for Dynamos it belonged to Shaya who won four of his Soccer Star of the Year accolades in that decade with the first in 1969.
Chunga inherited the iconic hero status from Shaya after dazzling defences at will in the country's elite league. Born on 2 May 1965 Madinda's star shone early in 1980 earning a national Under-20 call-up and was to be with the team for four years before also featuring in the Olympic side and senior national team.
Madinda took time to talk about his time with national teams. In the 1980 first national Under-20 side he teamed up with talented youngsters like Takesure Maverengo, Sebastian Chikwature, Thomas Sandringham, John Phiri, Weekly Mwale, Lucky Dube, Machona Sibanda, David Zulu, Shaky Nyathi, Tapiwa Mudyambanje, David Mwanza, John Phiri, Collin Semwayo, Japhet M'parutsa, Felix Ntuthu, Boy Ndlovu, Stanley Ndunduma, Edward Katsvere, Ephraim Dzimbiri, James Takavada and Joel Shambo.
There were other additions to this list in the form of Godfrey Paradza, Bennedict Moyo and Pernell Mckop.
"I had a great time with a competitive lot that was hungry to prove itself to Africa and the world soon after Independence and admission to international football following years of isolation," said Madinda.
The tearaway winger earned his full international with the senior national team in 1981. He rubbed shoulders in the national team with Sunday Chidzambwa, his late young brother Misheck, Majid Dhana, Charles Sibanda, Hamid Dhana, Ephert Lungu, Archie Chimutanda, Max Tshuma, Shaky Tauro, Frank Mkanga, Raphael Phiri, David George, Robert Godoka, Tymon Mabaleka, Rodrick Simwanza, Stephen Chuma and Douglas Mloyi.
"The guys who had shone during the Rhodesian era still had sting in them, they were very great footballers. I consider myself lucky to have played with such class and I learnt a lot from them as a young player," said the star who garnered over 80 caps at all levels for his country.
Madinda speaks fondly of the rivalry at club level of players from Caps, Dynamos, Highlanders, Rio Tinto and Zimbabwe Saints back then.
"Those were the big clubs and once in the national team we were one and wanted to do well for our country and selves as individuals," said the legendary winger who also had a two year stint in Germany 1989-91.
He reckons his best times were in the 1984-88 era when his age-mates came off time and dominated the Warriors.
"Those were exciting times. We were basically guys that had risen through together to dominate at our clubs and national scene. I enjoyed the competition for places, every position had more that three players who deserved a call-up, for instance on the right wing there was not only Boy Ndlovu, Ndunduma, Moses Chunga or myself there were others like Mike Abrahams in the race. We worked hard everyday, be it club or national team because we knew of the competition that was lurking or was within," said Madinda.
The player who has a number of children named after him in the 1980s stayed on to play with another generation where his brothers were prominent, Adam and Peter. He was part of the famed Dream Team that had Zimbabwe spellbound with expectation of international glory.
"We had a coach who was ambitious. Renhard Fabisch made us believe it was possible to play with the best in the world and Africa. We carried ourselves as such and results were coming with all the motivation and support from corporates and fans," said Madinda.
The Dream Team had players like Claudius Zviripayi, Vitalis Takawira, Mercedes Sibanda, Willard Khumalo, Shepherd Muradzikwa, Norman Mapeza, Isaac Riyano, Agent Sawu, Bruce Grobbelaar, Karim Abdul, Ephraim Chawanda, Melusi Nkiwane, Max Makanza-Lunga, Carlos Max, John Phiri, Benjamin Nkonjera, Alois Bunjira and Rahman Gumbo.
The legend who won all silverware in the country and appeared on the priced Soccer Star of the Year five times, said he was always motivated for service for his country.
"It was not about money but the honour of doing duty for Zimbabwe that pushed me always," said Madinda who had a dream move to Sheffield Wednesday in the English First Division shattered by some minor problem at Highlanders.
Ndlovu also thanked Highlanders for giving him and his brothers a platform to play and shine. All three are revered figures at Amahlolanyama. But his recognition by Sakunda while still living, he said, is a moment to savour as many of his departed teammates have received rave reviews at death.