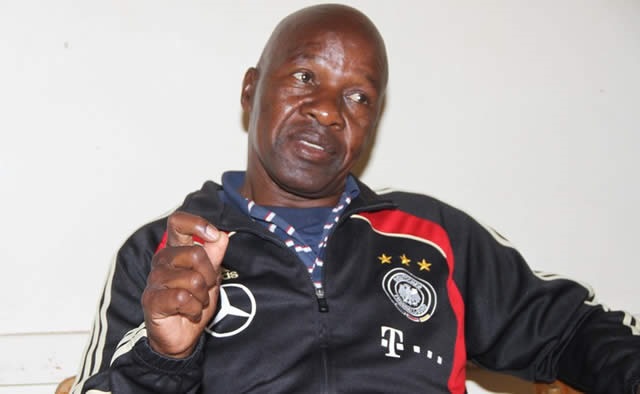 The Sunday News
Lovemore Dube
Sunday Life this week tracked two Bulawayo and Zimbabwe football legends Barry Daka and Gibson Homela to talk about the 1976 Chibuku Trophy Cup final, a derby played in Harare.
Both teams failed to convince the John Madzima administration that Bulawayo and Barbourfields Stadium were good enough for the big game. The Rhodesia National Football League had insisted on the ceremonial home of Zimbabwe football — Rufaro Stadium playing host to such a big duel.
It was not the first time as in the 1960s Mhangura and Zimbabwe Saints had clashed in another cup final, pitting two sides from outside the capital.
There was to be another cup final — the 1973 Chibuku Trophy final won 3-0 over Mhangura by Highlanders FC. It is regarded as the day Highlanders became men in local football after decades in the lower echelons of the game dominating the Bulawayo Amateur (African) Football Association (Bafa) events.
They had gone there as underdogs barely eight months after their promotion from Second Division following their relegation in 1971 when they finished the race in the elite league with just seven points, their worst returns in any league race since Second World War.
In the interview about the 1976 Chibuku Trophy Final, Daka who was a key member of Highlanders whom he helped in 1970 get promoted to the national league before being poached by Hwange (Wankie), said complacency was to blame for their 4-0 whitewash by Chikwata.
Saints had prior to that won some small tournaments like the Nyore Nyore Cup and were rank outsiders going into the cup final in Harare. Highlanders were buoyed on by their 1973 Chibuku win and three regional league titles 1973-75 and national runner-up berths.
It was expected to be just that usual dosage of the city derby where Highlanders would have it their way against their city neighbours.
For a Highlanders side with Ananias Dube, Zenzo Dabengwa, Stanley Nyika, Tennyson Mloyi, Ephraim Moloi, Douglas Mloyi, Peter Zimuto, Itai Chieza, Isaac Mafaro and Josiah Nxumalo the result appeared a forgone conclusion. Daka says the hype was overwhelming as thousands of fans from Bulawayo travelled by road and rail for the clash.
"The game was the talk of town. We were favourites judging from what our achievements were as Highlanders compared to Saints who were yet to win anyone of the major tournaments on offer. Complacency must have crept into our camp as we already considered ourselves champions.
"Saints did their homework and planned to win and they camped for almost a week in Harare acclimatising for the match. We remained glued to our Bulawayo believing it would just be one of those matches we would roll over our opponents. Both clubs tried to have the match played in Bulawayo but the authorities would not budge," said Daka.
The Bosso, Olympics and Wankie legend who also went on to win more medals as a coach with Highlanders after rejoining them from the Olympics excursion, said the inclusion of Homela in the starting line-up was another ace Saints had.
"Gibson Homela by then was one of the most feared strikers who had rejoined them while in camp in Harare. It appears they set up camp there to reduce his traveling time and to accommodate the game as well. He had been playing in the UK and when he left he was a top striker feared by defenders countrywide and his inclusion was a masterstroke. It revamped Saints as they fought with verve," said Daka.
Daka conceded they were overrun by Chikwata in all departments.
"They were camped in Kambuzuma's YMCA and close to it there is a hill which they must have trained at for fitness as they were just super fit. We could not just match them and we were left wandering what had hit us as this was a Super Fit Zimbabwe Saints," said Daka.
The former Bosso and Young Warriors gaffer, a Cosafa Castle Cup winner with Misheck Chidzambwa and Homela in 2000, said decades later while coaching with the late Max Tshuma at Railstars, the former Chikwata midfield kingpin confided that they had worked extra hard on their fitness while in Harare.
Homela added his weight to the story: "Herbert Ushewokunze, one of the Saints officials had sounded me out after they qualified for the final if I could be available. Apparently despite being away for a year for my studies, the club had registered me.
I was worried because I would not have trained with the guys so they hatched a plan that they camp in Harare where we would train together for close to a week. This would not entail time being lost in traveling as well. It coincided with my intended trip back home.
So I told the club that I was available and all bookings were made for me to join the guys in the capital where we were booked in Kambuzuma at some youth centre."
Homela said over 52 buses had ferried fans from Bulawayo and many had found seats in the trains and another big number by private cars.
"It was typical big cup final fever. As we read newspapers in the build up to the game, Saints were underdogs. That stalked the ambers for us and thrust us into fighting mood. It helped us focus and say we want to tear the form book and beat Highlanders," said Homeboy, who played for Oldham Athletic in the British lower leagues while studying in the UK.
The legend, who has also held several jobs at Zifa and Zimbabwe Saints and is a coaching instructor, said Bosso coach Silas Ndlovu's boasted that Highlanders could even beat Zimbabwe Saints in Heaven in reference to Rufaro being the venue.
"You could not get better motivation than that," quipped Homela.
Homela said as they sat down with the boys to discuss the match with some players very young that he had not played with prior to his departure, they were like enraged buffalo bulls and took their fight to the turf.
Homela lived up to expectations finding the target in the 4-0 win with other goals coming from left winger Andrew Kadengu and Max "Shaluza" Tshuma who went on to play for Moroka Swallows with the likes of the late club legends Andries "Six Mabone" Maseko, Onias Musana Douglas Maneto and Shadreck Ngwenya.
Homela said he had asked the coaches to field him in a position the club felt they were weaker going into the Highlanders match.
"I asked the club to field me where they felt very weak as I was quite a versatile player. It is a game that thrust Saints into the reckoning and thereafter we became a formidable force, winning several pieces of silverware," said Homela.
Saints then had a number of players like Isaac Banda, Chita Antonio, Tshuma, Kadengu, Emmanuel Sibanda, Simon Supiya with most of the younger generation playing around the experience and intelligence of William Sibanda, one of the country's most gifted midfielders.
Sadly Saints is no longer there and Highlanders yesterday played in the quarter-finals of the Chibuku Super Cup introduced four years ago. The Bulawayo giants clashed with Harare City, a club that knocked them out of the tournament in 2014 and last year but the silverware clubs take home is no longer the iconic trophy last won by Chikwata 2-1 over Bosso in 1988.
It was pure artistic genius of the top order and many fans from the yesteryear era wish it could replace the present one.
* Last week in our story about Stars lost to the struggle we erroneously reported that Rono Mhlanga, Godfrey Muringayi, Francis Muringayi and Chris Mukahanana were Zanla cadres, in fact they were Zipra. Only Ediza Mutare joined Zanla.