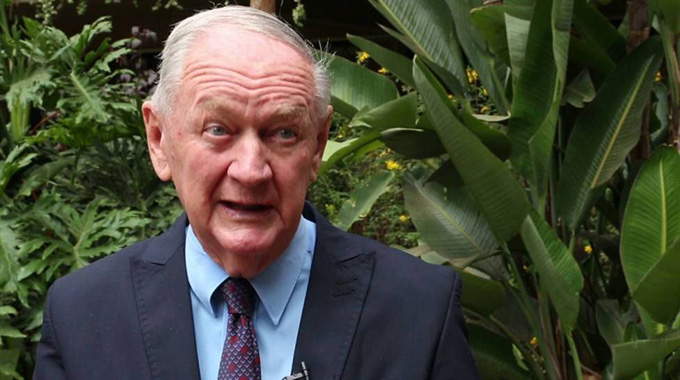 The Sunday News
Njabulo Bhebe, Business Reporter
ECONOMISTS have challenged the Government to channel more weight in taxing players in the mining sector and border posts to ease pressure on workers.
Speaking during the eighth edition of online Economic Development Outlook which focused on "Taxation in the New Normal for Economic Growth" last week, economist and Reserve Bank of Zimbabwe advisor Mr Eddie Cross said there was a need for the Government to equally spread taxation to all sectors of the economy as it will bring relief to sectors being crippled by taxes.
"The formal sector is excessively over taxed, the degree of taxation levied in Zimbabwe is among the highest in the world on people in formal employment and formal business, even in the region our corporate taxes are high there is a need to significantly reduce the taxes. The average formal sector employee is paying very high proportions of their salary as tax and this is not only damaging our consumption but also damaging to our ability to retain skills and keep the right people in the right jobs.
"There is a need for Government to increase taxes at border posts because virtually $6 billion worth of imports every year are raising only about five percent in the form of customs duties, as a result there is a need to increase customs duties three to five times to what they are currently. We should also impose a fixed tariff of at least 25 percent on finished goods coming into the country both to support our local industries and raise additional funds that will generate about $1,6 million which would make a significant contribution into the budget," said Mr Cross.
He also emphasised on the need for the Government to adopt a keen approach on the transaction tax which every citizen would be equally subjected to and plays a major role in boosting the country's revenue generation.
"Transaction tax as a primary means of raising funds for Government is efficient because it taxes the entire economy, in 12 months up to the end of July we handled $1 trillion in RTGS via the electronic transaction system thus a very considerable sum of money, it indicates our real Gross Domestic Product (GDP) is substantially larger than our official GDP. The efficiency of the transaction tax involves only 30 tax payers, the taxes collected everyday can be remitted to the treasury within hours of being collected making it very efficient," he added.
Speaking during the same event economist and former Minister of Economic Planning and Investment Promotion Mr Tapiwa Mashakada said it was time the Government started harnessing more revenue in the form of taxes from the mining sector as it was the backbone of the country's economy.
"There is a need to increase taxes in the mining sector. Players in the sector are reaping huge profits from our natural resources, for example if you look at platinum mining we export it in raw form and yet there are at least six by-products that come out of platinum. So we are exporting jobs and losing revenue and yet we are not able to collect enough in terms of royalties and corporate tax in the mining sector. The mining sector is now a game changer so we should be able to leverage on it to generate enough resources for our fiscals and yet it remains as one of the sectors which has not been affected by Covid-19," he said.
The meeting comes at a time when the country is in the midst of adjusting into the new normal and economists are optimistic that the budget will reveal a significant stance in terms of taxation.