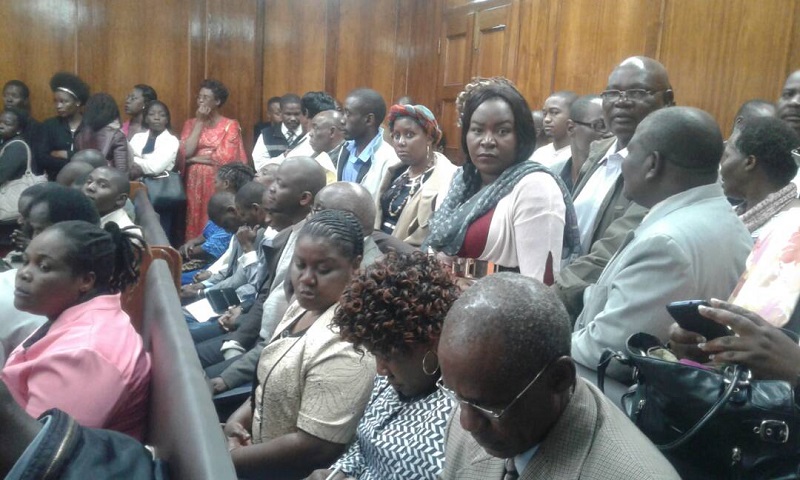 The Sunday News
DASHBOARD: MGCINI MADLELA
Reports suggest there is a possibility of over 10 Presidential candidates being announced
Most nomination courts have adjourned. Aspiring candidates await to know their fate…
16:39 – In Plumtree the two nomination courts for Bulilima and Mangwe for local government election have closed and aspiring candidates waiting for announcements of successful ones. Disgruntled MDC_T aspiring councillors in Plumtree Town filed nomination papers on the rival faction led by Dr Thokozani Khupe ticket
16:37 – At Kadoma Town House nomination court has closed with all aspiring councillors having managed to submit their papers smoothly. They are now waiting for the announcement of successful applicants.
16:35 – Jefreyson Chitando and Mavhaire trying to negotiate with nomination officer to submit their candidate papers but they are told the nomination court is closed
16:30 – MDC Alliance member and Zanu Ndonga official Mr Reketayi Semwayo has castigated the MDC T officials saying they had declined signing his Nomination papers to stand in Chipinge Central as had agreed. He said all members from Zanu Ndonga failed to make it after MDC T officials declined to sign papers at the last minute. Sources said the MDCT felt some of the fringe parties had no meaningful value to contribute as they had no structures.
16:27 – It appears there is a substantial number of aspiring candidates from Bulawayo who are yet to submit their papers and over 40 yet to be have their papers processed
16:25 – Bulawayo mayor Martin Moyo's papers are not in order. He represents  Ward 3. His name has been called out thrice by Presiding officer.
16:23 – Stranded aspiring candidates from the various parties for National Assembly, Senatorial and Proportion representation in Bulawayo struggle to find their way in after the door has been shut
Talent Kadzima Nyanga south has also submitted as an independent candidate. He lost to Cde Supa Mandiwandiwanzira in Nyanga south
Chaotic scenes at Tredgold building as aspiring candidate throng the nomination centre in last minute rush
Five candidates from NPF party have pending cases and their names have been called out to come and rectify their forms
ZANU PF's Batsitai Pemhenai has submitted his papers as an independent candidate after he was defeated in the primaries by provincial chairman Mike Madiro in Mutare north.
16:13 – Nomination Court at West Commonage has closed its doors but still receiving new nominations from candidates who arrived before 4PM. Scores of candidates yet to submit their papers.
Chaos rule supreme in MDC Alliance as MDC-T member Tachiona Chiminya files papers as independent in Masvingo West where an PF member Rosewita Chinyaure had also tendered her papers
16:10 – Candidates in last minute rush to submit their papers at the .Masvingo Nomination court among them is ex-Zanu PF Nikita South legislator Mr Jappy Jaboon who says he will be contesting the constituency as an Independent candidate
16:07 – Nomination court still sitting in Epworth as candidates are still filling their papers
16:07 – NPP Masvingo central Ward 31 aspiring councilor,  Mr Lucas Mushiringi has been turned away as ZEC officer announced that they have closed,  he said he is not disappointed as they are doing their job he is to blame since he came late
16:05 – Candidates still submitting at Rotten Row
Protest from aspiring candidates as officials say they will announce results as from 12 midnight at Bulawayo council chambers
16:02 – Court here is adjourned to five minutes past the hour of four
16:01 – Zec officials announce closure of Nomination court at Bulawayo council chambers
16:00 – Presiding office assuring people that although it's 4pm they will serve everyone
16:01 – Nomination Court in Mashonaland East closes and now processing those who had prior submissions of their papers and all who live within a 10km radius of the centre
16:00 – Nomination process has ended at Chitungwiza Municipality
15:59 – Joseph Mapiki is now organizing his papers to file in the nomination court for the Shamva constituency
15:59 – Party representatives are now gathered in the court room at Zaka council offices  to have final results with the ZEC Elections Officer for the district giving additional time to allow late comers to submit their papers
15:59 – ZEC chairperson Justice Priscilla Chigumba has arrived at Chitungwiza Municipality to assess the situation
15:58 – Officers are winding up as candidates are called to submit their papers before 4pm
15:57 – Masvingo district ZIPP agent has submitted a heap of papers for all the 4 constituencies he said his party is the only one with potential to win,  he applauded president's slogan for anti-violence he said it shows the election will be free and fair
15:57 – MDC Alliance aspiring councillor for Chegutu West constituency Mr Thomas Mahachi  has just moved to MDC-T and has been given up to 1600hrs to bring signed papers or the signatories.
15:56 – Zanu-PF candidate for Ward One in Chitungwiza Mr Gilbert Munetsi said his party was organised and those who won in the primary election are relating well with the losers after an internal healing process
15:56 – Nomination court at Town House is about to close candidates in the queue in the council chambers have been told to hand in their papers before the closure. However it is expected that the court will not close until all candidates in the queue outside are served
15:53 – Provincial elections manager Mr Austin Ndlovu makes a final call for those wishing to submit their nomination papers before the Court closes
15:50 – Masvingo district,  NNP agent has submitted candidate papers with women dominating,  Masvingo north councillor Mrs Chipo Sithole is excited that women are dominating in councilor position
14:47 – Dr Thokozani Khuphe's camp has also fielded councilors in 5 rural wards of Hwange with most aspiring candidates having crossed over from MDC T Chamisa in protest of primaries results
Dr Nkosana Moyo on Twitter says his team has filed papers on his behalf
15:46 – Riot police have driven the rowdy MDC youths out of the council yard in Chitungwiza using police dogs to allow the nomination process to flow peacefully
15:43 – Zanu-PF candidates for the local authority in Chitungwiza are happy with the nomination process and the party has submitted papers for one candidate in every ward. The peaceful Zanu-pf candidates and supporters are watching the drama courtesy of the violent MDC T youths
15:39 – Former Zanu PF member of Parliament for Kwekwe Central Masango Matambanadzo filed his nomination papers under National Patriotic Front (NPF). Kwekwe Central has 12 aspiring candidates who have filed their papers.
15:38 – Zanu PF has replaced Cde Gladys Simango, who was a candidate under the women's quota, who died on Tuesday, with Cde Miriam Makweya who was the first runner up in the primary elections.
15:37 – There was drama at Gweru Magistrates Court when MDC Alliance fielded two candidates for the same constituency. The two candidates are Osherd Mutunhami and Daniel Mabonga. Mabonga was forced to withdraw and filed his nomination papers as an independent candidate in protest after Mutunhami an ex-soldier was imposed as the MDC Alliance candidate. In an interview, Mabonga said he was endorsed by MDC Alliance president Nelson Chamisa.
15:34 – Sitting councilor for Ward 3 in Chitungwiza, Tendai Simon has been barred from filing his papers by a group of rowdy MDC-T youths. They tore his papers and denied him access to the nomination court saying he had overstayed in office. He has been councilor for 10 years
15:33 – ZANU PF candidate for Ward 5 Cde Julius Chipfupa says he is happy to have successfully filled his nomination papers. He lost in the 2013 elections and said he will do his best to win the ward from MDC T. Cde Chipfupa will battle with MDC ALLIANCE candidate and sitting councillor Mr Lyton Sithole and Independent candidate Mr Forget Gomana.
15:23 – In the Chinhoyi Urban, about eight disgruntled MDC-T members have submitted their papers as independent candidates after expressing dissatisfaction of with the selection processes within the MDC Alliance. One Zanu-PF member who had also submitted his papers as an independent candidate withdrew his papers later in the day. There are 15 wards in the Chinhoyi Urban constituency
15:20 – Douglas Mwonzora, Morgan Komichi, Gift Chimanikire and Cecil Zvizvai names were called in the nomination court.
No notable irregularities in Bikita, assessment of papers is progressing well at the Council hall at Nyika Growth Point
15:13 – Former MDC MP in Manicaland Mr Webster Chinyadza is said to have grabbed Nomination papers for rival candidates. ZEC chairperson Justice Priscilla Chigumba confirmed receiving the reports but did not give detail. MDC T Deputy National treasureMr Charlton Hwende confirmed the incident saying they had to sign new papers for the affected candidates
15:07 – Zanu PF Midlands Province chairperson Engineer Daniel MacKenzie Ncube said he was excited about the pending harmonised elections saying all ruling party candidates have managed to file their papers.
"Payment in process. The atmosphere is quite convivial. All parties are relating well with each other. This is truely new dispensation at work," he said.
15:06 – Zaka District ZEC officer Mr Taurasha Mavenga castigated gender imbalance in the local authority saying that the problem should be rectified in the next election to allow more female representation in politics
The situation is now calm at Chitungwiza Municipality and the nomination process ha resumed
15:05 – ZEC Chairperson Justice Priscilla Chigumba has expressed satisfaction on the way the Nomination process is going through. In an interview at Harare magistrate Court Justice Chigumba said announcement of successful candidates should be made today. She said there had been isolated cases of violence where candidates tore Nomination papers for rivals.
15:02- MDC-T member who is an aspiring ward 8 councillor Wilbert Murambiwa has filed as an independent.
He spoke to The Herald after his submission saying, "l can say from 2000 l have been an activist representing MDC-T and imposition of candidates has forced me to stand as an independent candidate."
14:56 – Nomination Court has adjourned at Chitungwiza Municipality with rowdy MDC youths chanting slogans and insulting the police
14:56 – Mat South Minister of State for Provincial Affairs Cde Abednico Ncube has filed his nomination papers for as a Zanu Pf national assembly candidate for Gwanda South
14:53 – In Kadoma-ZIPP ward 8 aspiring councillor Miss Argatha Zulu who recently defected from Dr Joyce Mujuru led party said the nomination process was very smooth.
14:48 – Zaka District Zec officer Mr Taurasha Mavenga said the process was going well ,however there were a few candidates who have been requested to fix few anomalies
14:48 – ZIPP has filed papers for 13 candidates out of 17 wards in Kadoma, with all the 13 having successfully submitted their papers.
14:48 – At Chitungwiza Municipality head office, MDC youth aligned to Mr Nelson Chamisa and those from the Thokozani Khupe faction are exchanging blows over the use of the party logo. A candidate from the Khupe side has been manhandled and assaulted while trying to submit his papers.
14:47 – MDC-T losing candidate for MP seat Kadoma Urban, Mrs Susan Munemo is fuming over imposition of candidates saying her seat was contested by Incumbent Mayor Mr Hamuchineripi Chinyanganya yet it had  been initially reserved for a female candidate. She is threatening to expose all the opposition's dirty tricks implored during the party's primary elections.
14:42 – Minister Patrick Chinamasa has successfully filed his papers
Minister Supa Mandiwanzira has arrived to submit his nomination papers
14:41 – Mat South senatorial: National Party spokesperson Simon Khaya (Plumtree), (Gwanda)Alma Mukhwebu and Tambudzani Mohadi (Beitbridge) have filed their papers
Beitbridge West: Mr Ronald Ndlovu if the Free Zim congress has filed his papers at the Gwanda Magistrate Court
Cde Chinotimba has filed his papers
Beitbridge: Zanu Pf, MDC Alliance and PRC appear to be fielding candidates in every local government elections in both rural and urban component of the district.
Hwange urban local government two aspiring candidates disqualified after being nominated by same agent
13: 45 – At Zvishavane Town Council, Runde Rural District Council, Mberengwa Rural District Council and Shurugwi Rural District Council 60 aspiring councillors from Zanu PF, MDC Alliance, NPF had successfully submitted their nomination papers for council elections.
Beitbridge 13:30 – a total of 18 candidates from Zanu PF ,PRC, MDC ALLIANCE have successfully submitted their nomination papers for rural local government elections. In Beitbridge urban where there are 6 wards, a total of 15 candidates have submitted their documents. Ward 4 urban has the highest number of candidates (5) so far.
13:07 – MDC Alliance aspiring candidate for Mkoba Constituency Amos Chibaya who submitted his nomination papers says he is impressed with the nomination proceedings and is hopeful that his papers will be accepted. Zanu PF Provincial Chairperson Eng Daniel McKenzie Ncube says all Zanu PF candidates had submitted their papers and are waiting for verification and approval or disapproval by the Zimbabwe Electoral Commission.
13:06 – At Makonde RDC where nomination for councilors in the district is being done, MDC alliance and Zanu Pf will have representatives in all the wards!!
13:05 – In Kadoma, MDC candidates who lost during the primary elections are submitting their papers as independent candidates among them aspiring ward 7 councillor Brandon Molife. However, the process is going on smoothly.
13:04 – Bulawayo deputy mayor, Gift Banda's papers not in order
13:03 – Cde Simon Khaya Moyo said all candidates that will contest as independents after losing Zanu-PF primaries would have expelled themselves from the party
13:02 – Vimbai Tsvangirai, MDC Alliance candidate for Glen View South expresses satisfaction at the way the Nomination process was conducted
13:01 – Aspiring Zanu PF candidate for Lower constituency Cde Omega Sibanda and Zifa Vice President flew in from Russia to come and submit his nomination papers
13:00 – In Midlands, former Public Service, Labour and Social Welfare Deputy Minister Tapiwanashe Matangaidze has submitted his papers as independent candidate for Shurugwi South. He was last year expelled from Zanu PF on allegations of fanning factionalism.
12:58 – Zanu-PF secretary for information and publicity, Cde Simon Khaya Moyo said the party was confident that all its candidates will make it through the nominations courts as they made a thorough check prior to ensure all papers were in order
12:54 – Nemamwa – zanu pf losing candidate Mr Murapwi for Masvingo South ward 30 is going independent and is claiming that he will win election fairly and will join the party again
12:51 – Matabeleland South Zec officer, Rabson Nyoni said so far process is going well. A few candidates sent back to fix a few anomalies in their papers such as passport size photos
12:40 – Vimbai Tsvangirai, daughter to the late Morgan Tsvangirai has submitted her papers
12:39 – Chiyangwa announces the withdrawal of Cde Vengai Musengi from Chegutu East constituency leaving Cde Shamu as the sole candidate
12:02 – Cde Public Widi Nkomo: "I am impressed with the peaceful process at the Nomination court."
He said the the new dispensation has led by example that people should go exist regardless of their political affiliation.
"The relationshop among people from the different political parties shows that our democracy has matured tremendously. The conducive environment is quite impressive.
"My hope is that the prevailing peace and tolerance will continue during and after the elections," said Cde Nkomo.
12:01 – Hive of activity in Hwange local government as parties MDC Alliance, Zanu Pf, ZIPP, Zapu and Mthwakazi jostle to fill the 20 rural wards
12:00 – Zanu PF National Assembly candidate candidate for Makokoba constituency retired colonel Tshinga Dube has expressed concern at the slow process at the nomination court in Bulawayo, fearing proceedings might spill deep into the night.
11:59 – Zanu PF national assmembly candidates Albert Nguluvhe (Beitbridge East) & Ruth Maboyi Ncube (Beitbridge West) have submitted their nomination papers at Gwanda magistrate court, Mat South. Cde Nguluvhe said he is confident or winning with a huge margin.
Zanu PF senatorial candidate for Beitbridge Constituency has arrived at Gwanda Magistrate court to submit her nomination papers.
11:58 – Mr Mwonzora they have surrendered the MDC t name to Dr Khupe saying what is more important is the presidential  candidate they are fielding
11:57 – Former Zanu Pf councilor for Ward 3 Zaka district has filed his papers as an independent candidate
11:56 – Zanu-PF candidates filing their papers through their agent Cde Danny Musukuma
11:56 – In local Plumtree all local government aspiring candidates have filed their nomination papers
11:55 – Job Sikhala was ordered to bring new passport sized photos and has since went outside running to the nearest photo booth
11:40 – All candidates were ordered to removed party regalia including those who were putting on the "famous scarfs"
11:38 – Interesting enough, members of the People Rainbow Coalition are not even aware of the parties making up their coalition.
One ZIPP candidate for in Chiredzi West ward 4 Mr Hardlife Hwerengwe failed even to expand the abbreviation Zipp
Most serving Zanu PF councillors are here to submit their papers but there are a lot of new faces filing papers for MDC Alliance
11:37 – Firebrand Proportional Representation legislator for Matebeleland South Priscilla Misihairabwi-Mushonga filed nomination papers for MDC-T leader Dr Thokozane Khupe. Hon Mushonga was wearing a red T-shirt inscribed "H*re" at the back and "Me Too" in front in protest against people who shouted "H*re!" to Dr Thokozane Khupe
11:35 – Beitbridge municipality Gift Nyoni and two others representing Zanu Pf Lawrence Tshili and Nkuleleko Mbedzi have submitted their papers.
11:30 – Zanu Pf aspiring candidate for Nkayi north Sithembiso Nyoni submits her papers
11:24 – Some candidates are being whisked out of the court room and being made to pay fines for contempt of Court, after disrupting the process
11:24 – Beitbridge Rural local government elections Zanu Pf candidates Moses Ndou, Robert Park and Ketsina Moyo have submitted their nomination papers as at 11.25
11:23 – Some candidates might fail on minor technicalities. As some of them are submitting their papers and leaving before their names are called out to make payments.
11:07 -Zanu PF National Assembly Bulawayo Central candidate Cde Mlungisi Moyo says he fears the process might drag into the night as officials are overwhelmed by numbers. Cde Moyo says this is a sign that Zimbabweans are happy with the new dispensation. "There is freedom of expression and it is evident in the number of candidates. There will be Victors and victims of the Democratic process."
11:06 – Proceedings briefly halted in court 6 as chaos is the order of the day… Presiding officer is calling for order but the candidates are turning deaf ears
The council chambers are swamped by candidates and police are controlling entrance
10:53 – In Zaka district , Nomination of local authority candidates is progressing well at the council's boardroom
Chidhakwa confirms that he is standing as an independent candidate in the Zvimba South House of Assembly. In Bulawayo province the nomination court officially sat this morning having so far processed approximately 100 nominations as of 9am today.
In Hwange district nomination courts are running at Hwange Local Board, Hwange Rural District Council and Vic Falls Municipality. Bulawayo Deputy mayor, Mr Gift Banda arrives to file his Nomination papers
Nomination is progressing well with a number of councillors having filed their Nomination papers
10:52 – MDC alliance Mr Golden Mutizi is battling it out with Zanu PF candidate Cde Daniel Garwe
10:52 – Marondera East Candidate Patrick Chidhakwa submits his nomination papers
10:51 – Herbert Hlatywayo of Zimbabwe Partnership for Prosperity who is contesting for Harare ward 37 said he was happy with the process which she said was fast. He said he was told that his papers are in order and will have to come back at 4pm for results. Biggie Matiza submits his nomination papers he is also being challenged by an independent Noah Mangondo
10:50 – Bulawayo councillor for Ward 1, Mlandu Ncube has filed his papers. Says the process is going on well.
10: 49 – Nomination Court for Presidential Candidates has opened at the High Court. Presidential candidates who have successfully filed their papers so far are:
Emmerson Mnangagwa
Noah Manyika
Nelson Chamisa
Violet Mariyacha
Joice Mujuru
10:48 – Ex-Zanu Pf Chivi South legislator Code Divine Dzingirai files papers to stand as an independent candidate in Chivi South constituency
Candidates that have submitted their papers will wait until close of business at 4pm when ZEC officials will officially announce candidates for the various constituencies. Candidates will then have to fill documents nominating election agent at their local ZEC district offices
10:47 – Former Mines and Mining Development Minister Walter Chidhakwa and Higher Education deputy minister Dr Godfrey Gandawa are also here to submit their papers as Independent candidates for Zvimba South and Magunje constituencies, respectively
10: 46 – Zanu PF losing primary election candidate for Chiredzi West Ward 28 Zinyemba Zinyemba and another Zanu PF Ward 3 losing candidate Mr Thagar Cader have filed their papers as independent candidates in Chiredzi
10:44 – In Midlands Province Zanu PF candidates are still at the Provincial party office putting final touches on their nomination papers.
10:43 – ZUJ Vice President Emmanuel Mavata has just arrived to file his nomination papers. He is representing the ruling party as a councillor in Kadoma.
10:42 – MDC alliance Mr Golden Mutizi, organizing secretary for Mash East says the process at the nomination courts is progressing well. He goes on to say that the MDC alliance is submitting nomination papers for all positions in the forthcoming harmonised elections
10:41 – Businessman Code Pascal Mudzikisi who lost in the ZANU PF primaries in Masvingo North to Cde Davis Marapira's name has been called by ZEC provincial elections officer Mr Zex Pudurai as an independent candidate in Masvingo North constituency.
10: 40 – Zanu PF candidate Jephson Matewe ward 27 who has just submitted his papers at Town House said the process is going on smoothly. He says as an ex combatant he was taught to put people first. He said he is not happy with housing allocations in the city which he claim are being done on a partisan basis
10: 35 – Hundreds of aspiring councillors have thronged the Bulawayo city council chambers ,the venue for the council nomination court, Zec officials are receiving nomination papers from prospective candidates with results of the successfully and those who would have failed being announced at 4pm.
10:29 – In Masvingo Code Darlington Chiwa who lost primaries in Chiredzi West to Code Farai Musikavanhu has filed papers to stand as an independent candidate
10:28 – Zanu PF candidate for Harare South Cde Tonga Mnangagwa has filed his Nomination papers at Harare magistrate Court. In an interview soon after submitting his papers Cde Tongai Mnangagwa said he will engage losing candidates and working with them to ensure a resounding election victory for the ruling party.
10:26 – Campion Mugweni is filling his papers for mazowe north constituency. The courtroom is filled to the brim and I see Cde Kazembe Kazembe, Cde Kenneth Musanhi
10:26 – Former Zanu PF Mashonaland East Central Committee member Noah Mangondo files his papers to challenge sitting MP and provincial chairman Cde Biggie Matiza for  Mrewa South constituency
10:25 – Nomination court for House of assembly and senate Mash Central is at Bindura magistrates Court
10:22 – Interestingly, in Chegutu West Zanu-PF has submitted two names with former Mash West provincial minister Cde Webster Shamu and youth league provincial chairman Cde Vengai Musengi being announced as candidates for Zanu-PF
10:20 – Opposition parties candidates in Mash-west hail ZEC's Nomination Court process. CODE senatorial candidate Mr Ezeria George Horwe said the process is fair and there has been no violence and intimidation witnessed yet. They also expect the coming harmonised elections to be free and fair judging on the nomination court proceedings.
1010: Interestly, in Chegutu East Zanu-PF has submitted two names with former Mash West provincial minister Cde Webster Shamu and youth league provincial chairman Cde Vengai Musengi being announced as candidates for Zanu-PF.
1000: Beitbridge: There are two nomination courts for local government elections for beitbridge. The district has 21 wards ( 6 urban and 15 rural)
0945: Opposition parties candidates in Mashonaland West hail ZEC&x27;s Nomination Court process. CODE senetorial candidate Mr Ezeria George Horwe said the process is fair and there has been no violence and intimidation witnessed yet. They also expect the coming harmonised elections to be free and fair judging on the nomination court proceedings.
0942: ZEC provincial elections officer Mr Austin Ndlovu started proceedings announcing the list of House of Assembly candidates and all Zanu-PF candidates have already submitted their papers. Mr Ndlovu indicated that the list had all candidates who submitted their nomination papers earlier urging those still to submit to do so. Overall results of those who would have succeeded of failed to be announced at 4pm. Candidates are just filing their papers before leaving and will return at 4pm.
0926: The nomination court for House of Assembly has set at the Rotten Row Magistrates court. The presiding officer is calling out names of the candidates from different political parties. MDC-T's Jessy Majome filed as an independent. Matabeleland South Nomination Court for 13 National Assembly constituencies and Senatorial candidates and provincial councils is sitting at the Gwanda Magistrates Court.
0923: In Masvingo Province the Nomination Court for Senate,House of Assembly, Provincial Council and Women&x27;s quota is sitting at the Masvingo Magistrates court.The nomination court for Masvingo City Council election is sitting at the Civic Centre boardroom.
0915: In Chiredzi the Nomination Court for aspiring rural and urban councillors seats at Chiredzi Town Council Boardroom. Candidates from various political parties are already waiting outside the court. In Kadoma the Nomination court for aspiring rural and urban councillors seats for Sanyati and Kadoma seats at Kadoma Town House Council Chambers. Proceedings have just commenced.
0912: In Midlands Province , the Nomination Court for Senatorial, House of Assembly, Provincial Council and Women&x27;s Quota is sitting in the Midlands Capital – Gweru at Gweru Magistrates Court. The programme is expected to start at 10am. For the urban and rural district councils, the aspiring candidates are submitting their papers at the various council offices across the province.
0910: In Mashonaland West, the Nomination Court for Senatorial, House of Assembly, Provincial Council and Women&x27;s Quota is sitting in Chinhoyi at the Civil Court. The programme is expected to start at 10am. For the urban and rural district councils, the aspiring candidates are submitting their papers at the various council offices across the province.
0900: Aspiring candidates for the 2018 harmonised elections have today thronged the Nomination Court to file their papers.
Rural local government elections candidates will be submitting their documents at the beitbridge rural district council boardroom. Those contesting urban ward are submitting at the municipality chambers. A handful of candidates are already waiting for the nomination court to open.