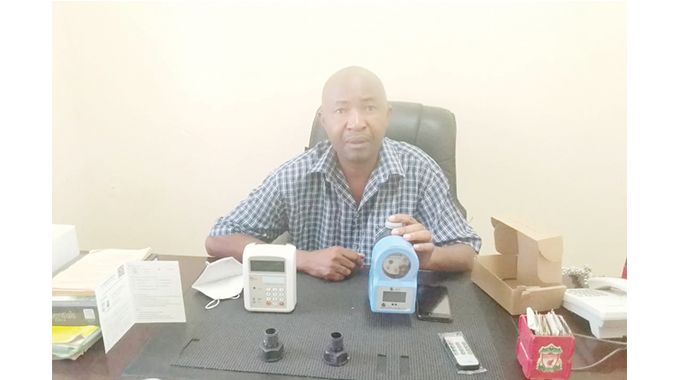 The Sunday News
Dumisani Nsingo/Nkosilathi Sibanda, Business Reporters
A local firm, Taf Mining Spares and Hardware has partnered one of the world's biggest manufacturers of technically-advanced utility meter products and systems, Hangzhou Laison Technology of China for the supply and installation of Smart Water Meters in the country.
Taf Mining Spares and Hardware managing director Mr Kenneth Mhlanga said the company entered into an agreement with Hangzhou Laison Technology in 2019 to operate as its sole agent in the provision of Smart Water Meters in the country.
"We are glad to have partnered with Hangzhou Laison Technology in becoming their agent for the provision of pre-paid water meters. Our aim is to roll out the product to all councils and companies that provide water," said Mr Mhlanga.
Taf Mining Spares and Hardware is headquartered in Hwange and has offices in Bulawayo, Gweru, Beitbridge and Mutare.
Hangzhou Laison Technology provides Standard Transfer Specification (STS) pre-paid water meter solutions and Laison Pre-payment Information Management Systems Software.
The partnership between Taf Mining Spares and Hardware and the Chinese firm comes at a time when most local authorities are contemplating introducing smart water meters in a bid to maximise water revenue collection and reduce the default rate on bills.
"These water meters are of a different kind. We call them STS protocol meters. Our focus is to help councils increase operational efficiency by remotely measuring usage data in dense urban environments, indoors and underground without the need to check each device manually.
This eliminates manual meter reading errors.
"They run on advanced metering infrastructure known as Analysis Monitoring Interface (AMI) online monitoring.
"This AMI technology helps to detect leakages and reduce unnecessary water usage. A service provider can access GPRS (General Packet Radio Services) communication, which helps in improving efficiency of billing at the same time satisfying the consumer," said Mr Mhlanga.
He said the meters would put to rest the long-held billing disputes between local authorities and water consumers.
"There is a lot that both consumers and councils can benefit from by installing these smart water meters, in particular the improvement of the billing system. As soon as they install the meters, councils and water companies will realise eased cash flow while consumers are left satisfied with service provision," said Mr Mhlanga.
Contacted for a comment in China, Hangzhou Laison Technology general manager Mr Raymond Zheng said the company has supplied and installed its meters to a number of countries in Africa, further stating the need for Zimbabwe to introduce the gadgets.
"Hangzhou Laison Technology solutions were designed for Africa. Municipalities that have since installed them in residential and industry-built ups include those in Malawi, Zambia, Angola, Indonesia, Mozambique and South Africa.
"The number of countries that have moved on to use smart metering are increasing by the day. This is proof enough that Zimbabwe's urban centres can adopt such smart initiatives offered by Hangzhou Laison Technology and its local agent Taf Mining and Hardware," he said.
Mr Raymond said the company was aware that a number of pilot pre-paid meter projects have been carried out by some local authorities in the country but could not be completed due to prohibitive costs of installing such infrastructure.
"The main challenge is that costs to install are too high for most families. But, if councils are engaged well, the cost can be as low and the benefit will please both the water utility and consumers. As such we are going to invite City Fathers for tours to other African countries for them to witness the success of the water meters," said Mr Raymond.
He also noted that it was high time the country's local authorities make headway in the provision of world-class water delivery service.
"It's high time that cities in Zimbabwe implement technology-based water delivery and metering services. It can be done and Hangzhou Laison Technology is ready to assist. We may also possibly support a free pilot project with a municipality in Zimbabwe.
"We aim at doing some pilot projects so as to show other councils and water provision companies how the meters work. This is going to be a game changer," said Mr Raymond.