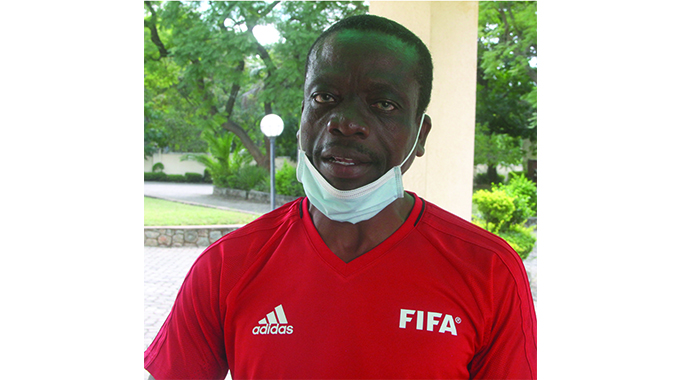 The Sunday News
Ngqwele Dube, Sports Correspondent
THE Zimbabwe Referees Committee held a two-day refresher course over the weekend for top local match officials as they prepare for the restart of local football.
The course saw 80 officials on the Zifa panel being taken through the laws of the game, to ensure they stay up-to-date with the various changes that have been made. The Government has given the Premier Soccer League permission to host a tournament, scheduled to start in a fortnight before the full league programme starts.
ZRC chairman, Bryton Malandule, who was one of the instructors, said they have been conducting online lessons to ensure local referees do not lag behind during the time local football was on hold. "We managed to get permission from the Sports and Recreation Commission to host the course as it is critical towards ensuring we have good refereeing once the game begins in two weeks' time. We had 40 centre referees that attended the course on Friday and then went through the fitness test this morning (yesterday) and we also had 40 assistant referees attending the course today.
There have been several changes being made to the laws of the game relating to various aspects such as the handball, which has been quite topical and we also have to contend with changes made to Law 12 pertaining to fouls and misconduct."
Assistant referees are scheduled to go through the fitness test this morning at the National University of Science and Technology grounds. Malandule said next week they will be holding a workshop for 30 match commissioners as part of efforts to maintaining top officiating standards.
He said they realised a misnomer that previously referees saw becoming more knowledgeable than match commissioners in the laws of the game as they were constantly taking part in courses while commissioners were not.
"We are glad that we are bringing a top instructor in Africa, our own Felix Tangwarima to officiate at the course for match commissioners as we believe this is going to have a positive impact with both commissioners and officials being at par in terms of knowledge," said Malandule.
ZRC chief instructor, Brighton Mudzamiri was in charge of the refresher course together with Malandule, a Futuro certified instructor.