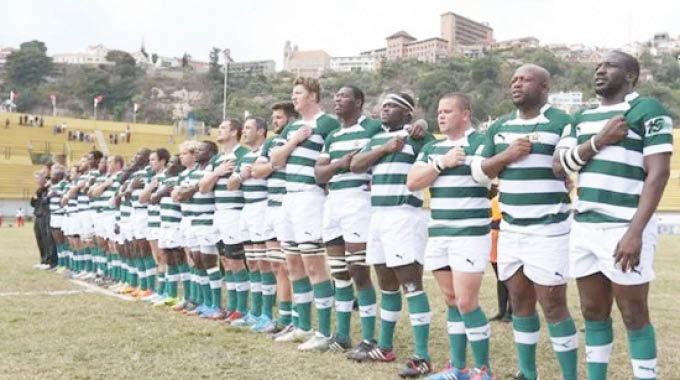 The Sunday News
Mehluli Sibanda, Senior Sports Reporter
RUGBY players in some parts of the country will benefit from the 5 000 Euros recently availed to the Zimbabwe Rugby Union (ZRU) by World Rugby.
ZRU on Thursday received the Food and Relief funds released by World Rugby via Rugby Africa. At their last board meeting, ZRU decided that three members from their structures assist the executive committee in the purchase as well as distribution of items to the beneficiaries.
Tinashe Shamu, Knowledge Moyo as well as Abigail Mnikwa are the board members identified to assist the ZRU hierarchy.
"Euro 5 000 is the total amount that has been availed. This welcome gesture was tabled at the just ended virtual board meeting, where it was agreed that three board members assist the union executive on how best to purchase and distribute these parcels. Since the funds are limited and cannot cover the whole country it was resolved that national team players be given priority."
Aaron Jani, the ZRU president expressed his appreciation to the Rugby Africa leadership for the funds which he said will play a huge part in easing the burden that was brought on Zimbabwean rugby players by the coronavirus pandemic.
"We have a new and dynamic leadership in Rugby Africa and this gesture is a testimony of things to come. We are certainly grateful and the money will go a long way in alleviating the dire situation that was brought about by the Covid-19 pandemic,'' Jani said.
Jani said they will ensure that female rugby players in Chitungwiza, Harare, Beitbridge and Hwange receive aid.
"Most of our players are not employed and some come from very impoverished communities. We also have ladies in places like Mbare, Chitungwiza, Mabvuku and some players in Beitbridge and Hwange, we will target these and ensure they get something no matter how small.
Any amount of assistance goes a very long way and we are very thankful to Rugby Africa and our mother body World Rugby,'' Jani said.
Meanwhile, former Zimbabwe player Zivanai Dzinomurumbi is out of hospital in Masvingo with his heart condition being managed from home. Dzinomurumbi came out of hospital last Tuesday after being seen by a specialist in Bulawayo but his sister Tendai Musarurwa said there was no change in his situation. Musarurwa said her brother needs to have an operation as a long-term solution to fix the heart problem.
"My brother is having a tough time with his heart, we are planning on going to have him checked again,'' Musarurwa said yesterday.
Doctors have diagnosed the former Sables backline player with cardiomyopathy, a disease of the heart muscle that makes it harder for the muscular organ to pump blood to the rest of the body. Cardiomyopathy can lead to heart failure. Jani, his two vice-presidents, Martin Shone and Losson Mtongwiza have led the way in local efforts to raise funds to assist the man known as "Super Ziv" during his playing days by making financial contributions. So far, US$1 600 has been raised locally, with US$300 from that already used to purchase two months' supply of medication for Dzinomurumba. An initiative led by Dzinomurumbi's Sables teammate, United Kingdom-based Elimon "Bedford" Chimbima had as of yesterday raised 1 664 Pounds on GoFundMe.
@Mdawini_29