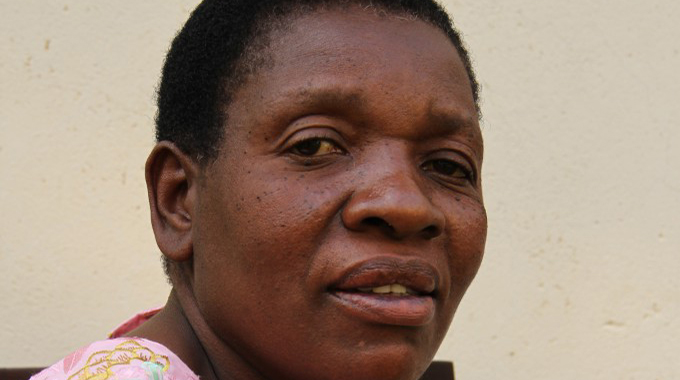 The Sunday News
Bruce Ndlovu, Sunday News Reporter 
THE Lupane East Member of Parliament and liberation war heroine Cde Sithembile Gumbo was yesterday buried at the Matabeleland North Provincial Heroes' Acre at Lupane Centre.
Cde Gumbo (56), died on Monday evening at the United Bulawayo Hospitals (UBH) where she had been admitted after being involved in an accident nearly two weeks ago. 
Speak after speaker from various political divides described the late Cde Gumbo as hardworking and said Lupane and the country at large had lost a dedicated legislator. 
Zanu-PF Secretary for Administration Dr Obert Mpofu, Speaker of the National Assembly Advocate Jacob Mudenda, Minister of Women Affairs, Community and Small and Medium Enterprises Development Cde Sithembiso Nyoni, Minister of State for Matabeleland North Provincial Affairs Cde Richard Moyo, MDC Chief Whip Mr Prosper Mutseyami and MPs from both parties were some of the officials that came to bid farewell to Cde Gumbo.
Addressing mourners Cde Mpofu took the occasion to caution drivers whom he said were negligent on the roads leading to unnecessary loss of lives. 
"I would like to caution drivers out there. One of the things that I would like to say is that drivers in Zimbabwe have been responsible for a lot of lives lost because when they're on the road they drive as if they're carrying firewood. If you're a driver and you feel like you're tired, or you want to sleep, it is advisable to stop and rest. 
"If road rules were followed this child (Gumbo) might still be alive," said Dr Mpofu.
Adv Mudenda said Cde Gumbo was a down- to-earth leader who did not look down on those she served. 
"Those who read the Bible know that one day Jesus' apostles were fighting over who among them was senior. That's when Jesus stepped in and asked what they were fighting for and then they told him it was a quarrel over seniority. He then told them that the first among them was one who was humble, the one who worked for others. 
"The most important one among them was the slave among slaves. That was MaGumbo in a nutshell. She just didn't talk but she also walked the talk," he said. 
Adv Mudenda said it was now up to those that worked closely with her to finish some of the projects she had been working on. 
"In 2018 I came to her constituency at St Paul and found out that the roof was leaking and the women did not have anywhere to cook. 
"I promised the chairman of the province that I had found someone who wanted to fix the hospital so that a maternity ward is built and a kitchen is also built and they get beds and blankets. 
"I'm still waiting even today. This is the task that has been left to us by Cde Gumbo. I hope her wishes are fulfilled," he said. 
Adv Mudenda told mourners that as a fighter for women's rights, Cde Gumbo, had been instrumental in the establishment of the  Zimbabwe Women Microfinance Bank. Minister Moyo, said the presence of opposition politicians at the burial of a ruling party cadre fulfilled President Emmerson Mnangagwa's wish to see all Zimbabweans united despite their political differences.
He said the presence of Mr Mutseyami and other opposition MPs was an example of the political maturity and leadership that would be required in future as the country tried to solve its myriad of problems. 
"She went head to head with many men in the primary elections and many men looked down on her and we told them they would slip up against her and they did. She then faced off against an opposition male candidate and he also fell short against her. 
"When she was elected she worked very hard and that is why you would find her phone was always engaged because she was very busy. 
"We wish all MPs from our party would work as hard as she did," said Cde Moyo. 
"In Parliament she was in two committees. One was for Local Governance and she was one of those people that were tasked with making sure that power does not only reside in Harare but is spread to all provinces under devolution. 
"She was also on a Women's Affairs Committee and she fought very hard to make the women's bank a reality. 
"Despite her efforts we could not make it a reality under the First Republic but in the Second Republic under President Emerson Mnangagwa a bank for women now exists," he said. 
The council chairperson of the Kusile Rural District Council, Clr Phibion Ngwenya said Cde Gumbo had been instrumental in dragging Lupane East into the 21st century, initiating many developments which constituents were still reaping the benefits of. 
"Lupane was a place with no network but she worked hard from 2013-2018 to have boosters installed and now the network is easily available. 
"She also fought hard to have St Paul declared a growth point and now all that remains is for people that do physical planning to come and approve so that it can gain the status of a growth point," Clr Ngwenya said. 
Cde Gumbo is survived by four children.