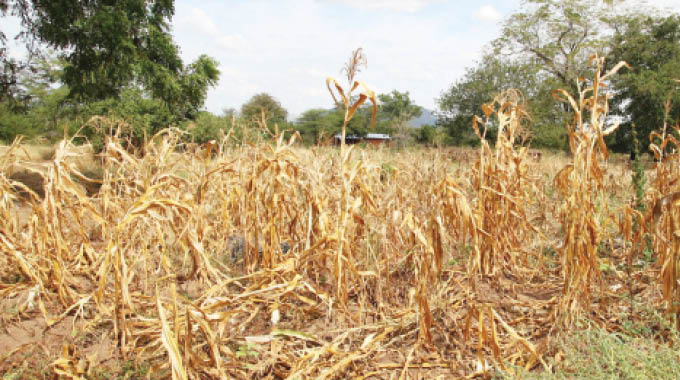 The Sunday News
Dumisani Nsingo, Senior Farming Reporter
MOST of the maize crop in Matabeleland North Province will be a write-off due to moisture stress if significant rains are not received soon, an official said.
In an interview with Sunday News Business last Friday, Department of Agricultural Technical and Extension Services (Agritex) Matabeleland North provincial principal agronomist Mr Davison Masendeke said the province was likely to lose most of its crop if the dry spell persists as the country faces possibility one of its biggest drought in years.
"We are facing a dry spell which started three weeks to a month and we are saying if we don't get rains in the next two weeks, we are going to write off a certain hectarage of our maize crop," he said.
Mr Masendeke said although the area cropped so far in the province was slightly bigger than that of last season at the same period, the average rainfall recorded this season is drastically lower than the one received in the 2018/19 summer cropping season during the same period.
"In terms of rainfall, we are below the average amount we recorded last season, in almost all the districts except for Bubi and Tsholotsho (districts). The rainfall has been characterised by poor distribution in terms of space and time and this affected the rate of planting, crop emergence and establishment," he said.
Mr Masendeke added that the province did not have the best of farming preparations.
"Preparations were compounded by weak draught power and non-availability or breakdown of tractors as well as diesel shortage and the increase in its price, this then affected the area cropped. Basically, we are just above the area that was planted this time last season," he said.
Mr Masendeke said the Department was still encouraging farmers to undertake dry planting, especially of small grains due to its resistance to prolonged dry spells. 
"We are still encouraging farmers to practice dry planting especially of small grains . . . ," he said.
This season 15 082 hectares has so far been cropped under sorghum while 5 367 hectares had been planted at the same period last season, with 9 597 hectares of pearl millet having been put down to date compared to 7 353 hectares at the same period last season. 
A total of 1 172 hectares of cow peas have been grown to date compared to the 517 hectares that was planted last season at the same period. The hectares put under groundnuts have seen an increase this season, with 1 924 hectares compared to 1 011 hectares recorded during the same period while there has been a drop in sesame planting from the 14 hectares last season to 1,3 hectares that has so far been planted this season during the same period. 
"In small grains in terms of sorghum we are way ahead of last year, pearl millet just the same as last season, soya beans below what we had last season and as for sesame and cow peas we are way below what we had last season," said Mr Masendeke.
He said the erratic rainfall received in the province has not done much to improve graze and water levels at most dams thus the condition of livestock has not improved much. 
"Water supplies are inadequate in all districts but there has been slight improvement in terms of graze although its bulkiness and nutritional value isn't much. Livestock condition at small-scale farms and resettlement areas is poor due to inadequate inflows into dams with animals having to move long distances to the nearest water source, which further contributes to their poor condition," said Mr Masendeke.