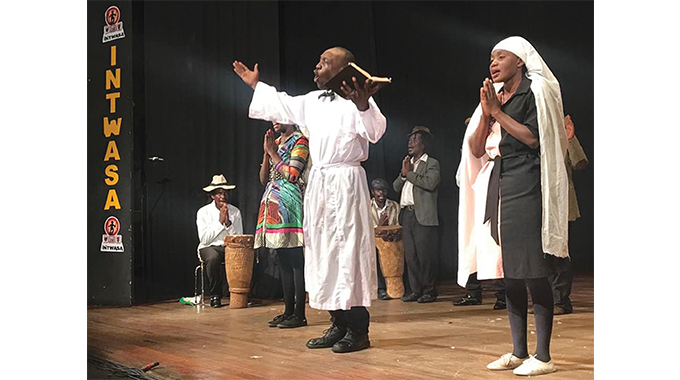 The Sunday News
Bruce Ndlovu, Sunday Life Reporter
FOR a large part of the first nine months of the year, artistes in Bulawayo watched from the sidelines as their means of livelihood were curtailed due to Covid-19 regulations.
At the beginning of the year, the country was once again fighting to shrug off a suffocating pandemic that cutting through the southern African nation, robbing families of breadwinners, grandparents, sons and daughters.
After a brief respite at the end of last year, when limited activity was allowed, the arts once again had to go into a forced lull. The stages fell silent and the songbirds hung up their mics.
Last week, however, Bulawayo, a city that has for so long touted itself as the cultural hub of the country, saw the arts spring to life as Intwasa Arts Festival held its 17th edition.
As the jacarandas bloomed, serenading motorists and pedestrians with their annual display of floral beauty, so did the city's long dormant artistes in stages around Bulawayo. For festival director Raisedon Baya, this year's festival was all about putting Bulawayo artistes on the forefront again.
"A lot of people have been saying that we are a festival that cares for the artiste," Baya told Sunday Life in an interview. "Whatever agreement we might have with artistes, we always try to meet it. Things might be difficult and things will never run smooth but we really to make sure that whatever we have agreed on we honour our part.
"We are excited by the collaborations and partners that are still excited to work with us. OSISA, Culture Fund of Zimbabwe with EU, Accountability Lab, WILD and the artistes themselves. We consider them partners because they have been there for us when things were really stood with us when things are bad. I think as a festival we have a team that understands that this festival is about artistes and Bulawayo and they really go out of their way to make sure that everything runs smoothly," he said.
After such a lengthy lay-off for the arts, Baya said they had been worried they might not be able to pull the numbers during a festival which, for the first time, ran concurrently with the Zimbabwe International Trade Fair.
"We were really worried since people have not been able to do anything or move around so we thought they would not be able to attend the physical shows. We were uneasy but we were very surprised because more than half of the events we were able to put and almost all the workshops were fully subscribed. It speaks to the success of the festival in terms of attendance and participation in workshops. We were able to surprise," he said.
In fact, Baya said, this year's festival had been bigger than the one held last year despite the fact that for a large portion of 2021, they did not know the circumstances under which the fest would be held due to ever-changing Covid-19 regulations.
"The festival was a little bit bigger than last year. We had at least 23 online shows that we were able to showcase.
There are four or five that we will be putting online in the next few weeks because these are from events that we held live during the festival.
"We had 24 live events that included workshops, performances and discussions. So, all in all we put together over 40 events both online and physically and for us that is really an achievement. I know in the past we have done more but that was back when things were normal. To be able to do all this during a pandemic, when the sector was opened two weeks prior, it was quite a feat for us," he said.
Like last year, Intwasa was meant to bloom not just on stage but on online platforms as well, as, for the second year running, the arts extravaganza embraced the concept of a hybrid festival. However, this year's edition did not pull the numbers organisers were expecting.
"Online we got numbers but maybe not the kind of numbers that we were looking for. Remember there were a lot of other festivals happening around in Harare and everywhere else. We are yet to sit down as the festival team and say how then can we get the numbers we want online. We can say people perhaps don't have enough data to access things online, or maybe they didn't know they products that we were going to be putting up. It's something that we still need to dissect and come up with a reason so that next year we are really stronger and bigger.
"One of the things that I think I've brought up already in the past is the beauty of a hybrid festival. This is something that we will be taking on board permanently because it brings a lot of diversity. There are people that may not be able to access the festival throughout the years but now because of the digital platforms they are able to at least access some of the events that we do. A lot of people can now partake in the festival even from overseas so I think that there's a bigger opportunity that we have to exploit as event organisers," he said.
Despite the grumblings of those that felt that they should have been part of the proceedings, Baya said that Intwasa was still a platform tailored specifically for Bulawayo artistes and local audiences.
"You cannot accommodate everyone during one festival so you will get a few grumblings from some who feel that they should be a part of the festival. I think we are doing well. I don't have the exact figures I think the festival was able to engage over 150 artistes. That makes Intwasa one of the top festivals in the country and that's an image that we want to run with," he said.