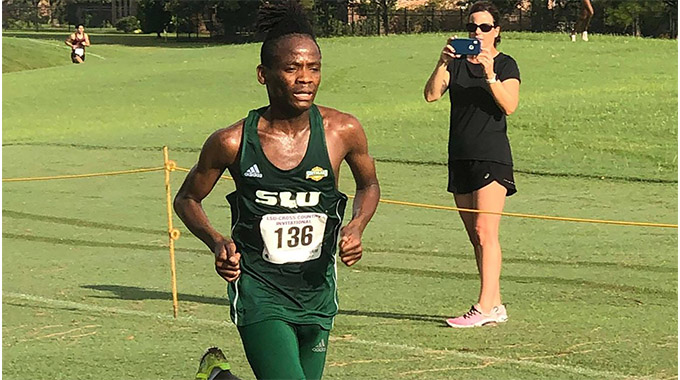 The Sunday News
Mehluli Sibanda, Senior Sports Reporter
UNITED States of America-based Zimbabwean athlete, Bradley Makuvire was last week named as the Southland Conference Cross Country Male Athlete of the Week for South-eastern Louisiana University (SLU).
The 23-year-old Makuvire, from Zvishavane recently won the 6km race at the Louisiana State University Invitational which saw him last Tuesday announced as the Male Athlete of the Week.
Makuvire, a second-year student at SLU, finished the race in 18:45.33 which was 24 seconds ahead of second place finisher Davis Bove of LSU (19:09.60). The Zimbabwean athlete has two top 10 finishes to his credit in just three races at SLU.
A 2020 second team All-Southland selection, Makuvire also finished 10th in the Southland Conference Championship back on 21 February.
SLU cross country head coach Corey Mistretta highlighted that Makuvire has been hard at work amid all the difficulties the university has been facing.
"Bradley has been training extremely hard through all of the adversity we have faced this semester. And he is driven to accomplish some big goals for his season,'' Mistretta said.
Makuvire and the Lions will continue their preparations for the 2021 Southland Conference Championships to be held on 29 October in Corpus Christi, Texas.
The athlete is a beneficiary of the Costa Takawira Mangwende Foundation scholarship programme initiated in 2015 by former sportsperson, Costa Takawira who is working in partnership with another USA based ex-athlete, Philemon Hanneck to secure scholarships for Zimbabwean athletes to the US where they get access to better facilities and advanced coaching.
Kevin Chiku and Faith Nyathi are the other recipients, with the duo having recently arrived at El Paso Community College.
More athletes are heading to the US at the end of this year when Hanneck comes to Zimbabwe to fetch them.
Takawira believes the three athletes already in the US have what it takes to represent Zimbabwe at the Olympics as  well as World Athletics Championships in future. _Follow on Twitter @Mdawini_29