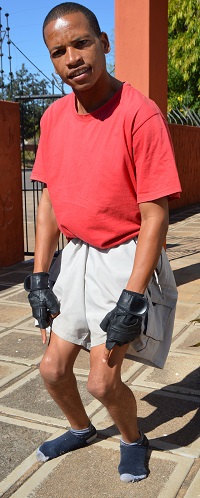 The Sunday News
Limpret Moyo, Sunday News Reporter
A 30-year-old Bulawayo man is seeking $10 000 to undergo a knee correction operation in Malawi.
Mr Brian Bishop, of 32671 in Entumbane cannot walk upright and needs both his knees repaired. In an interview he said the problem started when he was nine years old.
"It's not Polio. I really don't know what happened, but I started feeling pain while I was walking from school. After that, I started having problems whereby I could not stretch my legs further. If anyone tries to stretch them, I would cry because of the pain I was feeling," he said.
Mr Bishop said he was once operated at the United Bulawayo Hospitals, but the procedure was unsuccessful.
Mr Bishop said doctors later noted that the back of his feet were over lengthened and the hamstring shortened and as long as the knee joint can be corrected, the hamstring will stretch.
"Doctors referred me to Malawi for the operation and $10 000 is needed," he said.
Mr Bishop lost both parents and is staying with his two sisters. No family member is gainfully employed.
"We hardly cope and sometimes we eat once a day, that is if there is any food. Sometimes we sleep without anything," said Mr Bishop.
Mr Bishop said he has been getting some assistance from the Hospital and Prisons Care Ministries International (HPCMI), an organisation that helps the sick and inmates in prisons.
HPCMI president Dr Reverend Isaac Silumbu said his organisation was doing all it could to help Mr Bishop.
He said the organisation has discovered that local doctors were charging between $20 000 to $25 000 for the operation hence they referred him to Malawi.
"We have already identified people who can actually repair those legs.
"Our wish is to ensure that Bishop is happy," said Dr Reverend Silumbu.