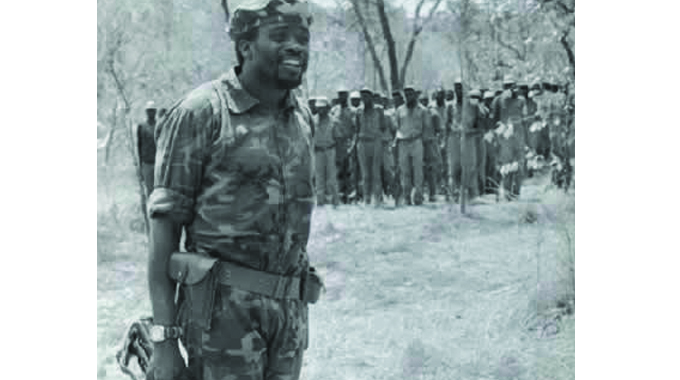 The Sunday News
WE continue our interview with former ZPRA frontal commander for the Southern Front (SF), Cde Irvine Khulekani Sibhona pseudonym Cde Barberton Muzwambila. SF was an operational area that covered among others Matabeleland South and Midlands provinces and ideally it was meant to stretch up to Manicaland. Below are excerpts of Cde Sibhona's conversation with our Assistant Editor Mkhululi Sibanda (MS). Read on . . .    
MS: You spoke about being arrested in Mozambique, what led to that?
Cde Sibhona:  Last time I spoke about the behaviour of comrades like Funny, Mangena's bodyguard which made our situation a bit tricky. On my side I had a bit of an argument with the local Governor. What happened was that there was this ZPRA intelligence officer, Cde Moyana. He had given me about 83 recruits that he had brought from Beitbridge and Chikombedzi. I was put in charge of those people in Xai Xai and then they started denying us food. I then went to the Governor's office to appeal, to ask if he could give us food. By coincidence I came across Abel Mazinyane and Joseph Zwangami Dube, your homeboy from Kezi.
Zwangami had been our representative in Cuba, but during Zipa he was some regional something up in the north. He spoke Spanish which is closely related to Portuguese and after learning of our plight he decided to speak to the Governor.  There is no much difference between the two languages, the other spoke in Spanish while the other used Portuguese and they struck an agreement. After their conversation the Governor gave us food, but later on he summoned me to his office as one Cde Sigauke wanted to take those recruits for training and I refused. This was because Cde Ambrose Mutinhiri who was the Zipa Chief of Training had said he would come personally to pick them. But Cde Mutinhiri took long to come back and I was still looking after those people as per order. When I got into the Governor's office he ordered that I be arrested and indeed I was arrested on the spot, stripped of all the clothes. I was then pushed into a big truck still completely naked and thrown into some prison where I was later on joined by Sipho Mangena and Gruscha. We spent three months without clothes and we would be assigned some manual work such as working on the rice fields in that state. There was a watering point where women would also come to fetch water and they would see us. With time we got used to being naked. We ended up not bothered at all because we  realised that it was psychological torture.
MS: But did you have valid reasons for refusing with the recruits?
Cde Sibhona: I had reasons because I said the recruits belonged to ZPRA as the person who left them under my care was a ZPRA intelligence officer who came from Beitbridge. So for that I stayed in jail for three months without clothes (smiling). It was one of those experiences during the war. 
MS: Then take us through how you left Mozambique
Cde Sibhona: Upon realising that things were not working as expected Mangena went around picking ZPRA guerillas from place to place especially in Gaza Province grouping them together. Finally, we were all gathered at some place called Khombomunwe near Limpopo River. He gave us Kelly Malaba as the commander. There were other veteran guerillas oMabhuku, not all that we were all there.  Unfortunate things had befallen others while some like Nyamupingidza were still in some units with Zanla in a unit commanded by Makasha, a Zanla cadre.
There was no co-ordination. It was then decided that we should leave Mozambique. However, we did not have weapons and so a plan was made to get those weapons. It was going to be suicidal to enter Rhodesia and cross all the way to Botswana unarmed. So we went to Mapai with Mangena and we were around 90, at least 90 with about five AK-47s. When we got to Mapai we managed to get some weapons from there after playing some tricks, using Mangena's influence as he was the deputy commander of Zipa. After that Mangena then handed over the command to Kelly Malaba as we began our journey to Botswana. That is how I and others left Zipa. On the first day we covered about 30 to 40 kilometres and when we got to Nuanetsti River, Malaba said we would have to split into smaller units, his reasoning being that we could be easily detected by the Rhodesians and also that we could overburden villagers when in need of food. 
MS: He split you into units of how many troops?
Cde Sibhona: Malaba divided the group into three, meaning that each unit had about 30 or so guerillas. He also ordered that the units further split further as we moved further into Rhodesia. He recommended that we further split into units of between 10 to 15. The unit that I was in passed through Beitbridge and we had contact with the Rhodesians as we were getting closer to the border with Botswana. The instructions from Malaba had been simply to avoid contact at all costs because we did not have enough ammunition. In that contact it was a proper guerilla hit and withdraw. We finally reached Gaborone where we were kept at the Maximum Prison.  
MS: Let's divert a bit it, as a person who closely interacted with Mangena and this year marks 44 years since his demise. What kind of a person or soldier was he?
Cde Sibhona: I first came into direct contact with Mangena when he rescued us from prison in Mozambique. I have alluded to the incident that led to my arrest by the authorities there. Like I said we had been in prison without being allowed to wear any form of clothing for three months, the three of us, myself, Sipho Mangena and Gruscha. It was just because of some dint of luck that Mangena discovered us. I say discover us because no one knew where we were being kept, we had just disappeared. It happened that Mangena in the company of his bodyguards among them, Funny the comrade who caused that scene at that Maputo hospital saw some light in the building we were being kept in. It was around 7pm or so. They were attracted by the light and Funny walked to the building and peeped through the window. He was shocked to see us in that state playing cards, he shouted my pseudonym "Barberton, Barbeton" to make sure it was me and I responded positively. He then went and told Mangena who became so angry and ordered people there to release us. That is how we came out of that horrible situation and when we were told to get dressed I was the only one among the three who did not have clothes there as I had been stripped at the Governor's office and left my items there. Mangena had to personally buy clothes for me the following day. Although happy that we were safe he teased me by saying I was a stupid boy who had allowed other boys to strip me naked. From there I could have stuck in his mind. I had also to be part of his bodyguard team when Funny ran away to commit that drama. However, Mangena thought I was a naughty person. That was the first time to get close to Mangena and I was immediately impressed with his conduct as a commander and military person. To me he was a genius. When I learnt of his death we were at the Zambian Military Academy doing an officer's Cadet course at Kohima following my withdrawal from the front in Mashonaland West where I had been operating from.
MS: How did you take his death?
Cde Sibhona: We were at the canteen during the lunch hour and when news of his death were read from the television I could not believe my eyes and ears. I stared at the television screen and nearly fell down. 
MS: To you what effect did his death have on ZPRA?
Cde Sibhona: To me it had a big knock effect on ZPRA, that's my opinion. To me Mangena was ZPRA himself. You couldn't mention ZPRA without Mangena. He and JD, who was his first Chief of Operations were the stars of that force. JD died in Nigeria where he had been sent to as Zapu's chief representative. Mangena had unlimited confidence in JD. In terms of military ability Mangena had gone through an Algerian military academy where he came out as the top recruit among recruits from many liberation movements from Africa. I was disappointed with his death because I had wanted to demonstrate what I had learnt from Kohima to him as my commander.
MS: That's interesting, then there are conspiracy theories that Mangena's death was planned, maybe internally, what's your take on that?
Cde Sibhona: On that I disagree, but that does not take away the fact that by the time of his death Mangena was a marked man within Zapu and some reactionaries within the military, the renegades. You know when Jason Ziyapapa Moyo died and JD was removed from the army that left Mangena exposed without a spine. Some politicians viewed Mangena as someone who was harassing his troops. There was this talk from politicians that "lihlupha abantu".
Politicians such as Amon Jirira, Hananda, Joseph Msika, who was the party Secretary-General then and John Nkomo time and again wanted to know what was happening in the military circles especially operational issues and Mangena was quick to remind them that he did not report to them but to the Commander-In-Chief who was the party President, Joshua Nkomo. There was an incident that incensed Mangena when one very senior politician demanded operational updates from Tshangane (Jevan Maseko) who had been promoted to the rank of Chief of Operations. Tshangane being a soldier refused to divulge anything and instead informed Mangena who got so angry and drove to Zimbabwe House in Lusaka. Mangena without holding back told that politician to stop bothering his commanders and suggested that if he wanted to see what was happening at the front he should then choose any training camp of his choice, so that he could be trained as a guerilla. In my opinion there was no need for the military to explain its operations to "civilians" even if they were in the leadership. There was then an attempt on Mangena's life at the Freedom Camp (FC) by some renegades. 
MS: What really happened at FC?
Cde Sibhona: Some renegades who obviously acting on orders of some people within our ranks opened fire at Mangena and he was injured. However, they were repulsed during that shoot-out. What is of concern is that those people, I mean the renegades just melted and nothing was done to them. Unconfirmed reports say they were flown to some country until the heat cooled down. Even when news started filtering through that Mangena had died, some very senior people rejoiced. They said "utsotsi ufile" meaning the tsotsi had died. All this was because some people concocted cheap propaganda that Mangena wanted to dethrone Joshua Mqabuko Nkomo through a coup and was nicodemously keeping some forces somewhere.
They were accusing him of having a parallel force, which was hogwash. When we were deployed at Feira we were said to be some of the troops loyal to Mangena who were being secretly kept somewhere. All these developments brought confusion and civilians did not help the situation as they kept on poking their nose into military affairs. In fact, if Mangena had not been shot at during that incident at FC he was not going to die in that landmine incident on 28 June 1978 near Kabanga Mission. His leg was giving him problems so he could not continue with the walk and had to call for his Land Rover, which then detonated the landmine.
MS: You sound very emotional when talking about Mangena and you say ZPRA was never the same without him. Don't you think that is an indictment on his successor, Lookout Masuku and other commanders.
Cde Sibhona: To be honest with you I have nothing against  Mafela (Lookout Masuku). I enjoyed an excellent working relationship with him as my commander as he was the ZPRA Political Commissar during Mangena's time. Also I have great respect for his widow and his family. However,  Masuku besides being an excellent soldier and all, he was not yet ready for that rank, that is my honest opinion.
To be continued next week with Cde Sibhona explaining how the National Security and Order (NSO) headed by Cde Dumiso Dabengwa influenced Dr Joshua Mqabuko Nkomo to appoint General Masuku ahead of what he says were two "deserving commanders" whom he mentions by name. Don't miss your copy of Sunday News for this spellbinding narration.