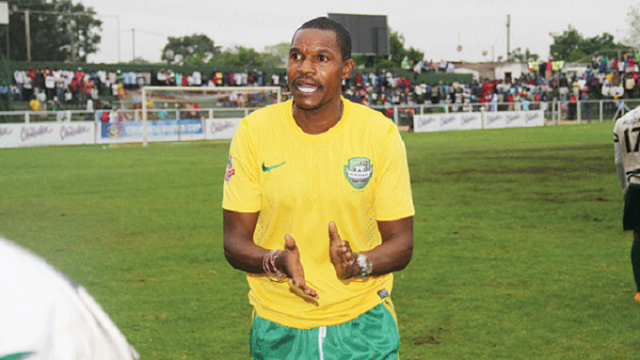 The Sunday News
Mehluli Sibanda, Senior Sports Reporter
FC PLATINUM coach, Norman Mapeza feels that Triangle are much better prepared than his side ahead of this afternoon's season ending Castle Challenge Cup at Mandava Stadium in Zvishavane.
The Zimbabwean champions have had little time to rest prior to taking on the Chibuku Super Cup winners. FC Platinum played Highlanders in their last league encounter in Bulawayo on 21 November before heading off to Madagascar for a Caf Champions League fixture last Wednesday.
Just to show how hectic things are for FC Platinum, they only arrived in Zvishavane on Friday, had a light training session on the same day and trained again yesterday before they clash with Triangle this afternoon. After that, they take on CNaPS of Madagascar in the Champions League preliminary round second leg on Wednesday. Mapeza indicated that given the situation, they have no choice but to rest some of their players for today's clash with Triangle. He, however, pointed out that they are keen to end the season well by ensuring that the Castle Challenge Cup, which they won last year with a 2-1 triumph over Harare City at Mandava remains in Zvishavane.
"We have to see the condition of the players. We had a light training session on Friday and we trained again on Saturday then make a decision. The Champions League return leg is on Wednesday so we have to rest some players. We obviously want to keep the cup, we have to play well and win it, maintain that winning mentality,'' Mapeza said.
With Triangle well rested having played their last league encounter against Chicken Inn in Bulawayo last Saturday, Mapeza is well aware that they will not have it easy against the Taurai Mangwiro-coached side who had a wonderful season by finishing fourth in the league and also winning the Chibuku Super Cup.
"Look at how they did this season, they had a fantastic season, it's not going to be easy for us because they are better prepared than us,'' he said.
Mangwiro declared his eagerness to end the season on a high note against rivals who they have so much admiration for. With previous matches between the two teams having been closely fought and largely entertaining, Mangwiro is anticipating the same this afternoon.
"It's one game we need to do well in, sign off in style, we want to finish the season on a high against an opponent that we have great respect for, no fear whatsoever but respect because they have been the most consistent team in the 2018 premiership season,'' Mangwiro said.
There is no doubt that FC Platinum and Triangle were arguably the best teams in the Castle Lager Premier Soccer in 2018 and today's encounter promises to be entertaining for the fans. @Mdawini_29