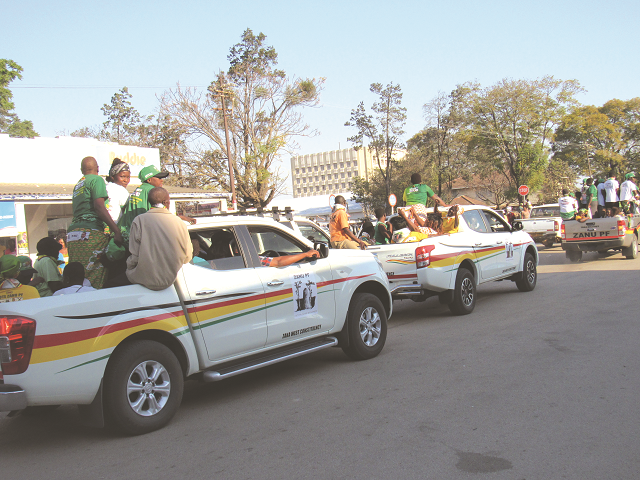 The Sunday News
Sukulwenkosi Dube-Matutu and Walter Mswazie
ZANU-PF supporters in Masvingo and Matabeleland South took to the streets on Friday while some rode in open trucks singing and celebrating the party and President Mnangagwa's victory in last week's harmonised elections.
Zanu-PF trounced opposition parties garnering 145 of the 210 National Assembly seats while its candidate President Mnangagwa won the presidential race after garnering 50,8 percent of the total votes.
In Masvingo Province, Zanu-PF won 25 out of 26 National Assembly seats while in Matabeleland South the party won 12 out of the 13 seats. On Friday, business in Masvingo Central Business District temporarily came to halt as the jubilant supporters clad in party regalia were celebrating the victory. Zanu-PF Masvingo provincial chairman Cde Ezra Chadzamira said there was no way President Mnangagwa could have lost to MDC Alliance leader Advocate Nelson Chamisa.
"We congratulate our President for this victory. I think MDC Alliance and its leader Mr Chamisa should just accept the results and allow the country to move on with its development agenda. There is no way our icon could have lost this election because he worked tirelessly and he is the man of the people. The celebrations have just begun in Masvingo," he said.
Zanu-PF losing candidate for Masvingo Urban constituency Cde Taguma Mazarire who was part of the celebrating supporters said although he lost, he contributed the numbers that ensured that President Mnangagwa wins overall in the province.
"I may have lost to MDC Alliance, but I contributed immensely to President Mnangagwa's votes. We are probably one of the best urban centres in terms of the number of votes that we contributed to President ED. I am on cloud nine because my principal has received a mandate to lead us for the next five years," said Cde Mazarire.
In Gwanda, the Matabeleland South capital, vehicles brandishing President Mnangangwa's posters could be seen hooting and driving around Gwanda CBD on Friday.
In an interview, Zanu-PF Matabeleland South provincial chairman, Cde Rabelani Choeni said celebrations were in order after the party's victory.
"As Matabeleland South Province we are excited and happy that President Mnangagwa who was also the presidential candidate of the Zanu-PF party won the elections. We are also pleased that President Mnangagwa also recorded the majority votes in the province against his opponents as that is what we expected and were working to achieve.
"We would like to congratulate him and we are celebrating together with him. As a province we love our President and we respect him and shall continue to rally behind him. We are yet to hold meetings to organise a formal celebratory event," he said.
Cde Choeni said the province was confident that President Mnangagwa will deliver the development that had been long awaited in the area. He said they were looking forward to seeing the empowerment of Matabeleland South people. Cde Choeni said the party was, however, not pleased as it lost one Parliamentary seat to MDC Alliance in the province.
"As a party we expected to retain all 13 seats but we obtained 12 and lost one to MDC Alliance. We are also concerned that the majority of local government wards in Gwanda urban and Beitbridge urban went to MDC Alliance. This is a sign that there are still some people from the province who are stalling development. This is clearly a result of external forces that are misleading people in the urban areas. We still have a lot of work to do in the province to ensure that people present a united front. In future we expect complete victory in the province," he said.
@DubeMatutu