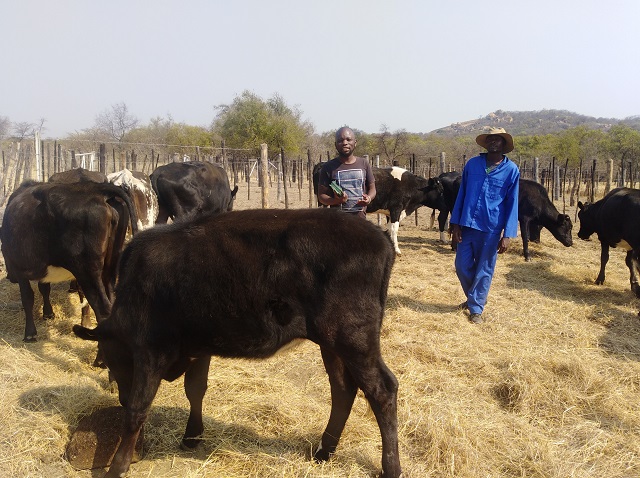 The Sunday News
Dumisani Nsingo, Senior Farming Reporter
SEVEN communal farmers in Matabeleland region have received high yielding dairy cattle crossbreeds through the Zimbabwe Dairy Industry Trust's Dairy Revitalisation Programme as part of Government's efforts to revive the country's dairy industry.
In an interview with Sunday News Business after a two-day training workshop of recipient farmers at Matopos Research Institute on Friday, Dairy Revitalisation Programme chairman Mr Cleopas Murenzi said the dairy cow scheme was aimed at increasing the country's milk yield and plug imports of dairy products.
"We have had a reduction of milk in the country over the years and as an industry what we are trying to do is to see how we can revive milk production to the level that the country requires. Right now in terms of statistics we are at around 66 litres per annum per cow, yet the country requires in excess of 120 litres of milk per annum.
"That's the reason that motivated industry to come up with some initiatives — the Dairy Revitalisation Programme is looking into increasing numbers of the dairy head and again increasing the volumes of milk with the hope that Zimbabwe will reduce imports of dairy products and save the much needed foreign currency," said Mr Murenzi.
At its peak the country used to have about 200 000 head of dairy cows but the figure has over the years drastically dropped to below 50 000.
As part of its efforts of increasing its dairy head, the country imported 400 heifers in calf to small-scale dairy farmers last year.
"Just like any other industry, the dairy industry has had a lot of challenges but chief among them is the cost of production. In dairy, what we try to achieve is reducing the cost of producing a litre of milk. So the cost of producing a litre of milk in this country is much higher if you compare with the rest of the countries in the region. We are looking into the excess of 60 cents per litre when other countries can have as low as 25 cents per litre. "So if you look at such types of margins it becomes very difficult for dairy to progress. Farmers have their own challenge with regards to the feed and when it comes to the processor by virtue of having a litre costing that much it becomes very difficult now to be competitive on the market, leading to the imported product coming very cheap into the country and it creates a lot of challenge in marketing our produce," said Mr Murenzi.
He said the prevailing foreign currency shortage was also impacting negatively on the dairy industry as most of the packaging material and spare parts for milk processors' machinery was being imported.
The dairy loan scheme saw seven farmers from Umguza and Umzingwane districts benefiting a total of 40 heifers progeny from Tuli and Afrikaner cows bred with semen from Holstein and Jersey bulls at Matopos Research Institute.
"We are hoping that our farmers will take dairy as a business as opposed to taking it as a way of just sustaining their families or taking a cow to just have a sentimental value. We are trying to teach them that a dairy cow is a tool that can change their lives," said Mr Murenzi.
Despite efforts to improve milk production, the smallholder dairy sector which holds more than 80 percent of cattle population contribute only two percent of marketed milk production in the country.
Productivity is partly limited due to poor dairiness of local breeds. Efforts to introduce exotic dairy breeds have resulted in limited success due to poor adaptation of these breeds to tropical conditions.
Mr Murenzi said there was a need for the Government to replenish the Dairy Revitalisation Programme fund as it was depleting.
He said plans were underway to engage Matopos Research Institute as an official breeder and supplier of dairy breeds to the Dairy Revitalisation Programme.
Matopos Research Institute is focusing on improving smallholder dairy through offering expertise on dairy cross-breeding programmes, on station production of affordable dairy crossbred heifers and provision of Artificial Insemination (AI) training and services to AI technicians and to smallholder dairy farmers respectively.
Matopos Research Institute chief research officer Mr Daniel Nkomboni said the institute produces high yielding and climatic adaptive exotic and indigenous dairy cross breeds.
The institute crosses indigenous cow breeds through bull serving them or artificial inseminating with semen from imported high quality genetics.
"We produce dairy cow crosses which comprises the indigenous breed of Tuli or Afrikaner breeds and the bull Jersey or Holstein making them 50 percent cross. We sell part of the heifers and retain part of them for research purposes because we want to know their yield and what quality of milk do they produce in terms of milk solid, protein and butter fat.
"From one past research, we noticed that these heifers gave us an average of 15 litres per animal per day but for the 15 litres we look at management aspect, sufficient feed and veterinary practice which entails dipping and vaccination. That entire package has to get to scratch for that production level to be achieved," said Mr Nkomboni.
He said as part of ensuring the success and effectiveness of the breed improvement for smallholder dairy production programme the institute's extension officers conduct regular visits to beneficiaries.
"The other obligation we have is to follow up on the farmers to check if they are doing correct management in terms of feed allocation and breeding methods. It gives us an avenue to come up with researchable gaps to further improve production and we also train farmers on general cattle management," said Mr Nkomboni.
One of the beneficiaries of the Dairy Revitalisation Programme Mrs Thandiwe Mukundu of Clairemount in Umzingwane District said the scheme would go a long way in improving her dairy enterprise through ensuring increased milk yield while also enhancing her livelihood.
"This is one of the greatest schemes and it will go a long way in increasing our milk yield. It also comes with very flexible payment plans. I got five heifers in calf and paid a deposit of $400. There is a grace period of three months and there after I will be paying about $120 for the next 36 months," said Mrs Mukundu.
@DNsingo