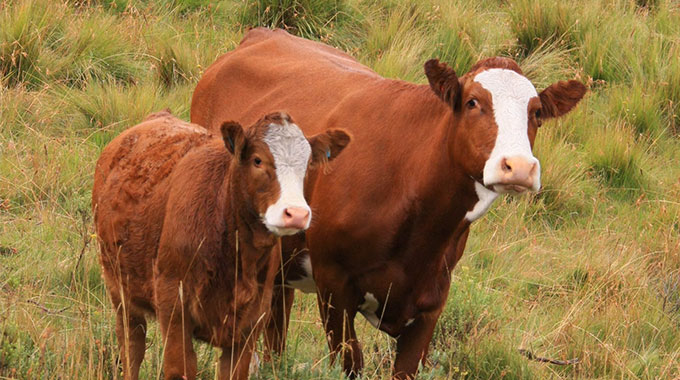 The Sunday News
Judith Phiri, Business Reporter
THE Matopos Research Institute Agricultural Centre of Excellence (MACE) is carrying out pregnancy diagnosis of 541 cattle that were inseminated in the first quarter of the year in an artificial insemination programme.
MACE is one of the six Agricultural Centres of Excellence (ACEs) that were established by the Government under the European Union-funded Zimbabwe Agricultural Knowledge and Innovation Services (ZAKIS) project.
In an interview, MACE head Mr Tendai Matekenya said the pregnancy diagnosis programme was meant to ascertain how many cattle managed to conceive.
"Under the livestock protocol for breed improvement through livestock insemination, we managed to inseminate 469 cattle for farmers in Matabeleland South's Matobo and Insiza districts. An additional 72 were inseminated here at the Institute as part of genetic conservation and multiplication. Right now, we are about to carry out the pregnancy diagnosis as we follow up on the cattle that were inseminated and be able to find out how many managed to conceive," said Mr Matekenya.
He said the pregnancy diagnosis will assist them to come up with statistics that show the conceivability rate and be able to rate the success of the artificial insemination programme. Mr Matekenya said for the genetic conservation and multiplication breeds they intend to sell to farmers so that they could have various breeds such as the Tuli, dairy crosses, Boran, Simmental and Brahman. He said the processes contribute to higher reproductive traits, high performances and better genetics which may lead to continuous growth of farmers' livestock herds. Mr Matekenya noted that for the crop research protocol they were focused on assisting farmers with forages and fodder crops.
"There are some protocols that we have done to assist farmers come feed to supplement their livestock through forages and fodder crops. We have assessed how the farmers performed to see if they were able to do what we demonstrated to them and the results were positive especially in Beitbridge. Farmers there harvested tonnes of fodder crops," added Matekenya.
He said they were in the process of following up on a poultry feed they developed and registered so that they can upscale it through commercialisation. Mr Matekenya said they are yet to engage a private commercial feed manufacturer to come up with a business plan as efforts to grow their feed visibility.
Meanwhile, the MACE also established a goat holding centre in collaborating with the Value Chain Alliance for Livestock Upgrading Empowerment (VALUE) project.
Mr Matekenya said the goat holding centre was a strategic marketing infrastructure expected to play a pivotal role in linking farmers with buyers and ensuring they receive fair value for their goats.
"Currently there are no goats at the site as we are waiting auctioning and sales of goats during the coming ZITF. The goat improvement will ensure a formalised marketing structure for goat farmers and organised link to markets."
Action Aid Zimbabwe team leader Mr Newton Chari said the animal handling centre has been completed with all of the key infrastructure now in place including a plunge pool dip tank, six goat holding pens, ablutions facilities, loading/offloading rump and a guard room.
"All works on the goat holding centre which include the installation of the roofing for the goat holding pens and installation of the water supply system which comprises two storage tanks and piping system has been done. Hence, the exercise to pilot the use of the structures by the private integrator who is a partner in the project is currently in progress," added Mr Chari.
Both the MACE and VALUE contribute towards the Zimbabwe Agricultural Growth Programme (ZAGP) which is complemented by the Zimbabwe Agricultural Knowledge and Innovation Services (Zakis) which is mandated to work with the Ministry of Lands, Agriculture, Fisheries, Water and Rural Resettlement to coordinate market-oriented education and extension services across the five value chains.