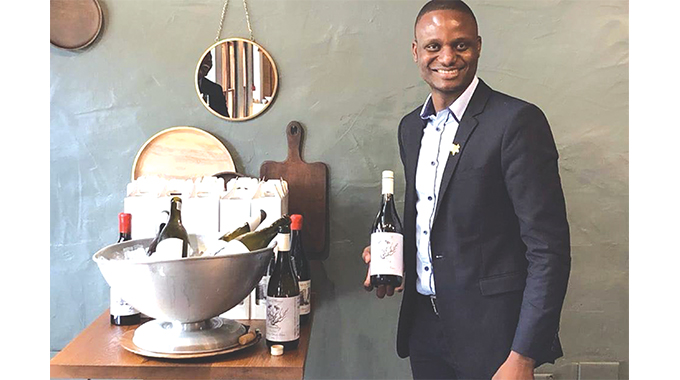 The Sunday News
Nkosilathi Sibanda, Business Correspondent
FROM cutting the lawn, daring the wobbling engine of the lawnmower to being an internationally-acclaimed winemaker and sommelier, is the story of Zimbabwe-born Tongai Joseph Dhafana that reads of a remarkable turnaround that is worth sharing.
The South Africa-based wine-maker, who grew up in Watsomba Village in Manicaland, made the painful decision to trek to neighbouring South Africa in 2009.
It was the most painful endeavour, yet the only choice that the young Dhafana had at the time. In face of joblessness and the mounting pressure to feed his family at a time when Zimbabwe faced its worst ever economic downturn. He found himself settled at the Methodist Church building in central Johannesburg, where there were dozens of refugees seeking free shelter and bits of bread. Life was a living hell, a moment that Dhafana would want erased.
His first jobs were menial ones. Being a gardener and washing dishes at restaurants. It was expected. As a foreigner, the shame of doing the least of jobs does not suffice. The money was not enough but it served well to also cater for his family back in Zimbabwe.
Soon he would endure the long train ride to the leafy suburbs of Cape Town where he was to experience inevitable change.
In a few years' time, Dhafana had turned a new leaf. He found work as a waiter. This was to give way to what now reads as a journey laden with grit amid a thorny path. It never clicked in Dhafana's troubled mind that he would become a sommelier.
Upon mingling with high life society, Dhafana developed an interest in wines. His palette on grapes even sharpened, a rarity for a man who spent his formative years chasing birds in the village.
The best he knew was to taste a sip of wine, nothing more. Wines were a new thing that was to alter the course of his destiny in South Africa's revered vineyards and high life circles.
Dhafana has a toned down yet aplomb recall of his elevation to become one of the ''on demand'' sommeliers.
A proud owner of the world acclaimed Mosi Wines brand, Dhafana speaks volumes about the wine business and making it in South Africa. The Zimbabwean has as many accolades in his cabinet, much of what is evidence of his work.
With a production capacity of over 5 000 bottles, Mosi Wines is the preferred wine brand in the wider wine loving centres of Europe and America.
In a wide ranging interview with Sunday Business Correspondent Nkosilathi Sibanda, Dhafana gave a view on how his recent endowment in the wines industry could be of benefit to Zimbabwe.
How has been your business journey so far?
It has been a bumpy ride. A rough one but, I like to say no sweat no sweet.
As a Zimbabwean based in South Africa, tell us your experience there, what can the business industry in Zimbabwe learn from the SA side?
South Africa is a different playing ground when it comes to wine production and consumption. It has wide faces and is very diverse. Yes, it is still white-dominated but again those that have power and facilities are happy to share. I am a good example of a beneficiary of this. Zimbabwe definitely has a lot to learn but I just like the fact that the wine culture exists in Zimbabwe but it just needs to be re-cultivated. The Government, tourism and hospitality industry should work together to fast-track this but I see a great future if all players come to the party. More wine tastings should be conducted in Zimbabwe, promoting food and wine pairing is also key. I have been coming home quite frequently in the past two years to host food and wine pairing dinners in Harare and it really helped much.
The wine business, how did you get to be involved in it?
It has really been a bumpy ride but one had to do it. I came down in 2009 and started as a gardener, dish washer, barman, sommelier before making my maiden vintage in 2014. I never looked back. I got my wine judging certificate with the University of Cape Town in 2015, founded team Zimbabwe in 2017 and captained in to the World Cup in France for two years that was in 2017 and 2018. I then became the 2019 Eat Awards Best Sommelier and I'm still the current holder of that prestigious accolade. It is all hard work and determination which breeds success.
Your brand Mosi Wines, how has it been received in Zimbabwe and elsewhere?
Well, my wines have been received in a way that I didn't expect. We ship 60 percent of the production to Europe, that is Netherlands, Estonia, Switzerland, Germany and soon to England so it is really remarkable looking at when we started, remember this industry has its masters too.
In Africa, Zimbabwe is the biggest importer then Kenya and Namibia. Of course here in South Africa it is listed at Norman Good Fellows, Open Wine, The Publik then La Colombe restaurant which is rated as the number one restaurant in Africa and that's where I work. The wines are served at the Grub and Vine restaurant in the Cape Town Central Business District, Aubergine restaurant in Cape Town and at Le Winechembre in Illovo Johannesburg. So, it is really doing well.
In your view, how can the hospitality and tourism industry in Zimbabwe benefit from the wine industry?
I have sent countless emails to some authorities in the sector about how best we can create synergies in the industry.
I have proof for that.
There is room for the tourism industry to work hand in hand with wine professionals and there is a huge potential.
They can use me, I don't mind. We just need committed players who have the country at heart so that we can be one of the best destinations in the Southern African Development Community region. I am very keen to be involved.
You are grabbing attention through awards, being one of the most respected sommeliers. What does it mean to you?
Well, I love my country. Anything with a Zimbabwean flag I put my neck on it. It is really remarkable and again it is not a competition for me, it is an exercise whereby they get to choose the best candidate and again I would like to think a win for one is a win for all as we want to send the best to represent our country. It is not the first time I am representing my nation so yeah, I am proud.
In your experience, do you think the local (Zimbabwean) wine industry can compete internationally?
Given the time, yes of course. We have some great terroirs and weather patterns are not bad to have vineyards. We also have the talent back home. There is room for us to compete with the world, yes. If a Zimbabwean team managed to scoop 14th position out of 28 countries in a world cup then it means anything is possible.