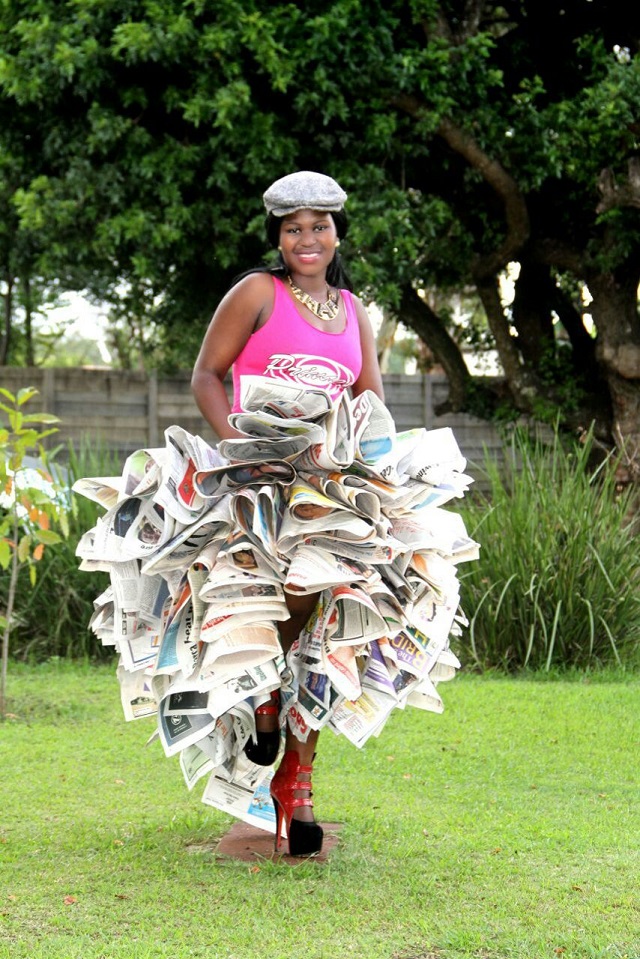 The Sunday News
Joel Tsvakwi, Sunday Life Correspondent
RISING gospel songster and fashion designer, Prevalent Sithole aka Privvy has carved deeper an area predominantly ignored by most artistes in the music landscape.
Privvy has penned a song titled Shewe (Nkosiyami) which she is dedicating to men as a way to resuscitate a dying if not dead acknowledgement.
Privvy is of the opinion that it is an unconditional duty both culturally and in the Christian life circles for women to acknowledge Shewe/Nkosi yami/My lord when called by their husbands.
She is of the opinion that society should avoid wholesale blame on men as they are important to the status quo of society.
Privvy who penetrated the music industry by storm through her rare and weird costumes, made out of newspapers and vegetables which she christens, Avante Guarde, a French term, meaning something crazy is geared to restore good cultural values.
She had joined a few lot of the likes of Pah Chihera, Diana Samukange, in encouraging women realise their surefire duty of respecting their husbands.
Following the success of her debut album, Ndibvumbamirei Changamire and a hot single, Tikwazisei tichakwazisika she is now pinning on raising positive awareness on the importance of fathers in family set-ups as she believes this could be a panacea in solving much of society's problems.
In an interview with Sunday Life, she shared, reasons behind her mooted gender parity song.
"My song titled Shewe, Nkosi yami, My lord, is a song about respecting our male counterparts in our varying communities.
"A boy child is important, in a family where there is none the couple will continue trying their luck only for the sake of having one, even in kingships, in most cases the throne is left for the boy child," she said.
According to Privvy, men need to be respected, whether poor, rich, tall or shorter in any form of marriage institution.
"While they are a few female artistes who want to sing praises of men with regards to their roles more often songs about men are of their wrong doings because undoubtedly some men have bad morals.
"It does not mean that we don't have equally good men who need to be recognised and praised so as to purvey the good morals exhibited by such men, that's why I am dedicating a song to them, they deserve to be called Shewe/Nkosi yami," she said, adding that Sarah used to acknowledge Abraham the same way.
Privvy considers herself fortunate for having been raised by a mother who unconditionally acknowledged Shewe/Nkosi yami.
Being a daughter to the late charismatic former Bulawayo North Overseer, Edward Christmas of the Zaoga Forward in Faith church, she revealed the concept for the song is something she discovered at home.
"I used to hear my mother Edith Christmas acknowledging Ishewangu/Nkosi yami to my father before he went to the Lord and this respect to my father bred the much healthy bond in the family and the result was a continuous nexus of happiness," she added.
@joeltsvakwi