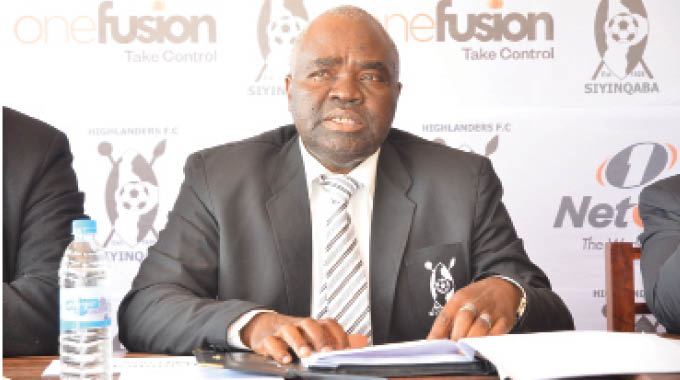 The Sunday News
Ngqwele Dube, Sports Correspondent
HIGHLANDERS chairman, Kenneth Mhlophe believes it is critical for the club to have a solid financial base to ensure it achieves its various objectives.
Mhlophe believes a weakened financial base has seen the club struggling over the years and if re-elected to lead the club next month, he will work hard to consolidate efforts of creating a financial base that will enable the club to compete on the player market and complete various club projects.
He said without a strong financial backing the club was unlikely to regain its stranglehold in local football and win the championship.
Mhlophe's term comes to an end at the end of the month when the club holds its Annual General Meeting (AGM).
He is facing a challenge from businessman and farmer, Johnfat Sibanda in elections scheduled for early next month.
Mhlophe said his first stint was successful as they had managed to achieve several set objectives and have already laid the ground work for future projects, which he believes will set Bosso on a path to financial success.
He expressed optimism that members will afford him another chance to lead the club adding that his optimism comes from the fact that his executive created a platform for growth and success for the club even though there was no corporate support and football last year.
"My ambition as indeed that of members is to transform the club into a sporting giant both in terms of on the field success and financial success. I want to leave a legacy.
"I think securing the mine will put us in a good footing to be able to complete our aims of winning the championship and returning to the African safari.
"Without sound financial footing there is really nothing we can do as we will not be able to compete on the player market, we won't be able to afford the best coaches, we won't be able to retain our best players.
"We need to nurture our juniors, expand our offices and accommodation (Hotel California) and all this can only be done with strong finances," said Mhlophe.
"We have managed to keep the club functioning within a very difficult period by being innovative and creating non-traditional revenue streams."
He said being financially stable will enable the club to bring any player from anywhere and achieve its goals of winning the championship and participating in Africa.
Highlanders signed a technical agreement with On The Ball sportswear, which has enabled the club to put replicas on the market, something that fans have been crying for.
The US$300 000 deal is set to run for three years.
Mhlophe said they are hoping to meet all the regulations and acquire machinery needed to start mining in six months' time.
The club last year acquired a mining claim in Inyathi and there are high hopes that once the project is put in motion, Bosso will be financially self-sustaining.
"The mine licence is just a paper which can gather dust in the office if given to someone who is not diligent and does not have a vision.
"We have already engaged other partners with whom we are initiating money generating projects which we expect to come to fruition soon," he said.