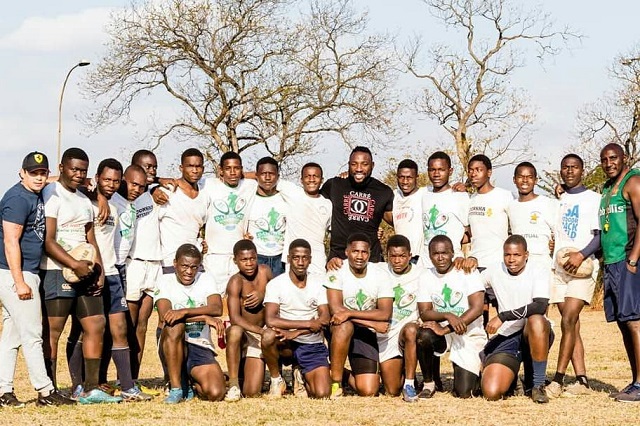 The Sunday News
Patrick Mushunje, Sports Reporter
Milton High School first team rugby player, prop Sovereign Mwanyenya has expressed a lot of gratitude to the opportunity given to him to attend trials at the Sharks Rugby Academy in South Africa.
The youngster, who plays prop said he was impressed by the call up to go for trials at the end of the year suggesting that the call up was just but the beginning of his stellar career and promised Zimbabwe rugby fans more fireworks.
"I would like to express my deepest gratitude concerning the opportunity that I have been given by Sharks Rugby Academy. I will make sure that I use the given chance to my greatest advantage hence making sure that I secure my place at the academy," he said.
Mwanyenya further promised the Zimbabwe rugby fans, a  lot of entertainment in the game as he said that he is out to underline his name as one of the greatest props Zimbabwe has ever produced.
"A lot of rugby entertainment is in store. I am going out not just to represent myself but to represent the nation and along the way I will make sure that I nail my name as one of the greatest rugby players in Zimbabwe," said Mwanyenya.
On the journey to Sharks Academy, Mwanyenya will be joined by Milton teammates, centre Takudzwa Sithole who plays centre and fullback Dayton Phiri.
Milton coach Jafet Ndebele, gave thanks to the school for their continued support to the beautiful game and main sponsor Shasha Gomez for his never ending love for Milton high rugby team.
"We are very grateful as Milton rugby team to the headmaster for his support to the team, the staff members have also played a role towards the upliftment of rugby in our school," he said.
He went on to say, "Great credit goes to our main sponsor Shasha Gomez who has promised to drill for us boreholes and refurbish the rugby fields so as to make sure that we have first class rugby fields not forgetting the Almighty who is the owner of the talent found at Milton."
The talented trio was spotted by Zimbabwe South African rugby great Tendai "Beast" Mtawarira who was in the city as part of his give back to the community initiative. He gave back to the communities of Zimbabwe through teaching the rising rugby stars the rules and skills of the rugby game.