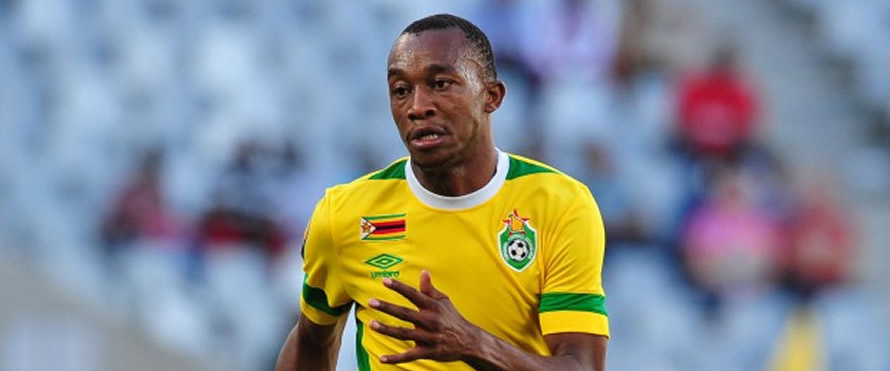 The Sunday News
Sibhekisipho Fayayo Sunday Leisure Correspondent
FORMER Highlanders and Warriors player Milton Ncube's marriage is on the brink of collapse after it emerged that the utility player now plying his trade with Ajax Cape Town of South Africa is reviving his love with a former girlfriend.Sources privy to the goings on allege that Ncube, who is married to Kudzai Kanyamaure, cannot put up with Kanyamaure's abusive nature and has decided to "loan" out his heart once again to her former girlfriend, Primrose Noe Dube.
However, the affair has not gone unnoticed by Kanyamaure who is reported to have responded by sending death threats to the young woman who is now living in fear.
It is also reported that Kanyamaure has gone to the extent of threatening all other former lovers of Ncube who are still in contact with the footballer. One of the victims who has fallen prey to the wife's threats is Queen Banda, Ncube's former sweetheart who is based in South Africa.
"It's not all rosy in Ncube's marriage life as he seems to be dragging his feet. It seems Ncube is retracing his steps to his former lover Primrose and no longer want to continue living with Kanyamaure. But Kanyamaure looks like she is not going to have none of it.
"She has been sending people to threaten Primrose but the funny thing is that Primrose dumped Ncube a month after discovering that he is married," said one of Ncube's close friends.
It seems the couple is set for a split as Kanyamaure is in Bulawayo while Ncube is in Cape Town.
"It seems the couple is at loggerheads as Kanyamaure is now in Bulawayo. It has been two weeks now since they last spoke to each other. She has even gone to the extent of visiting Ncube's family asking them to plead with their son not to leave her and she is even threatening to kill Ncube if he truly leaves her," said the source.
It seems she has fallen out of favour with some of Ncube's family members.
"Even some of the members of Ncube family can't put up with her abusive tendencies as she at times hides his bank cards. She is the one who arranged for the two private weddings which they did but now things seem to have changed as her money is no longer working for her as Milton earns well at Ajax Cape Town," said the source.
It is Primrose, however, who is caught between a hard place and a rock as Ncube is allegedly pleading with her for an affair while his wife is  threatening her.
"Dube is in trouble because on one hand Milton phones asking her to take him back while on the other hand Kanyamaure phones her threatening  that if she dares do that she will do anything to harm her. She claims to be connected to bigger people in Bulawayo whom she can pay to destroy Milton as well as end his career," said the source.
Only recently Banda was on the receiving end of Kanyamaure's threats.
"Just recently she phoned Banda's cousin telling her that if Banda receives Milton's phone calls that will be the end of her and her family will never see her again."
Primrose confirmed receiving threats from Ncube's wife.
"She has threatened me time and again and has even gone to the extent of telling me that she is filing for a $20 000 lawsuit but nothing is happening between me and Milton as we broke up as soon as I found out he's married," said Primrose.
Banda also confirmed receiving threats from Kanyamaure.
"It's true I have received threats to that effect but they have since stopped, am sure she discovered that nothing is happening between me and her husband," said Banda.
However, it is reported Milton no longer cares to hide his feelings for his wife as well as his feelings for Dube.
"Whenever you ask him what is happening between him and his wife he will tell you that he is fed up," said the source.
Ncube tied the knot with his high school sweetheart Kanyamaure in a private ceremony last year and at that time she was four-months pregnant.
The wedding was attended by only six people that included their witnesses.
Ncube's team-mates and Bosso officials were conspicuous by their absence.
Also of note was that Ncube did not have his parents at the proceedings apart from his best man, former Highlanders defender Atlast Musasa who reportedly came down for the wedding from his Namibian base.
Contacted for comment Kanyamaure denied the allegations.
"I don't know any of the people you are talking about. For starters I have never threatened anyone in my life and my marriage is intact," she said.
Ncube could not be reached for comment.