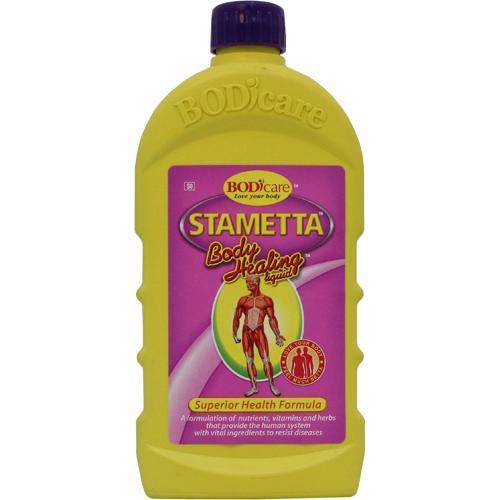 The Sunday News
MISINFORMATION is likely to see the rate of HIV infections shooting up as some Zimbabweans are having unprotected sex in the belief that if they drink Stametta, a herbal drink, immediately afterwards, they will not get HIV and other sexually transmitted diseases, Sunday News has established.
The herbal drink, which is readily available at shops and pharmacies across the country, is reportedly selling like hot cakes and in some cases runs out minutes after making it to shop shelves.
Sunday News can also reveal that women in Zimbabwe are also using Stametta to terminate pregnancies.
Stametta is mostly used as a complementary medicine and is widely believed to help in boosting sexual performance, helping with menopause, cramps, lowering blood sugar, acne, stomach ailments and wound healing. Stametta has no known legitimate medical use and is not approved by the drug regulatory agencies in most countries.
It is manufactured by Bodicare, a South African company, which markets the formula as a "body healing liquid" and a "superior health formula".
It is a complementary medicine, meaning it is an alternative medicine that is put forward as having the healing effects of medicine but it is not based on evidence gathered using scientific methods. Complementary medicine is alternative medicine used together with conventional medical treatment in a belief, not proven by using scientific methods, that it complements the treatment. It lacks scientific validation and its effectiveness is unproved.
Sunday News has it on good authority that misinformed Zimbabweans are now recklessly having unprotected sex because they believe Stametta will come to their rescue as a post-exposure prophylaxis (PEP).
PEP involves taking anti-HIV medications soon after exposure to HIV to try to reduce the chance of becoming HIV positive. These medications keep HIV from making copies of itself and spreading through the body. Stametta liquid is said to boost the immune system, by blood and cell cleansing — a declaration that has led people to believe that it can prevent HIV infection by "cleaning" the blood, washing out the virus before it takes root.
Most people interviewed by Sunday News were convinced that the "body healing liquid" could help prevent HIV. Some even confessed to using Stametta after they had had unprotected sex.
Stametta is also popular with women who use it as a morning after pill as they believe that it prevents unwanted pregnancies.
However, instructions on the use of Stametta state that it is "not to be taken by pregnant women or children under the age of 14 years''.
Contacted for comment, Medicines Control Authority of Zimbabwe (MCAZ) spokesperson Mr Richard Rukwata said it was unfortunate that while Government was desperately trying to reduce HIV/Aids prevalence, there were some people who were countering this move by peddling misleading information.
He said in the first place it was illegal for the herbal drink to be openly available at stores and pharmacies in the country.
"As an authority we will never approve anything like that; it is criminal and all things being equal the people who are distributing it should be arrested. We really cannot have a situation where while we are fighting to minimise our prevalence rate, we have someone literally encouraging people to engage in unprotected sex with the misplaced excuse that if they drink this herbal drink they might reduce their chances of contracting this virus.
"If there are people out there who honestly believe this, I should immediately warn them that they are doing the exact opposite of what they aim to do and further they must realise that they are exposing themselves to even more danger," Mr Rukwata said.
He said the problem with most herbal medicines was that they did not go through any medical tests but were just assumed to be safe, which he said in some cases was not true.
"To just show you that this drink is far from what it is purported to be, you find it is claimed to be a cure for a number of things; stomach pain, is a PEP and abortion inducer. You then just get to ask yourself whether this is really possible.
"In actual fact, I believe people are instead exposing themselves to side effects, an example being that in the instance that when someone is saying such drinks aid abortion, this can even have dangerous consequences that can even be death," Mr Rukwata said.
Deputy Minister of Health and Child Care Dr Paul Chimedza also lamented this public perception on the herbal drink, noting that this was a phenomenon that had to be addressed as a matter of urgency if the country was to ever fight its HIV/Aids prevalence rate.
"Anything that is used as a medicine should be medically tested and proven that it does not have any side effects or that whatever it is said to prevent is true. In this instance it becomes a more worrying phenomenon because it comes at a time when we are preaching safe sex in order to reduce our prevalence rate.
"People should not just use such medicines recklessly; on our part it goes to show that there is more that we should do to raise awareness among our citizens not to just fall victim to such reckless beliefs," said Dr Chimedza.
According to women who offer backyard abortion services, Stametta was the safest method they used to terminate unwanted pregnancies. Before the advent of Stametta, most of them used the coat hanger wire or a knitting needle to terminate pregnancy.
"Abortion is safer and more efficient with Stametta. I simply instruct my clients to buy this Stametta but it should happen within weeks of the pregnancy. I know some people believe it does not work but I have a lot of examples where it has worked," said a woman from Tshabalala.