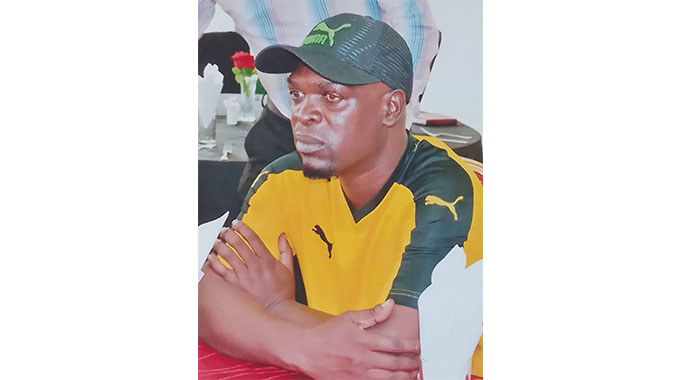 The Sunday News
ZAMBIANS nicknamed him Bomber because he was a nightmare to goalkeepers and when Mulenga Chewe took his act across the Zambezi he proved his mettle as well.
He remains in a group of very good players from Zambia to have played in this country. Others who were good representatives of the copper mining giant are Laugher Chilembe, Clive Mwale, Ferdinand Mwachindalo, David Mutale, Webster Chikabala, Jones Mulenga, Joseph Mwansa, Alick Mwanza and Charles Chilufya.
To many he remains one of the best old centre forwards whose job was to score as he top scored at almost every club he played for. He was terrific in front of goal and his effectiveness came to light whenever he received the ball in the box where his reactions were quick and the effect devastating.
For the big teams he was a catalyst in cup victories yet for lowlanders he was the difference between survival and relegation with his goals.
Now a Caf A certified coach in his native Zambia at Konkola Blades, Chewe reminisces over a career that saw him play for over a half dozen clubs with relative success.
So good was he that he played for the Zambian Under-20 team with the likes of Denis Lota, Ezra Mwanza and Winston Kalenga.
Chewe also did duty for his senior national team lining up with some of the best remembered talents of the past two decades in Derby Mankinka, Wisdom Chansa, Charles Musonda, Mordon and Kenneth Malitoli.
"I am grateful to God for the talent and opportunity to play with some of the best players of my country.
It was a great experience and I feel honoured to have played for my Motherland Zambia at some stage of my career," said the 1995 BP Cup winner with Kabwe Warriors.
That win at a time the Zambian economy was in the scrap heap opened doors for Chewe to come to Zimbabwe.
A Caf Cup Winners tie against Blackpool was all it took him to impress John Nyamusoka of Rufaro Rovers.
"He saw me when we played against Blackpool and started negotiations. I took the offer and moved to Zimbabwe and I remember scoring against Caps United in my first days and in less than half the season
I must have scored between six and seven goals for Rovers," said Chewe.
The nomadic striker, born on 9 March 1967 in the Copperbelt had started his football journey as a midfielder at Konkola Blades developmental sides. He played a bit of the game at Kamenza Primary School and Chililabombwe Secondary School.
He credits his rise in the game to good mentoring by coach Dave Roberts who promoted him from the juniors to the reserve team where he showed flashes of a great player in the making as an attacking midfielder of note.
At 16 he found himself in the first team and competing with more seasoned guys. He would stay at the club and move on to Green Buffaloes, the army side where he played with Bonface Killer Chanda, Willie Chiwika, Simbule and Eston Mulenga whom he described as a dependable centreback.
"He was the pillar of the club in defence, I learnt so much from him, he was a fighter and a leader," said Chewe.
In 1993 already an experienced league campaigner with international caps at Under-20 and senior team, Bomber found himself on his way to Kabwe Warriors one of the country's biggest clubs.
He would team up with former Hwange and FC Platinum coach Tennant Chilumba, a former Zambia international, Happy Sichole, Harrison Tembo, former Manning Rangers and Zimbabwe Saints midfielder Dominic Changwe and Zambia first choice goalkeeper Davies Phiri.
"It was a good team with good balance and was one of the top sides in Zambia. I had a good time there and we won the BP Cup in 1995 earning the berth to represent Zambia in the Africa Cup Winners Cup in which we met Zimbabwean side Blackpool.
"I think in my maiden season there I scored nine goals, followed up with 12 in 1994 and 11 in 1995 leading to my crossing the border to play in Zimbabwe where I also enjoyed my football and life," said Chewe.
With Zisco relegated in 1997 to play in the competitive Zifa Southern Region, the iron and steel side coached by Benedict Moyo made Chewe one of their priorities.
"They must have spoken to Webster Chikabala who was here earlier than us, he was our big brother who gave us advice. Moyo came to pick me up in Harare and he was a good coach who treated me like his son and I delivered 28 goals that season," said Chewe.
At Zisco he played with the legendary Newman Bizeki, Collin Nyambiya then a fresh faced boy from school, Batsirayi Dliwayo, Billy Chiakabala and Mandla Mpofu.
In earlier interviews with Sunday News this year Mpofu and Nyambiya described Chewe as the ultimate professional who took his football seriously.
A striker who celebrated scoring even at training sessions as if he had done so in the Champions League final.
Another behind the scenes chat with Webster landed Chewe at ambitious Railstars FC in Bulawayo.
"They spoke to Webster and a deal was sealed and I moved to Bulawayo. They were a small team with ambitious youngsters who were talented. I remember Kelvin Maseko, Master Masiku, Thabani Sibanda, Derek Phili, they were good stars and I met up with Dliwayo, Nyambiya and Mpofu there, these being guys I had played with at Zisco, so I felt at home," he said.
Always the executioner, in his first year in one of the most productive strikeforces in Zimbabwe football, Chewe, Givemore Manuella and Nyambiya were tormenting opposition defences for fun.
Manuella and Nyambiya did fantastic work on the wings and Chewe would do justice in the box, with precise finishing with his head and either feet and even acrobatic excellent goals for a 1999 season's tally of 15 in the Premiership.
If doubting Thomases were  questioning the 1999 goals' harvest, he would go on to clinch the 2000 top goalscorers' gong with 25 pipping Zenzo Moyo in the last weekend of the race.
Moyo had left Zimbabwe midway through the season for Cyprus where he shone for Phaphos and would later become the second Zimbabwean after Kennedy Nagoli to play in Greece.
Chewe had a trial in Cyprus at the end of the season but could not get a deal because he was already 32 older than what the Cypriots wanted.
In 2001 AmaZulu came knocking through the same door that had engineered moves to Zisco and Railstars.
He moved to Usuthu and finished with nine goals and an OK Grand Challenge winners medal.
He was part of a talented AmaZulu side with David Mkandawire, Herbert Dick, Mkhuphali Masuku, Richard March, Misheck Makota, Muzondiwa Mugadza, Nkosana Gumbo, Patrick Daka, Joseph Kabwe, Master Masiku, James Phiri, Mlungisi Ndebele, Ferdinand Mwachindalo and Dominic Sithole.
"They paid me well, it was the best paying club of all I played for. My salary must have been around $12 000 and the amount they paid to my parent club that up to that time had remained Kabwe Warriors was hefty.
"That was my last year under Kabwe and the following season I moved to Highlanders under Eddie May another great coach and I was part of the Champions League team that beat St Lousianne of Reunion and went on to bow out to Esperance of Tunisia," said Bomber.
He played with the likes of the late Bekithemba Nkiwane, Richard Choruma, Charles Chilufya, Gilbert Banda, Honour Gombami, Dazzy Kapenya, Brian Ndlovu, Blessing Gumiso, Gift Lunga (Jnr) and Tapuwa Kapini.
Of Highlanders he said it was a dream come true to play for one of Southern Africa's biggest and best clubs at that time.
"Every day was full of expectation. Whether you were going to practice or shopping the fans recognised and greeted you. On match day it did not matter whether you are home or away, the experience was self-motivating, you were compelled to do your best for the club and the fans. I enjoyed my football there," said Chewe who would later move to Masvingo United where he retired in 2005.
He says he was lucky to have played for clubs that did not use 'juju' openly.
"If they used it, it was discreet, far from our eyes as players. Maybe some players used it secretly, the success to football is hard work and good habits brewed by discipline," said Chewe who led by example on and off the field.
Meeting him 30 minutes after the game, one would think he is too smart to have been on the field of play as a player as he would be looking the deal in designer stuff.
Chewe a married father of four, is coaching Konkola Blades in the Zambia First Division.
He led the club to Premiership at the end of 2020 season and were relegated in April.
He remains hopeful that they will bounce back.