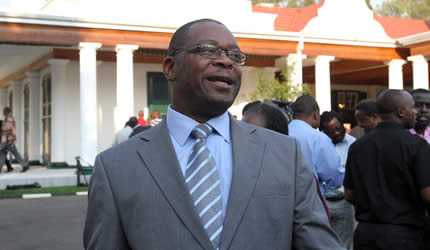 The Sunday News
Politicians and other multiple farm owners are likely to lose land in the Government's use it or lose it policy after revelations that some politicians were holding on to large tracts of land for speculative purposes.
It has also emerged that some of the politicians were using their political muscle to acquire farms using names of their children still in school and below majority age as well as their spouses.
Although Lands and Rural Resettlement Minister Dr Douglas Mombeshora said in a telephone interview on Wednesday that he was yet to receive reports of politicians owning more than one farm and not utilising them, he said such beneficiaries could lose the land to more serious and responsible people.
"I have not received any such complaints of politicians abusing their political power to have multiple farms at the expense of landless citizens. If such complaints are brought to my attention by the provinces I will do my investigations and act on the findings," he said.
The minister added that it was the prerogative of the responsible provinces to ensure that their people get land and that no one no matter how powerful had two or more farms.
"It's up to the provinces through their lands committees chaired by respective provincial ministers to allocate land equitably. If they encounter any problems they will tell me. I can't be everywhere so I rely on them. If there are problems they feel they can't solve, they are brought to my attention.
"So if the provinces are quiet, my assumption is that there are no major problems in the way they are allocating land," he said.
A recent visit to Masvingo's Mwenezi district by the Sunday News revealed that there were certain politicians and a moneyed clique that was holding on to land yet there was no structure on the said land.
Councillor Shongedzai Shoko of Ward 16 in Mwenezi said there were large tracts of land belonging to politicians in the province who have been allocated land elsewhere. He added that most of the politicians and a selected clique had plots in the Mateke area where they wanted to turn the plots into conservancies.
He said some of the politicians who were allocated A2 plots were last year leasing their farms for grazing to people in Beitbridge where they were paid with beasts because they had nothing themselves on the farms.
"There are certain politicians who have been allocated A2 plots when they have land especially in Chiredzi. Some of the land is lying idle and people are scared of the names and can't do anything about it.
"Some have not constructed anything on the farms. This is grossly unfair because we have a lot of people who still want land but cannot get into those farms," said Clr Shoko.
He urged Government to look into the issue saying the findings would be shocking.
Minister of State for Masvingo province Cde Kudakwashe Bhasikiti who chairs the provincial lands committee said he was going to find out although most of the politicians had since surrendered the land.
"Some of the names that are being mentioned have farms in Chiredzi and they can't have two farms. I know for certain that Minister Mzembi (Walter) gave up the land in Mwenezi.
"As for Cde Chindanya (Jefta) I am convinced that the farm belongs to his son while Mai Mahofa (Shuvai) and Chief Charumbira (Fortune) have farms elsewhere in the province and can't have two farms. I will check but I doubt it very much," he said.
He added that if they found out that some of the politicians owned more than two farms they were going to take some of them and resettle landless people in the province.
Dr Mombeshora said he was not briefed of the land issue in Mwenezi when he visited the province during the relocation of Tokwe-Mukosi flood victims.
"I was in Masvingo. I went to Chingwizi in Mwenezi but I was never told of the land issues. If there are problems they will be brought to my attention by Cde Bhasikiti. For now I can't comment further," he said.
Government embarked on the land reform programme in the year 2000 after Britain reneged on the promise to compensate Zimbabwe for land.
The main objective of the programme was to correct the historical and colonial land imbalances that were perpetrated and perpetuated by the whites years after independence.
Most of the land was owned by a few whites while the black majority remained crammed in unproductive soils.