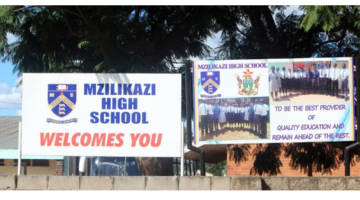 The Sunday News
Valencia Ndhlovu, Sunday News Reporter
THE Mzilikazi High School's class of 1982 on Friday made a worthy donation to their former school to cover for the infrastructure gap and improve on the conduciveness of the learning environment.
The group of 47 former students who are part of the class of 1982 donated 15 whiteboards and repaired 180 broken chairs as part of helping out the school that made them. Group chairman Mr Alex Marufu said, "I am very proud of the group of 1982 students for coming up with this great initiative of giving back to the school and trying to help the students at the school get more learning equipment. I remember during the old days how we would enjoy learning in this school though we did not have access to a lot of things that students are having these days," he said.
A group member, Mrs Winnie Katambarare said some of the members paid visits to the school to check what the school needed from where the sourcing starts so that they give to close a gap. Another member Mr Lubinda Mathe volunteered to go and install the whiteboards when the school was ready to mount them.
The headmaster at Mzilikazi High School Mr Bhekokuhle Dube said, "the class of 1982 has helped us a lot in the school and we are very grateful as last time we received 80 chairs from them. I'm very glad that we received the whiteboards as they are very expensive and they will make teachers' jobs easier.
"We are looking forward to receiving more donations as we have a shortage of classrooms. We currently have about eight classrooms. A two-story classroom would do with four at the bottom and four on top and that will alleviate a lot of our problems. Our enrollment is over 2000 and extra classes would help. We also need to revive our sporting facilities like volleyball and tennis courts. There is also a need to revamp our laboratories, especially the chemistry lab and the biology lab so that we can improve our pass rate in science subjects," added Mr Dube.
A member of 1982 Mr Bhekumuzi Dhlodhlo said the motivation to donate was spurred by the need to improve the school so that it remained one of choice to learners and parents.
"We want young children to benefit a lot from us as they are the sole reason behind the motivation to donate. We want to move with time and getting these whiteboards was a way of running away from chalkboards.
"We received a list from the headmaster and we are basically ticking off from it, laptops are to come in the future. We also have a vision of fixing the school doors and putting in double doors since the ones at the school are damaged. We source donations from all over, countries like Australia, the United Kingdom, South Africa, and other countries," he said.
Mzilikazi High School is well known for its academic achievements and sporting excellence. The school's football team has won the COPA Coca-Cola national tournament four times. The school said it has an objective of creating an educational atmosphere intended to empower its students.