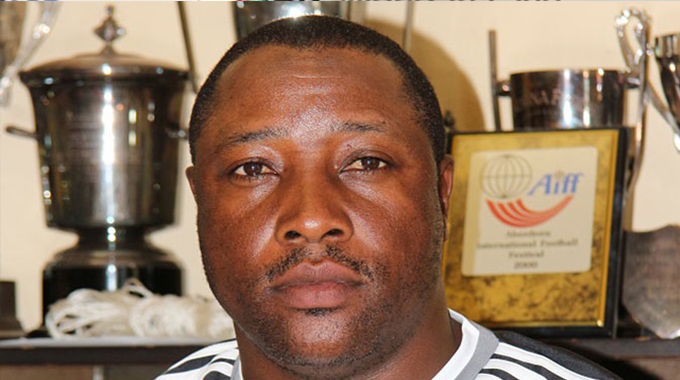 The Sunday News
Mehluli Sibanda, Senior Sports Reporter 
HIGHLANDERS are enduring one of their worst seasons in recent memory, with the fading giants in an unfamiliar position on the Castle Lager Premier Soccer League log where they are fifth from bottom. 
When Mandla "Lulu" Mpofu took over from Madinda Ndlovu as the head coach at the beginning of July, he brought some hope to the hard to please Highlanders fans. Mpofu did not lose his first five Castle Lager matches where he picked up two wins and secured three draws. 
All that has fallen apart with Highlanders having now lost three matches in a row, something that had not happened since the start of the season. Bosso have come out second best against Caps United, Harare City and Triangle. Kenneth Mhlophe, the Highlanders chairman last Friday said the club's leadership will assess the results after three matches where the coaches are expected to get six points. Bosso have already lost one of those matches against Triangle, which means Mpofu is under immense pressure to deliver against Mushowani at home and Hwange. 
Mpofu, who conceded that he is under pressure feels there is a lot of negativity at Amahlolanyama, which he believes is contributing to the team's poor performance. He was nevertheless pleased with how his boys put up a fight against Triangle where they conceded the second goal with a few minutes before the end. 
"There is pressure everyday in this industry, whether you win or lose, the timing was not good enough, a day where we have a crucial game, the boys read such things, I am happy these boys applied themselves very well, the performance was great,'' Mpofu said.
He is determined to get the six points, starting with today's encounter with Mushowani Stars at Barbourfields Stadium, even though his sentiments are that he is not being everything he needs to deliver. 
"We need to get three points, we must make sure that we get the three points. It doesn't matter whatever happens, what matters is that we are giving 100 percent, whether the ground is not even. There are things that I cannot control,'' he said. 
One of the talking points ahead of the trip to Triangle was the unavailability of captain and first choice goalkeeper Ariel Sibanda. The Bosso coach explained that Sibanda did not attend training in the build-up to the trip to the Lowveld due to family problems. This saw Wellington Muuya starting in goals for the first time this season. 
"Ariel was excused because he had a problem at home, he did not attend training for two days and was left behind to attend to a family problem. It's a critical position, Muuya did his best, we can't blame him for the two goals that were scored, he was totally in charge of his area." 
Mpofu wants to focus his attention on making sure his players are focused on delivering the three points this afternoon. 
"We have lost three games in a row, these things happen in football, what's important is how best we can to get a win. I want to channel my energy to positive things, get my players in the right frame of mind to get the three points. I am not worried about the three matches, I am a professional, I will do my job. I am doing my best to make sure that the team gets the three points,'' Mpofu said.
Sibanda is expected to make a return to the starting line-up. Peter Muduhwa, MacClive Phiri, Mbongeni and Tendai Ndlovu should be tasked with ensuring that Bosso keep things tidy at the back. Nqobizitha Masuku has been outstanding in the middle of the park for Bosso and scored his team's goal against Triagle. His combination with Devine Mhindirira and Brian Banda could unlock goal scoring opportunities for Prince Dube, Ray Lunga as well as Tinashe Makanda. 
Bosso and Mushowani met at the start of the season at the National Sports Stadium with the match concluding in a 0-0 draw. With Bosso enduring a poor run, only two points separates the two teams. 
@Mdawini_29