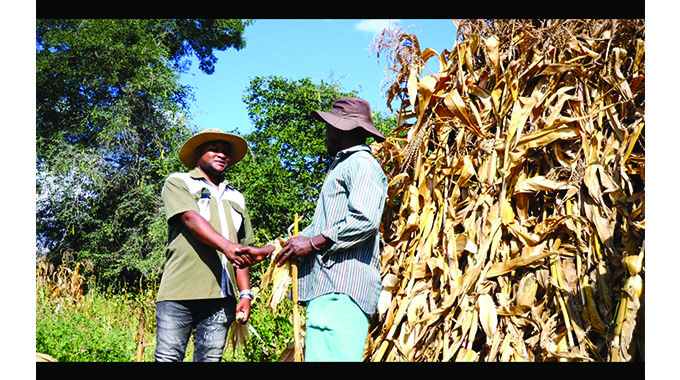 The Sunday News
Judith Phiri, Features Reporter
Nationwide, farmers are adopting the use of best-bet technologies on livestock feed and fodder production, as supplementary feeding has become one of the drought mitigation response strategies to alleviate cattle deaths in the country.
Best-bet technologies in the agriculture sector are said to be addressing climate change and variability while spurring agricultural transformation to help countries achieve productivity and profitability in farming.
Among the drought-prone areas in Zimbabwe, the National Drought Risk Index (NDRI) indicates that the south-western provinces of Matabeleland North and South show high levels of drought risk and vulnerability, which negatively affects both cropping and livestock production.
Livestock farmers in such areas have adopted fodder production as a direct response to this challenge which is exacerbated by the climatic change pressures.
A number of non-governmental organisations have in the past few years promoted fodder production among livestock farmers, while the Government has also provided seed packs of fodder crops.
The International Livestock Research Institute (IRLI), the International Maize and Wheat Improvement Center (CIMMYT), CIRAD and the University of Zimbabwe (UZ) partnership with the Government is transforming the local livestock value chains.
Zimbabwe over the last five years has been seriously affected by disease-related deaths and droughts which have compromised the competitiveness of the livestock value chain. Since 2020, under a project funded by the European Union popularly referred to as the Livestock Production Systems in Zimbabwe (LIPS-ZIM), there has been an increase in the adoption of climate-relevant innovations in livestock-based production systems and improved surveillance and control of livestock diseases in Zimbabwe's agro-ecological regions IV and V.
The project works in Zimbabwe's Matabeleland South (Beitbridge and Gwanda districts), Matabeleland North (Binga, Hwange and Nkayi districts), Midlands (Gokwe North District), Masvingo (Chiredzi District), Manicaland (Buhera District) and Mashonaland East (Mutoko District).
In an interview, one of the beneficiaries of the project, a farmer from Senze Village, Ward 7 in Nkayi North, in the sprawling Matabeleland North, Mr Nhlanhla Khumalo who has about 20 cattle said the project has improved their economic livelihoods as they have managed to improve their cattle conditioning which yielded in significantly increased revenues.
"For a long time, recurrent droughts caused our livestock conditioning to be poor, especially during the August to late October period where the veld is poor and the temperatures are excessively high.
When we would try to sell our cattle during this period, we would receive paltry payments of as little as US$150, but having been introduced to fodder production and conservation agriculture practices that cater for both human and animal consumption needs, we have realised prices as high as US$500," said Mr Khumalo.
He said as farmers, they finally have a sustainable solution for the lean season as they do not always have money to buy commercial feed.
He said by growing fodder crops, they were also reducing pressure on the grazing lands and thereby allowing them to recover.
As a way of diversifying their income, which helps them take better care of their families and improve their resilience, Mr Khumalo said together with his neighbour, Mr Robert Dube, they have managed to buy grinding mills.
Mr Dube said: "As we are now getting better value for our cattle after supplementing their feed, we looked for other income-generating ways.
We came together with Mr Khumalo contributing three cattle each and bought different types of grinding mills that are servicing our area. Hence, we have managed to diversify our incomes."
He said they were also assisting other farmers in the area on how to grow fodder crops through farmer field days, while also developing fodder banks.
Nkayi North Ward 7 agricultural extension officer, Mr Prince Ndlovu said they were highly appreciative of such initiatives driven by the Government and its partners.
"We are seeing farmers embracing the new technologies and crops, where we are encouraging them to adopt and grow.
These crops include Lab Lab, velvet beans (Mucuna), and stress-tolerant maize varieties. Besides this, we are teaching farmers water harvesting technologies and this is growing in popularity with farmers," he said.
Mr Ndlovu said fodder crops had various benefits as they are very palatable, nutritious and can adapt to a wide range of soil types.
He said they are also easy to grow, they are drought tolerant, withstand extended periods of moisture stress and can be grown on dry land without any irrigation.
Mr Ndlovu said through fodder production, farmers could grow various forages and legume crops which are nutritious for their livestock.