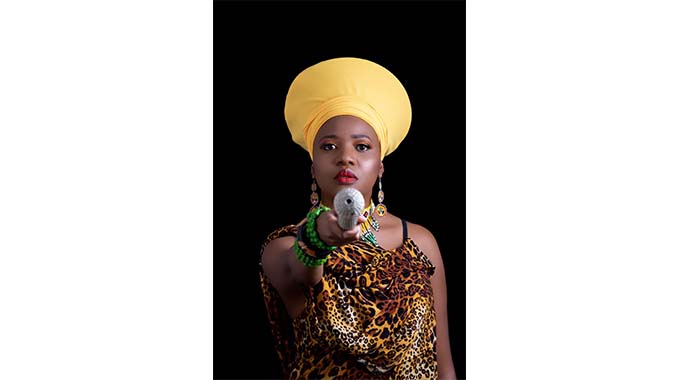 The Sunday News
Langalakhe Mabena, Sunday Life Correspondent
Germany-based contemporary songbird Nomathamsanqa Mkhwananzi popularly known as Nkwali, has dedicated her life to uplifting and helping the girl child in realising her dream.
To archive her goal, Nkwali who is currently in the City of Kings bonding with his family, has established the Nkwali Foundation, which she said was aimed at giving support to the underprivileged and orphans.
As she went to Sobukhazi High School, the musician reminisces touching flashbacks on obstacles that were faced by underprivileged children including her close friend during school days, which is something that inspired her to start the foundation.
"The reason why I decided to establish the Nkwali Foundation was to help the girl child in various ways of tackling life. I have seen a lot of disadvantaged talented young children who couldn't finish their education because they can't afford paying fees. So, the foundation is there to uplift and provide support to girl school dropouts to go back to class and realise their dreams," said Nkwali in an interview with Sunday Life.
The foundation doesn't only focus on young girls and orphans, it also stretches its hand to abused women in Bulawayo. Lately during the lockdown, the Zimbabwe Republic Police (ZRP) said gender-based violence and women and child abuse was escalating on a high rate as they have recorded more cases of abuse last year.
These are some of the issues that Nkwali is addressing and willing to fight for.
"Each and every day, women and children are physically abused with some of them raped. What is painful the most is that its hard for the abused to speak for themselves as they are in fear of being attacked by the perpetrators.
"The Nkwali Foundation has developed a programme and rehab sessions that cater for women and children who are abused so as to help them speak out on what they face and find possible resolutions, because if the abusers are not eliminated in the society, more innocents will continue to be abused," said Nkwali.
She continued: "When school children are abused, its always hard for them to focus on their studies because they will be having traumas on past abuses or rape cases, so as a girl child and a mother, I felt inspired and moved to help the innocent souls in such situations."
Due to the global pandemic, currently, the Nkwali Foundation is donating food parcels to the underprivileged to help them sustain themselves during the trying times.
In the long run, Nkwali revealed that, "I want to look back after some years and see children who were groomed under the foundation telling successful testimonials because apart from education, we are also grooming their talents.
"At this age and time, we must always preach to the younger ones that they can utilise their talent for survival, be it in music, theatre, acting, soccer, athletics and so on, because people like myself are a testimony that you can live a comfortable life through talent," she said.
On her latest soulful pop, world and traditional album Themba which is a special dedication to her father who passed on in 2018, Nkwali penned a signature song for the foundation titled Uyimbokodo, which conveys a message on the advocacy of women and children's rights.
The album was produced by Austria-based Dumisani "Ramadu" Moyo of 10th District studios. Nkwali worked with a number of artistes on the offering who include Madlela Skhobokhobo, Dlodloba, Gaz' Elimnyama and Indosakusa The Morning Star, on different segments from songwriting to backing.
"Themba is a very powerful album which I dedicated to my late father Charles Themba Mkwananzi who died of stroke in 2018. On the album, I composed all the songs, save for Amasiko which was written by Madlela and Mntanami which is an originally Black Umfolosi composition. I also worked with Dlodloba on the song Amasiko as a backing vocalist, Indosakusa also played a pivotal role as they backed some of the tracks. The album was recorded by Ramadu," said Nkwali.
Due to Covid 19, Nkwali said she was greatly affected by the deadly pandemic as she literally did not perform last year.
"Covid-19 has given me a major blow in my career, last year I didn't work at all. I had to cancel 27 shows and postponed them to this year. As the pandemic is continuing engulfing the world, it looks like the shows won't happen again this year," said the concerned Nkwali.
As she is in the comfort of her home in Bulawayo, she revealed that she is enjoying her stay as she is afforded with an opportunity to bond with her son who is turning 18 this year.
"I am happy to be home but I also miss Europe because that's where I get to perform and I love singing, so I just miss the crowd there," she concluded.