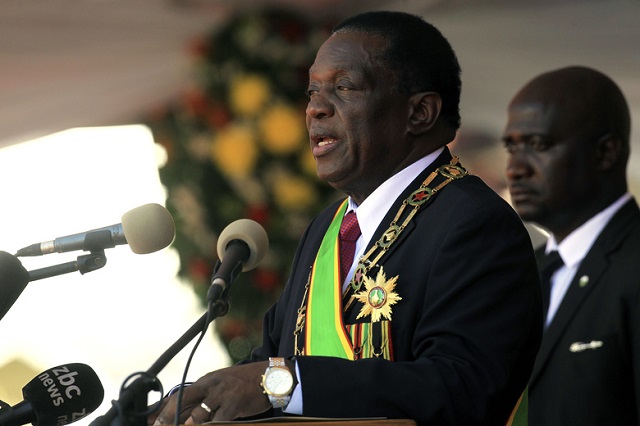 The Sunday News
Vincent Gono in Mapanzure
PRESIDENT Emmerson Dambudzo Mnangagwa yesterday laughed off reports of an acrimonious relationship between him and  Vice-President Rtd Gen Constantino Chiwenga describing the reports as pure malice that should not be entertained.
Speaking at a function to officially open the Mabasa access road that was held concurrently with his victory celebrations at Lundi Primary School in Mapanzure, Zvishavane, the Head of State and Government and Commander In Chief of the Zimbabwe Defence Forces said reports of bad blood in the private media was nothing more than a figment of the reporters' rich imagination. He described those who have been spreading the gospel as crazy saying they wished it but it will never happen.
"There are those that write stories saying me and my vice we are not in good books. That is a lie. Those reports from the media are a figment of their rich imagination. They are a fallacy. They can only be said by people who are crazy and I want to say down with them," he said.
The President said people should know that the party was bigger than any individual, adding that some of the veteran politicians who he could not fit in his recently announced Government were going to be deployed to the party as they sought to revamp the party.
"We want our senior politicians to work for the party. We are going to deploy them at the party to revamp its structures and retain its vibrancy as we seek to ensure the party is bigger than the Government because the Government is born from the party," he added.
He said they sought to achieve that with the aid of the established Herbert Chitepo School of Ideology whose mandate was to espouse nationalistic values of where the country came from to where it was and where it would be.
"I have always said Zanu-PF is a pocket. No one can take Zanu-PF and pocket it. If anyone tries to do that they will feel the discomfort of it. The ideal thing is to fit ourselves into the pocket — Zanu PF. I tell you we can all fit there and live comfortably without any problems," said President Mnangagwa.
He took the chance to walk the sea of people who had coloured the Lundi School grounds with green and yellow party regalia through the journey he had travelled from November last year until today and promised them that the future was bright. He expressed confidence in his appointed cabinet urging them to hit the ground running.
The President said this year's elections were free, fair and peaceful as his Government had opened the democratic space where parties were only limited by their resources and not by anyone.
He said the opening of the democratic space saw 133 political parties being formed with 55 successfully registering with the Zimbabwe Election Commission (Zec) while 21 parties contested Zanu-PF with one independent candidate making the number of contestants for Presidential position 23 all in all.
Introducing him to the multitudes of people, Vice President Chiwenga thanked the people for expressing their confidence in the President and the party by resoundingly voting for him. He implored the people to continue supporting him.
He also took time to talk about the life of President Mnangagwa who he referred to as a biblical Joshua who took over from Moses and led the people of Israel into Canaan. He said a lot of people had written President Mnangagwa off the political books of history as his political star seemed to be dimming and buckling under the weight of incessant pressure from the G40 cabal but that was only a passing phase and the beginning of his rise.
He said Minister Jorum Gumbo was lucky to survive the axe that claimed the scalps of several other ministers and congratulated him for bouncing back into cabinet.
"I know a lot of you here thought that the political life of President Mnangagwa was finished. Most people had already written him off but God had other plans. He was seeing a Joshua, the Joshua we have now.
"Now that elections are over, let's put them behind us and focus our sights and energies on developing our economy, our country. We urge unity, peace and development. We do not want to separate people on the basis of where they come from, we preach unity, peace and tolerance," he said.
In his closing remarks, Vice-President Kembo Mohadi recalled the events of white City Stadium on 23 June when there was an explosion that killed some security aides and wounded a handful including him and said it was during the same time when he was winding his closing remarks that there was a blast which almost killed him.
"I hope it's not going to happen again," he said.
The function was attended by 20 chiefs from the Midlands Province, Parliamentarians and senior Government officials.