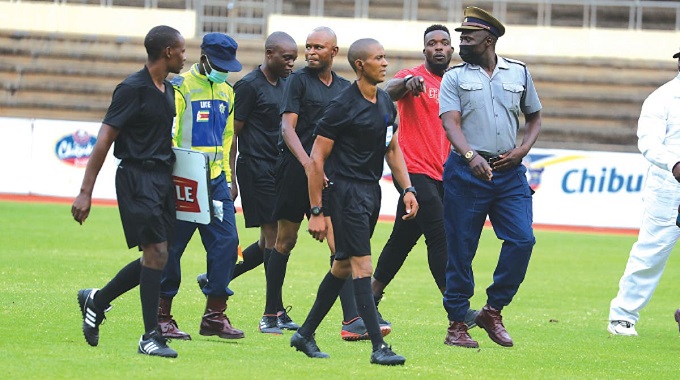 The Sunday News
Fungai Muderere, Senior Sports Reporter
THE suspension of the Zimbabwe Football Association's membership by world football governing body Fifa has seen the country's referees as well as assistants being eliminated from 2023 Fifa's match officials list.
Zifa had its membership iced by Fifa in February last year for what the global football controlling body termed "third party interference" in the internal affairs of the association. It was after the Sports and Recreation Commission (SRC) suspended the Felton Kamambo led Zifa board in November 2021.
While it remains unclear when Zimbabwe will return to the international football family, the suspension of the country from all international football activities means the country's referees and assistants have been left out of the Fifa panel list. Last year, Zimbabwe had six referees, namely Brighton Chimene, Grace Gimo, Prince Mathumo, Chipo Mayimbo, Lawrence Zimondi and Thanks Nyahuye on the Fifa list.
Zimbabwean assistant referees that included Thomas Kusosa, Salani Ncube, the country's 2021/2022 season referee of the year first runner-up Faith Mloyi, Luckson Mhara, Tafadzwa Nkala, Edgar Rumeck, Claris Simango and Brighton Nyika were also on the panel.
Each year, Fifa publishes the lists of match officials who are eligible to officiate at international matches. The appointments come into effect on 1 January and are valid until 31 December of the same year. Every year, Fifa Refereeing requests each member association to nominate candidates whom they consider qualified to act as an international match official.
The deadline to nominate these candidates for each upcoming year is 1 October and lists of candidates include both women and men which are compiled for referees, assistant referees, video match officials (VMOs), futsal referees and beach soccer referees.
-Follow on Twitter @FungaiMuderere