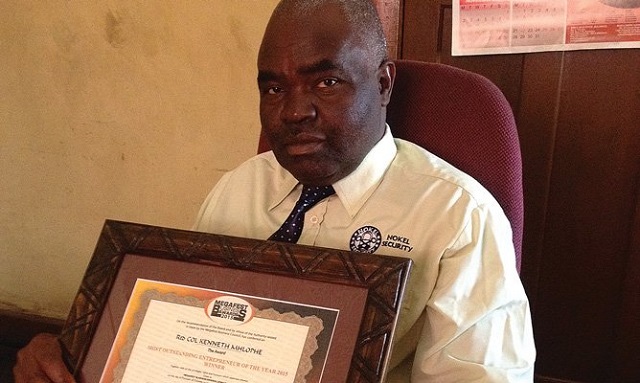 The Sunday News
Dumisani Nsingo, Senior Business Reporter
ONE of the country's fastest growing security firms, Nokel Security is close to attaining International Organisation for Standardisation (ISO) 9001:2015 (ISO 9001:2015) certification as it moves to enhance its service provision standards.
Nokel Security personal assistant to the managing director and ISO certification champion Mrs Patience Dube said the company was looking forward to being ISO certified before the end of the year.
ISO 9001:2015 specifies requirements for a quality management system when an organisation needs to demonstrate its ability to consistently provide products and services that meet customer and applicable statutory and regulatory requirements and aims to enhance customer satisfaction.
"We are glad to announce that we have been successfully audited under the Standard Association of Zimbabwe's stage one audit, which is the initial document evaluation stage and we are working on being audited for the second stage, which can be termed as the certification audit stage. The final stage in ISO certification and we are looking forward to attaining certification before the end of the year or early next year," said Mrs Dube.
The Bulawayo-headquartered company started working on attaining an ISO certificate in July 2017.
"You will realise that the world of business is fast evolving and as a company we endeavour to move along with the latest business trends so as to grow our business. Most clients want to deal with companies that are highly professional in terms of conduct and those that have properly set standards and this is what we intend to do guided by SAZ," said Mrs Dube.
As part of its efforts to attain ISO certification, the company has over the past two years invested immensely into its operations.
Early this year, it officially opened its head office in Bulawayo after acquiring a building in the Central Business District at a cost of $75 000 and invested an additional $50 000 in refurbishing it.
Late last year, the company also added an electronics department specialising in modern and state-of-the-art alarms, Closed-Circuit Televisions and rapid response vehicles and apparatus.
"Attaining ISO certification will provide maximum benefit to our organisation. It's also worthwhile to note that ISO certification is not just suitable for large organisations but also small businesses that will benefit from adopting efficient quality management systems that will save time and cost, improve efficiency and ultimately improve customer relationships.
As employees we will also get to improve our levels of customer satisfaction through providing services tailor made to satisfy customer needs," said Mrs Dube.
Nokel Security was incorporated in 2001 and provides services to mines, manufacturing industries, warehouse companies, banks, property management consultants, hotels, fast food outlets, farms, residential properties and many others.
It has branches in Harare and Gweru and satellite stations in Beitbridge, Victoria Falls, Plumtree, Bubi, Lupane, Tsholotsho, Kwekwe, Chegutu, Zvishavane, Nkayi, Maphisa Growth Point in Kezi, Filabusi, Gwanda and Hwange.
@DNsingo