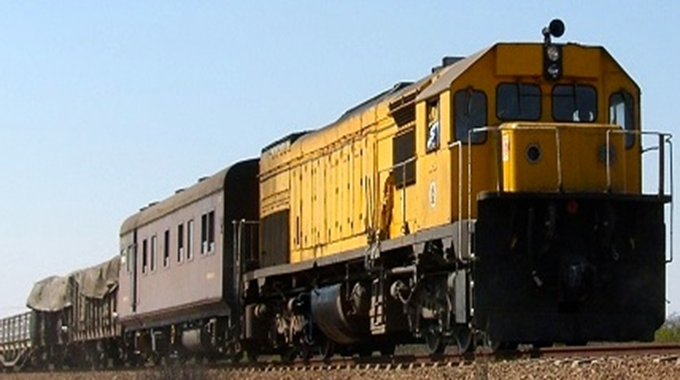 The Sunday News
Dumisani Nsingo, Senior Business Reporter
THE National Railways of Zimbabwe (NRZ) is unlikely to achieve its yearly freight move owing to low production by its major customers and its depressed capacity utilisation, officials have said.
NRZ general manager Engineer Lewis Mukwada said the company is likely to miss its target for the second quarter largely due to low production by coal mining houses.
This comes after the company fell short of its first quarter target of moving 628 000 tonnes of freight managing to move 600 000 tonnes between January and March.
"In the first quarter we were a few tonnes short of our target and the second quarter is going to be a bit of a challenge because we have seen some of our customers experiencing production problems so we have had depressed volumes especially in coal. We are still to reach the end of the quarter but we are projecting that the volumes will be reduced because of those challenges," said Eng Mukwada.
Zimbabwe coal production plunged by 38,2 percent in the first four months of this year compared to the same period last year, as coal miners grappled with foreign currency shortages.
The country has four coal mining houses namely Hwange Colliery Company Limited, Makomo Resources, Zambezi Gas and Garlpex. 
Between January and April the four coal mining firms managed a total of
531 000 tonnes compared to 859 300 tonnes in the same period the previous year with the two biggest miners HCCL and Makomo Resources taking heavy knocks.
The decline was largely due to the pricing battle in the industry in the first quarter, which saw producers demanding an upward review from the US$26,50 per tonne, arguing it is no longer viable considering the rising cost of production as well as fuel shortages.
Eng Mukwada said NRZ faces a mammoth task in its bid to achieve its target to move 4,2 million tonnes of freight by year-end. 
"Given what we have had in the second quarter it will be a bit of a challenge to reach our yearly target but we will try and recover in the third quarter. We will try to make a number of initiatives and cover the gap," he said.
Apart from coal NRZ moves other cargo as grains (maize, wheat, rice among others), fertilisers, sugar cane, cement, chrome ore, ferro chrome, and nickel among other minerals.
Last year the company managed to move 587 000 tonnes of freight against a target of 627 000 tonnes.
NRZ public relations manager Mr Nyasha Maravanyika said apart from depressed business from its customers the company was facing capacity challenges.
"Apart from receiving low business from our major clients we are battling with capacity issues,  that's the reason we are in need of recapitalisation. At times we won't be having adequate wagons to move our client's cargo and at times our locomotives fail us," he said.
Ministry of Transport and Infrastructural Development Permanent Secretary Engineer Amos Marawa said the parastatal was failing to raise sufficient foreign currency to procure strategic spare parts for its fleet.
"I think given the status of our economy the challenge that one always faces is that of sourcing the imported spare parts, which cannot be sourced locally. It is basically the availability of foreign currency, which may be a challenge. If you don't have the actual parts that can slow down activities," he said.