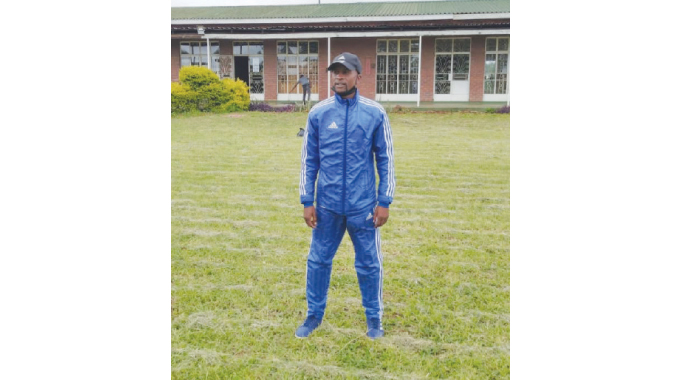 The Sunday News
YESTERYEAR footballer Collin Nyambiya regrets not winning anything big with Highlanders Football Club after his move to the 96-year-old club was affected by injuries in 2005.
He speaks with a sense of regret that he missed a tour of the United Kingdom with Bosso and Caps United and that his club went on to win the 2006 league title after he had left.
"I was unfortunate to suffer a serious injury while with Highlanders in 2005. I did not make the trip to the United Kingdom with the rest of the team because of the injury. The best I achieved to a medal was a cup runners-up medal," said Nyambiya.
A slippery traditional winger, fast, good dribbler and crosser of the ball, Nyambiya's dream move to a team adored by his community, promised so much for him. A brilliant performance for Railstars in 2004 had Highlanders coaches and fans talking.
He had replicated his form of old and many remembered him for a shattering performance at Maglas Stadium in Shabanie Mine colours that ended 3-3. His enterprising wing play in which with the likes of Albert Mbano and Patrick Mandizha they ran rings around the Tshilamoya rearguard, denied Highlanders an unprecedented fifth consecutive title.
On that afternoon when a win for Highlanders would have won them the 2003 league title, saw thousands of Bosso fans and over 150 cars drive back to Bulawayo with tails in between their legs.
A celebratory mood had engulfed the whole of the Bulawayo -Zvishavane road with flags flying from rural homes, trees and cattle kraals. Those that drove to the asbestos mining town turned the main street to a mini carnival with celebrations before the match.
Bosso wingbacks had a nightmarish afternoon and with that went the title to AmaZulu who needed to lose too if Bosso were to be crowned.
That afternoon ended an era of invincibility and an exodus by a number of big names at Bosso – former Soccer Star of the Year Dazzy Kapenya, Charles Chilufya, Siza Khoza, Blessing Gumiso, Thabani Masawi and Gift Lunga (Jnr).
In earnest they all needed a new challenge and also they could not resist better packages. Bosso called and Nyambiya responded in 2004.
"It was great hearing a revered coach like Zambian Dickson Chama wanted my services. Having grown up in Bulawayo I could not resist fulfilling a childhood dream of playing for one of the giants of Zimbabwe football," said Nyambiya
Nyambiya will always remember the equaliser he scored for Highlanders in a league match in 2005 before a packed Barbourfields Stadium.
"The stadium was full to the brim. We had drawn against Dynamos in Harare in the reverse fixture and it being a home match, we wanted to beat Dynamos before our fans.
"Dynamos scored first and I equalized for Highlanders. The atmosphere was electric and after scoring I was just a ball of ecstasy in excitement. Yes, I had scored goals before for my previous clubs, but scoring for a big team like Highlanders against the biggest side in the land was something else," said Nyambiya, who had joined the Bulawayo giants from Shabanie Mine at the beginning of the year.
Nyambiya joined Shabanie in the second half of 2003 after a short stint with Albanian side FK Bylis of Ballsh Region. He did not disappoint under Moses Chunga who had sidelined the old guard that relied more on physique, playing the long ball and flick-ons with big players like James Kaunda, Misheck Mbewe, Thomas Makwasha and Asani Juma. The legendary Chunga wanted pace and creativity on the wings and midfield and arrivals like Albert Mbano, Nyambiya, Luke Petros-Jukulile and
Shadreck provided the new dimension in all departments. In a pick of the matches, Motor Action were hammered 8-2, Caps United 4-1 and Njube Sundowns 4-0.
"We were on fire and took no prisoners at Maglas. We meant business. The only team to stop us was Lancashire Steel who were now in the hands of Solomon Kaseke, a former Shabanie Mine gaffer," he said.
Railstars his former club that he had been attached to before his 2003 move to Europe were relegated to the Zifa Southern Region Division One league in 2003. Because they did not lose any of their star players, they were back to the Premiership in 2004 and Nyambiya found himself back home to roost before joining Bosso in 2005.
He recalls playing at Bosso with the likes of Chipo Tsodzo, Manase Mwanza, Kashinga Mulunda, Honour Gombami, Gilbert Banda, Ralph Matema, Tapuwa Kapini, Anzilom Ndlovu, Bekithemba Ndlovu and Brian Ndlovu.
After the injury hit season, Nyambiya returned to Railstars staying with them up to 2008 when he left for Botswana's Boteti Young Fighters of Orapa. In 2011 he returned home and rejoined Railstars who were then under now Highlanders coach Mandla Mpofu.
"I wanted to retire there and start coaching. The railway men were eyeing promotion and had good players like Lindelani Ncube, Johnston Shambarume and a number of guys that I had played for.
"A quick-fire brace for Railstars against Sao Paulo in Hwange had Mebelelo Njekwa and Tennant Chilumba asking me to join Hwange and not waste my talent in Division One. The move collapsed when Tennat went overseas for coaching badges, the Hwange guys reneged on what we had agreed upon. Frustrated I quit the game and ventured into coaching," said Nyambiya.
He started off with Carmel Primary School. The institution was not known for football and Nyambiya introduced the sport at elementary level and had five-year-olds taking part. Buy-in from the parents was overwhelming and eventually he was asked to form a club that would train over weekends in 2012. This gave rise to Young Flying Stars Football Academy his hobby.
"Having come through the Bulawayo junior league, I wanted to do something different. I wanted to start at base level developing players so that I take them through my own philosophy and nurturing for life in the game and outside, something I missed with others from the old development template," said Nyambiya.
Today Nyambiya does not regret his move with three players on US scholarships, Nabil Ismail, Shaun Matika and Denzil Kaviza.
Jacob Mloyi is at Bulawayo City, Shayne Ngwenya among the pioneering five-year-olds on 2012 is at Zimbabwe Saints with Bromley Baloyi and Panashe Chiwara, Adelaide Zvembiri a striker is at Arenel, Desmond Makamba at Mountain Climbers, Arnold Chimombe with Philikwe FC Botswana.
"Am happy for the boys who have graduated from us. We can do better if only we can get funding for the project for equipment and exposure tours in and outside Zimbabwe," said Nyambiya, who had a number of boys called up to the national Under-17 side last year.
The Level Three Zifa certificate holder and another certificate in football development, sung praises for parents, friends and companies like Early Ashes, Mbira Tours run by Engelbrecht Karombo, Blue Island and Peter Mubi of Three Daughters Restaurant.
Nyambiya did not get to football by chance. His dad Steven played for Kabwe Warriors of Zambioa as a striker. He had a stint with Victoria Falls side Makasa Sun.
Collin was born on 20 October 1978 in Victoria Falls. He would later move to Bulawayo where his dad worked as a driver based at Mbizo Barracks.
In 1985 he started school at Lywellyn Barracks Primary School and was there up to 1991. He played for the school's first team in 1990 and was a substitute when they beat New Sarum 5-4 on penalties in the inter-arm bases primary schools trophy.
"I started playing football at primary school. My brother played Number 10 for the team and I would play with him from the junior side. My younger brother a goalkeeper for the UK-Zimbabwe side Prosper Tassie played for How Mine and Zimbabwe Saints.
"Our dad sowed the soccer genes in the family. Our father's uncles the Kavizas one of whom Peter played for Zimbabwe Saints were good in the game. Primary schools soccer was competitive and I remember How Mine siblings Jimmy and Jonathan Chitereki came from Mbizo Barracks too," said Nyambiya.
He proceeded to Luveve High School playing cameo roles as a Form One in a school team that had former AmaZulu, Highlanders and Zimbabwe Saints pacy striker Eugene Langa as a key member.
Nyambiya joined Stops Camp juniors Under-15s coached by Riot Ncube. He says Highlanders were the toughest team in an era where Saints and Mthala and East Rovers had a shout too.
A chance meeting while at 'A' Level opened things up for him football wise. He was called to Otrick Spares in Bafa League by Bongani Mafu and in 1996 the team made a decision to join Zifa structures and Nyambiyya played a few games before attracting the attention of Zisco coach Benedict Moyo.
In 1999 he top scored in Zisco's quest for glory in the Southern Region league with 26 goals leading to a move to Railstars where he teamed up with Mulenga Chewe and Givemore Manuela to make one of the best strikeforces in the land in 2000-2001.
"I was lucky in my career to play alongside Chewe, Morgan Chenga, Njabulo Ncube and Albert Mbano. They were all good in the box and what you needed to do was just to target them in the box and leave them to score," said Nyambiya.
He was top goal scorer for the club in 2001 and 2002 earning himself a trip to try his luck in Europe. In hindsight he says perhaps he should have been patient with himself in Albania who were just out of war and standards of life and the game were bad.
Nowadays he spends his time at Raylton, Bulawayo bowling section where he runs his academy and a kitchen.