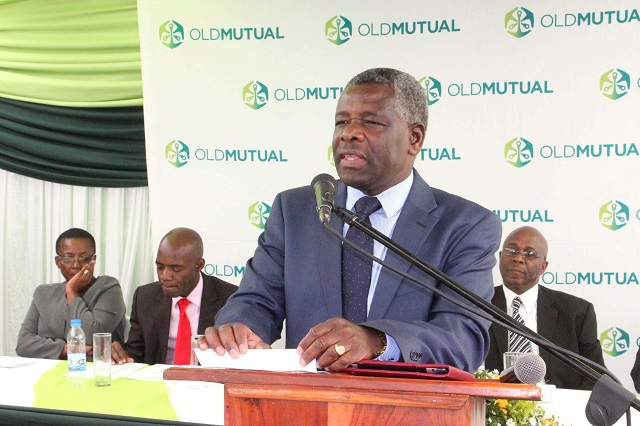 The Sunday News
Dumisani Nsingo, Senior Business Reporter
OLD Mutual Zimbabwe has set sights at completing its $23 million state-of-the-art Small to Medium Enterprises (SMEs) Centre in Harare in June as it moves to provide players in the informal sector with decent retailing outlets so as to enhance the prospects of their businesses.
In an interview on the sidelines of the ground-breaking of 1 082 residential stands in Bulawayo on Thursday last week, Old Mutual group chief executive officer Mr Jonas Mushosho said construction of the SMEs Centre was at an advanced stage.
The group is servicing 596 stands in Pumula South and 486 in Nkulumane suburb at a cost of $5 million.
"We are constructing a state-of-the-art SMEs Centre next to our flagship, Eastgate Shopping Centre in Harare that will have more than 500 stalls for SMEs who are looking for suitable space where there are adequate facilities and this facility is probably the only one of its kind in Sub-Saharan Africa — to just make sure that we provide decent accommodation. We are hoping by June we will start moving in and change the face in which people in the so-called informal sector are doing business in this country. We are proud that we can make a difference in that regard," said Mr Mushosho.
He also said the integrated financial services provider was compartmentalising some of its commercial properties to make them affordable to small businesses.
"Our shops were big and were built for bigger retailers who thrived in this economy but following the decline that happened during the hyper-inflation period we have a lot of smaller players in the market but they cannot afford those big shops . . . so you now want to make your place smaller and suitable for use by smaller players, that is part of what we are doing on existing property," said Mr Mushosho.
He said the group would continue investing in property despite the prevailing economic challenges in the country, which has seen the number of voids on both commercial and residential properties increasing over the years.
"When we take into account the significant difficulties that the economy is going through where a number of businesses are downsized or closed, all property owners have to contend with the fact that there are higher voids in their (property) portfolios and therefore you won't expect to get the same kind of returns you get during a booming economy but we are satisfied with how it is performing because we never measure properties on basis of one or two years, property is a long term strategy for us. So we are patient and we will continue investing in property because ultimately it's good for our policy holders," said Mr Mushosho.
He said the group was also satisfied with the progress of its initial housing project in Budiriro, Harare. The Budiriro housing project was born out of an agreement signed in late 2012 between Harare City Council and Old Mutual Zimbabwe unit, CABS, to build 3 102 core houses for low income earners.
"The houses are in big demand, we had a stock of 3 000 and a significant portion of that is already gone. We are in the final stages of completing disposing of those houses," said Mr Mushosho.
Uptake of the houses under the project has, however, been very slow with a number of home seekers stating that the properties are expensive.
Initially, home seekers were expected to pay about $5 000 deposit for two-roomed houses that were being sold for $22 000 and $7 000 for the four-roomed houses, which cost $27 000 with a deposit requirement of more than $7 000. The deposit requirements were in 2015 reduced to 10 percent from 25 percent of the total house value.
He said the pricing of the houses was based on the fact that the group carried out servicing of the land.
"Generally if you are talking about low-cost housing the expectation is that the municipality should service land and make it available to residents who want to construct and we know the constraints that municipalities are facing in respect of funding, they are not able to that.
"Instead of waiting for the time when municipalities are able to fund the servicing of lands, as a private developer we said we will service the land. So that's where the additional costs come in but if you really think about it, the pricing of those stands is significantly cheaper . . . ," said Mr Mushosho.
@DNsingo