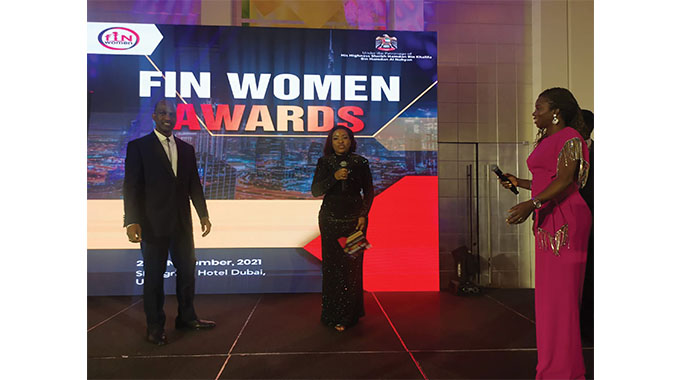 The Sunday News
Mthabisi Tshuma, Sunday News Reporter
AGRICULTURAL organisation Africa Grain and Seed (AGS) vice-president Mrs Zandile Matiwaza-Denga who hails from Plumtree town has raised the Zimbabwean flag high after she won the Fin Women Awards last Sunday.
The awards were held in Dubai, the United Arab Emirates under the patronage of His Highness Sheikh Tahnoon bin Saeed bin Tahnoon Al Nahyan and under the theme "The Road to a Prosperous Africa"
Mrs Matiwaza-Denga achievement comes as a nod to the growth of the agricultural sector in the country. Her  company has also initiated a number of programmes locally, South Africa and Zambia in recent years. This year AGS partnered with several international and local companies to launch a US$3,28 million Buy Back Scheme (BBS) agricultural programme.
The programme has seen AGS donate agricultural inputs that include seedlings and fruit trees and in turn buy back the produce.
Places that have benefited include Harare through the Zimbabwe Prisons and Correctional Services (ZPCS), communities of Bulawayo, Gwanda, Esigodini Agricultural College, Falcon College and local churches.
The programme's mantra is to mitigate problems faced by Africa's rural communities such as hunger, poverty, and nutrition and over 50 000 vulnerable rural farmers across the country will be identified as beneficiaries.
Other programmes include availing resources that will see a total of 700 000 mixed seedlings being planted at about 100 schools countrywide as part of its climate-smart initiative.
The programme is set to promote resilience, especially in rural communities that have been hard hit by perennial droughts.
Mrs Matiwaza-Denga said she was humbled to be recognised with a global award and expressed gratitude to her husband Mr Anthony Denga who is AGS  president.
"I would like to thank my husband and partner for being there in my journey as he has played an integral part from the beginning of my career. I would also like to thank our partners with a vision for Africa, Kampay for bringing digital solutions to Zimbabwe and the SADC region in the financial services,  educational and agri sectors and their personal mentorship. I have the honour to be mentored hand in hand by Dr. Chris Cleverly the Ceo of Kampay who holds the title as the youngest head of chambers in the last century.
"I am excited to announce the Kampay wallet which will transform cross-border trading within the Southern African region where Zympay has an extensive reach and history in providing payment solutions. Our youth farmers will not only be able to trade, but pay for services. The exciting part is the youth coding programme called sharkcoders that will give our best codes to  online and have the opportunity to be employed by the international blue chip companies.
"Gratitude also goes to Zympay on how they have empowered farmers in the country through facilitating easy ways of doing transactions even for their other businesses. Other partners include  Humble Smiles, Grow a Tree Foundation Goldstone, Hammersmith, Windmill (Pvt) Ltd, 24 solutions, Mpumalanga Broadcasting Television and
Black Excellence Network," she said.
Mrs Matiwaza-Denga hailed the Second Republic for creating a free environment where investors are eager to do business in Zimbabwe.
"We need to appreciate that Zimbabwe is at a stage where the leaders from the government have made it possible for us as young people to participate in platforms because of President Mnangagwa's Zimbabwe open for business call.
Every investment that AGS has come with is due to the Second Republic seeing a developed society," said Mrs Matiwaza-Denga.
Mrs Matiwaza-Denga who was also a panelist at the Fin Women Africa-UAE Trade and Investment Forum exhibition challenged women to work closely together in facilitating developmental projects.
"Women inclusion is understanding that our strength will come from not being intimidated in taking part in certain industries but asking for those that are in front to lead us.
Collaboration is a new medicine that as women we should have as through working together that is where our strength lies.
The best moment at the awards were ululations from other Zimbabwean women who I did not know but thereafter we went to have priceless networking and that is why I believe in us uniting," said Mrs Matiwaza-Denga.
She said they have entered into partnership with University of Pretoria's Melusi Informasi Settlement Projects to change the lives of unemployed women in Hercules in Pretoria.
As the world is commemorating 16 Days of Activism for No Violence against Women and Children, Mr Denga said there was need for men to play a part in uplifting their partners.
"We need to understand our role as men in society where we should not undermine them but our role is to ensure that we help them grow to be the leaders of tomorrow," said Mr Denga.
Said chief executive officer of Zimpay, Mr Dakshesh Patel:
"We are very proud to develop and promote a digital  financial service and solution with AGS and KamPay. AGS are leading with an impact driven solution that enhances livelihood of farming communities and through ZymPay will provide access to financial products and services including e-wallet services to deliver financial inclusion and value optimisation."