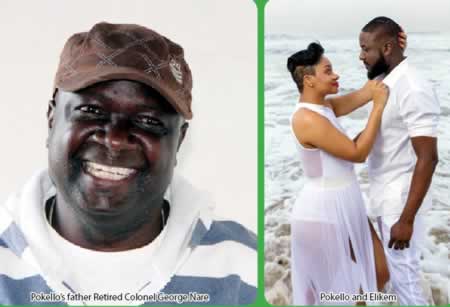 The Sunday News
Mbongeni Msimanga
AFTER having being snubbed from attending Pokello Nare's customary marriage to longtime Ghanaian lover Elikem Kumordzie in Harare on Saturday last week, Pokello's biological father has congratulated the two love birds on their union amid revelations that there was family politics at play.
Retired Colonel George Nare who was absent, however, was not angry like some fathers would be after he was not invited to the ceremony but maintained his cool saying he was not worried about being snubbed.
He downplayed the issue hinting that he was not one to dance publicly to family politics adding that he wished them the best in their marriage that he also read about in the Press.
In an interview with Sunday Leisure, Rtd Col Nare said it was not a big deal that he was not invited to the ceremony. He said he had since invited the lovebirds for a ceremony that would be held in Bulawayo soon.
He did not state exactly when he expected the two to come to Bulawayo.
"I personally congratulate the two on their union. It is a fact that every family has politics and they should not be ashamed. To me it's not a big deal," said Rtd Col Nare.
He declared that he would support the couple and wished them a happy life after union.
"I am not worried. What we should focus on is that the two are now a couple who love each other dearly and no father can ever dump his child because of such circumstances," said Rtd Colonel Nare.
In an interview in the Press when the two had just started dating two years ago, Rtd Col Nare refused to meet Elikem saying it was against tradition for him to meet the Ghanaian before he paid lobola.
He said then that he was happy the two had finally united in wonderful harmony, but would only meet Elikem after the bride price has been paid.
"My daughter called me and told me she was coming to Bulawayo with her boyfriend and wanted me to meet him, but I was very frank with her and I told her that it was against our tradition that I meet him before they formalised their marriage. I am happy for her and it is easy for her to be introduced to his family but not otherwise, I can only be able to meet him when they come for official introductions," he said then.
Elikem said he paid $25 000 as the bride price and the two were not in a rush to wed.
Adhering to the Zimbabwean tradition, Elikem said they would only have the wedding six months after the traditional wedding rites.
"Over here they don't rush the white wedding. They give it some time . . . it's six months or a year . . ." he said.
The two met in 2013 in Big Brother Africa — The Chase and since then they have been an item and have managed to weather the love storms that threatened their union that generated a lot of publicity with the two doing very little to conceal their love and its ups and downs.
The couple could not be reached for comment on why they snubbed Pokello's biological father.