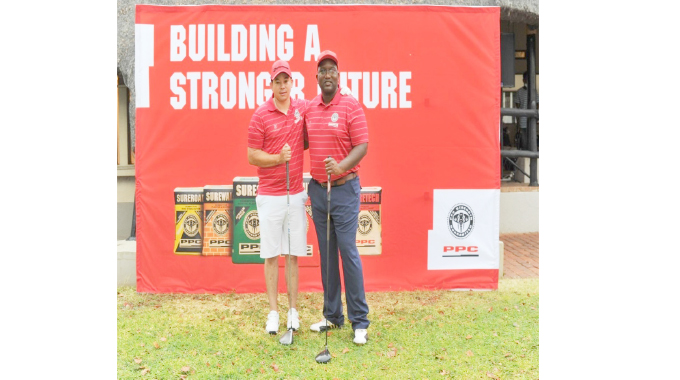 The Sunday News
Mehluli Sibanda, Senior Sports Reporter
LAST Saturday saw the Elephant Hills Golf Course in Victoria Falls come alive when it hosted the PPC Zimbabwe Charity Golf Day.
Once a hive of activity in the past, the 18-hole golf course, the only one in the resort city has seen little action of late because of the coronavirus pandemic, which saw sporting activity being periodically suspended in the country.
Even the wild animals that had been used to roaming freely on the Elephant Hills Golf Course without any human intrusion must have been surprised what was going on as 60 enthusiast social golfers brought out their golfing skills, all for charity.
According to Chiku Mulinde, the Elephant Hills Resort general manager, the hotel's golf course is home to impalas, kudus, warthogs, bushbucks, waterbucks, fish, guinea fowl, different types of birds, crocodiles and of course golfers can come across elephants if one is lucky.
Different prizes were handed out at the prize giving ceremony, with the biggest of them going to Bulawayo business executive, Mudiwa Mhazo who won the best player accolade. There were also prizes for the nearest to pin and longest drive for males as well as females.
PPC Zimbabwe general manager, Nkosana Mapuma, one of the social golfers who took part in the charity event described the golf day as a fantastic occasion.
"It was amazing, the atmosphere was fantastic, we had a bit of light drizzle when we teed off in the morning around 7am, which offered a bit of a challenge for most golfers but it was quite nice, it was quite exciting. We had a very huge turnout, over 60 players came through for this charity event in Victoria Falls. I would say we had a wonderful time,'' Mapuma said.
When they moved the event from Harare to Victoria Falls, PPC Zimbabwe pinpointed a need in the resort city. Victoria Falls Old People's Home was chosen as the beneficiary of the proceeds raised from the golf day.
"We had identified Vic Falls Old People's Home that we wanted to do some donations to, Covid-19 has been hard on a lot of people, a lot of our communities so this event for us is one of the events that we do in a year to give back to our communities, give back to the people that have made us PPC so we took the opportunity to now to take the tournament to Victoria Falls, away from the traditional Harare having identified a need at Victoria Falls Old People's Home.
Fair enough, we had our fair share of fun as players but more importantly we needed to do some charity work in that town,'' he said.
Going to Victoria Falls for PPC Zimbabwe was an opportunity to show their presence in other parts of the country and put a spotlight on the resort city.
"The idea was to move it around, having held a tournament in Harare these past three years we felt that in as much as there is also a need in Harare, we thought let's also turn our attention to other towns and see what we can do there.
Obviously Bulawayo is another potential destination but we felt this time let's take it to the tourist town, lets identify a need there, let's show the country and the world at large that Zimbabwe is open for business now, tourism is open and let's have fun at the Elephant Hills Golf Course,'' Mapuma said.
Golfers that took part in the charity event did not have to incur much costs as PPC Zimbabwe covered accommodation and meals for all participants. All the partakers had to do was to provide their own transport to and from Victoria Falls. After being pampered in such a manner, the golfers were more than willing to donate to charity, with a total of US$2 440 raised together with 23 blankets, which were handed over to representatives of the Victoria Falls Old People's Home. Bulawayo businessman, Shasha Gomez contributed US$1 000 to the charitable cause.
"PPC had to take care of all the accommodation expenses and food for all the invited guests for the tournament, they didn't ask to go to Victoria Falls, we asked them to come to Victoria Falls so we had to bear that cost.
But, they were very much willing to donate when the time came, to the charity, players were asked to either donate cash or a blanket to Victoria Falls Old People's Home and most of them were able to do that, even during the prize-giving ceremony, players were still feeling very generous and they were giving very willingly to that cause, we even had the representatives from the Old People's Home coming to make a speech during the prize giving ceremony and that also opened up more pledges from the players so all in all I would say it was a huge success, we had a very good host, the Elephant Hill management and staff."
In terms of planning for next year, Mapuma indicated that they were planning to return to their usual slot in winter, with the venue for 2022 also not yet decided.
It was certainly a great of fun in Victoria for social golfers as they got to showcase their skills, all for charity.
Follow on Twitter @Mdawini_29