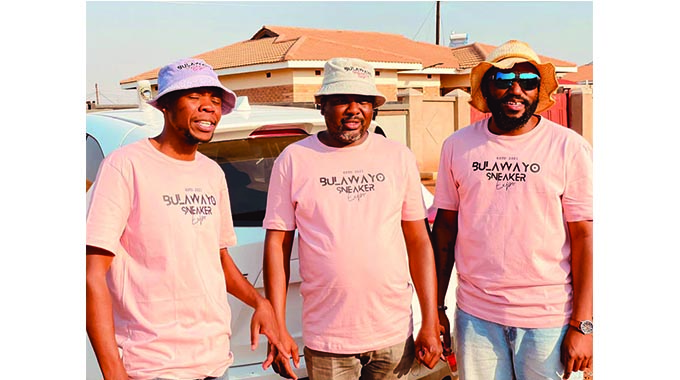 The Sunday News
Sandisiwe Gumbo, The Sunday Life Reporter
PREPARATIONS for this year's edition of the highly anticipated Bulawayo Sneaker Expo are well on course, with organisers courting high-profile sneaker lovers to take part in the event that is set for Mystic Gardens on October 21.
Originally planned to be held at The Barn, the event has been changed to Four Winds due to logistical considerations.
"We are working diligently to ensure a successful and memorable event this year. Preparations for the Bulawayo Expo are well underway," said Davidson Feliate, one of the initiators of the expo.
"Our main aims is to bring together shoe lovers from across Bulawayo to celebrate the shared passion for footwear. We bring various high quality shoe brands and designers together under one roof, attendees will have the opportunity to explore a wide range of options at different reasonable price points," he said.
Feliate said they were in the process of trying to lure some high profile sneaker lovers, including Mudiwa Hood.
"We are trying to invite Mudiwa Hood. Stars 29 will also be there. An invitation was sent to Drip SA and we are awaiting a response, hopefully they will make it."
Alongside these guests, several talented local designers will also showcase their creations during the exhibition.
To generate buzz and keep attendees engaged leading up to the event, the organizers have initiated a social media campaign called #Onfeetfriday where shoe lovers participate every Friday in posting sneakers they'd be wearing and tagging #BulawayoSneakersexpo. Random participants are selected and win a free ticket to the event, 32 tickets have been given away through #Onfeetfriday so far.
Tickets for the Bulawayo Expo are selling well as half of them are already sold out.
"We have ambitious aspirations beyond just a local exhibition. Our aim is to expand our reach outside of Bulawayo, potentially taking the expo to other cities within Zimbabwe and even internationally. By doing that we hope to foster a greater appreciation for fashion and provide more opportunities for individuals to access affordable shoes." said Davidson.
"Currently we are not seeking personal gain from this endeavour.
We are driven by passion for shoes and the desire to promote fashion in Bulawayo, although we do have hope to secure sponsors who can contribute to its success."
The first expo was initiated in 2021 by shoe enthusiasts, Davidson Feliate, Mlamuli Moyo, Leroy 'Waps' Chitambo and Mthulisi Moyo.
The event is held annually and organisers are very much prepared and looking forward for this years' event.
With its diverse range of footwear, participation from renowned designers, and the organizers' passion for promoting accessibility, this event promises to be a memorable experience for all attendees.