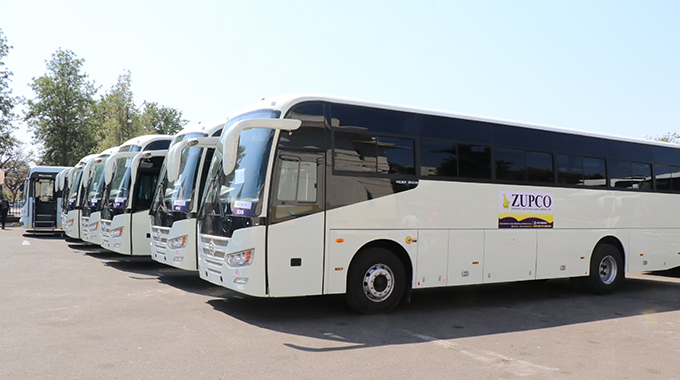 The Sunday News
Peter Matika, Senior Reporter
PRESIDENT Mnangagwa on Friday commissioned a brand new fleet of 76 buses in Bulawayo, which the Government secured as part of measures to ease the plight of commuters, who are being ripped off by private operators.
The commissioning of the busses was held at the Bulawayo City Hall car park, where the President said the buses were part of an overall Government policy to revamp the transport sector and introduce a mass transport system, with a further 500 buses expected in the country soon from Belarus.
"This fleet is expected to go a long way towards revamping our public transport delivery system and ease the high transport costs that had become the norm in both rural and urban areas. These buses are subsidized by my Government and will remain cheap, cheap and cheap," said President Mnangagwa.
He said the project attested to Government efforts, commitments and determination to improve the quality of life of the ordinary Zimbabwean. "…In-line with our vision to become a middle income society by the year 2030, we are determined to ensure that our development programmes leave no one behind. In reference to the transport sector our vision is to have a sector that is efficient, reliable, safe and affordable," said President Mnangagwa.
He said the move to increase the fleet of buses was in line with Government's efforts to provide social safety nets for the vulnerable and less privileged people in society.
"After realising that our commuting public had fallen victim to unscrupulous operators, who charge exorbitant bus fares we resolved to recapitalise Zupco. More buses will be brought in from China, Belarus and South Africa. We are going to have an excess of 1 500 buses,"  he said.
President Mnangagwa said of the 500 buses coming from Belarus, 300 would be imported as knocked down kits to be assembled locally.
He noted that the majority of the fleet in Bulawayo would service rural routes in Matabeleland North and South provinces.
"The improvement of the public transport systems is being implemented by the ongoing road and rail rehabilitation programme. These programmes must be collectively seen in the context of facilitating economic activity, industrial development, trade and access to services, within our respective communities from ward level upwards," he said, urging local authorities to rehabilitate and construct modern infrastructure to complement the fleet.
President Mnangagwa urged various stakeholders to adopt modern technology to optimize operations in the implementation of the transport programme.
"Users of these buses and operators alike must look after them and keep them clean… Ngiyalicela madriver lingabi lobutshapha. Ngicela ukuthi libambe imphahla lezi kahle. (I am asking you drivers to take extra care of these buses)," he said.