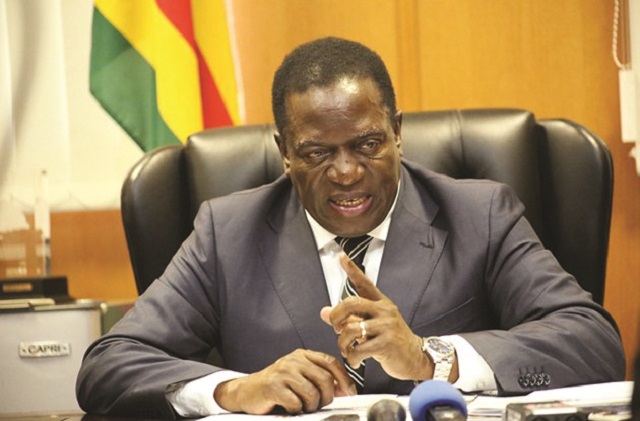 The Sunday News
Features Desk
BORN on 15 September 1942 in Zvishavane in the Midlands Province of Zimbabwe in a farmer family that was aggressively anti establishment, President Emmerson Dambudzo Mnangagwa's family had an abrasive relation with the white oppressive regime that led the family to flee for life into neighbouring Zambia.
There, Cde Mnangagwa did his primary and secondary education. After finishing his schooling at Mumbwa Boarding School, he enrolled into a Building course from Kafue Trade School, but he eyed Hodgson Technical College, the leading educational institution in the nation.
He managed to crack the entrance exam and enrolled into a four- year programme in City and Guilds Industrial Building Course. His interest in political activism sparked during his days in college with UNIP, a student union of which he was an elected executive. He was found guilty of burning one of the buildings during one of his violent political actions against the white-supremacy. As a result of this, he was expelled from the college.
Following this incident, he joined hands with three others and started a construction company at Nampala which lasted for three months. He was asked by the United National Independence Party to help organise the party at Chililabombwe (Bancroft) until the end of 1961. Following this, he returned to Lusaka where he became Secretary for the UNIP Youth League while working for a private company. In 1962 he was recruited into Zimbabwe African People's Union (ZAPU) by Willie Musarurwa.
After joining ZAPU, he left for Tanzania where he stayed in Mbeya and then at the new ZAPU training camp with the likes of James Chikerema, Clement Muchachi and Danha.
In April 1963, Mnangagwa, along with twelve other ZAPU cadre members, was sent to Dar es Salaam and on to Egypt for military training at the Heliopolis Training School. In August 1963 he and ten of the 13 cadre members decided to join the newly formed Zimbabwe African National Union Patriotic Front (ZANU PF).
This led to their detention by Egyptian authorities. During this detention, the ZANU PF members communicated with Robert Mugabe (former President) who was in Tanganyika (Tanzania) at the time and told him that eleven students who had broken away from ZAPU had stopped training and were now detained.
Mugabe diverted Trynos Makombe, who was travelling from China, to go to Egypt to secure their release. Makombe provided them with tickets to fly to Dar es Salaam.
On arrival in Tanzania, six of the eleven came back to Rhodesia while President Mnangagwa was among the remaining five who joined the first Frelimo Camp at Bagamoyo in late August 1963. President Mnangagwa was sent to China with other Zimbabwe African National Liberation Army (ZANLA) cadres, where they spent the first two months at the School of Ideology in Beijing.
Combat training was conducted in Nanking for the next three months. He subsequently remained at another school for military engineering. The group consisted of Felix Santana, Robert Garachani, Lloyd Gundu, Phebion Shonhiwa, and John Chigaba. After completing military training in May 1964, they went back to Tanzania, where they formed the "Crocodile Group". There were no weapons available for them to operate in the then–Southern Rhodesia (Zimbabwe), despite this duty having been assigned to John Mataure and Noel Mukono.
The group rushed to attend the ZANU Congress in Mkoba, Gweru, sometime in May 1964, arriving a day before the Congress. The results of the election were as follows: Rev Ndabaningi Sithole was elected President and Leopold Takawira was to be the Vice-President. Herbert Chitepo was also elected National Chairman while former President Robert Mugabe was chosen to be the Secretary General. Following the ZANU Congress, three of his colleagues, Shoniwa, Jameson Mudavanhu, and Edison Shirihuru, were captured and arrested for smuggling guns into the country.
He sent Lawrence Svosve to go back to Lusaka, Zambia with some messages but never saw him again. In spite of this setback, the Crocodile Group remained in operation and was joined by Matthew Malowa, a ZANU PF member who had trained in Egypt.
In addition to smuggling arms into the country, a major task was to recruit supporters from Harare, Masvingo, Mberengwa, and Macheke and smuggle them out through the border at Mutoko, so that they could go on to Tanzania for training, both political and guerrilla. The Crocodile Group travelled entirely on foot between Harare and Mutoko.
The ZANU PF leadership at Sikombela sent the Crocodile Group a message exhorting them to take some action so that the newspapers would report and indicate that it was under the orders of the ZANU Military High Command. The intention was that the news clip would then be shown to the OAU Liberation Committee which was meeting in Dar es Salaam so that it would see that ZANU PF was actually active in the country. The message was delivered by William Ndangana who met with the Crocodile Group at Rev Ndabaningi Sithole's house in Highfield, Harare.
The plan was to establish roadblocks to terrorise the whites. At this point the group, known by the Rhodesians as the "Crocodile Gang", included William Ndangana, President Mnangagwa, Matthew Malowa, Victor Mlambo, James Dhlamini and Master Tresha.
It was during this operation that they killed a resident farmer and police reservist, Petrus Oberholtzer, at Nyanyadzi in Chimanimani, and sabotaged a locomotive train in Masvingo. The incident resulted in the capture and subsequent hanging of James Dhlamini and Victor Mlambo.
It was in January 1965, when Cde Mnangagwa was arrested by police inspectors at Michael Mawema's house in Highfield.
Cde Mnangagwa was arrested for blowing up a locomotive in Masvingo and was convicted under the Law and Order Maintenance Act and sentenced to death. He was defended by lawyers who pleaded that he was under age and could not be executed. Following this, he was taken to hospital where doctors confirmed that he was under 21 and as a result, he was sentenced to ten years' imprisonment.
He served the first year at Salisbury Prison (Harare) and then went to Grey Prison (Bulawayo) following which he was sent to Khami Prison where he spent six years and eight months. After serving his ten-year sentence, he was further detained at Khami and then at Harare Prison together with other nationalists like Cdes Robert Mugabe, Enos Nkala, Maurice Nyagumbo, Edgar Tekere and Didymus Mutasa.
He was then deported to Zambia where his parents were. President Mnangagwa was received by the party at the Livingstone Border post and handed over to the Zambian police. A Zimbabwe African National Liberation Army (ZANLA) representative, Baya, came to receive him at the Victoria Falls Bridge and proceeded with him to Lusaka. Josiah Tongogara was Commander of ZANLA.
It was at that time that he enrolled at the University of Zambia, where he practised law with Enoch Dumbutshena and doubled up as Secretary for ZANU PF for the Zambia Division in Lusaka. He was also in the student board for politics at the University of Zambia. After practicing for a few years and working for a private law firm, he met former President Mugabe once again during his involvement in the Mozambican War of Independence. He later became close friends with him and served as his personal bodyguard. At the Chimoio Congress in 1977, he was elected Special Assistant to President Mugabe and member of the National Executive for ZANU PF.
The post of Special Assistant meant that he was head of both the civil and military divisions of the Party. His second was Gava (the late Retired General Vitalis Zvinavashe) who was Head of Security in the Military High Command but was his deputy in the Central Committee in the Department of Security.
President Mnangagwa participated in the Lancaster House Conference which discussed the future and independence of the Republic of Zimbabwe and in January 1980 and led the first group of civilian leaders which included Didymus Mutasa and Edson Zvobgo from Maputo (Mozambique) to Zimbabwe. The now the late Retired General Solomon Mujuru (Cde Rex Nhongo) also led the first group of commanders numbering 28 from Maputo to the ceasefire. (Information from Online sources).