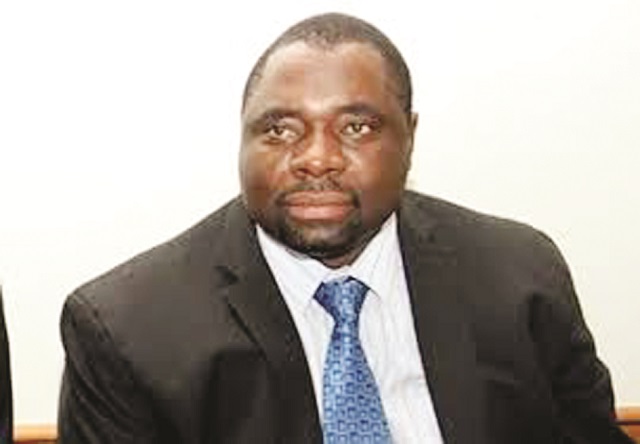 The Sunday News
Mehluli Sibanda, Senior Sports Reporter
THE Premier Soccer League has suspended three Bulawayo City development players as it investigates possible cheating by the trio who all registered as Under-19s.
Lewis Ncube, Dean Phelius Sibanda and Bothwell Nyathi are the players PSL have advised Bulawayo City to stop using as they are part of an investigation. PSL chief executive officer Kennedy Ndebele last Wednesday wrote to Amakhosi acting chief executive officer, McKenzie Moyo to inform him that they noted some indiscretions on registration of the three players. The club was ordered to surrender licences for the three players to the PSL offices last Thursday.
"We refer to our letter dated 28 September 2016 and advise that we have noticed some irregularities in your above named players registration. We further advise that the league is currently carrying out an investigation on the players' birth records.
We suspect that the players altered their ages in order to qualify to be registered as Under-20 players. Please be informed that the football players are suspended from participating in any Premier Soccer League activities with immediate effect. Would you kindly hand over players licences to our offices no later than 13 October 2016. We thank you in advance for your full co-operation,'' reads Ndebele's letter to Bulawayo City.
Moyo confirmed receipt of the letter. He said they will comply with the PSL directive. According to Moyo, the PSL sent the club four forms for Ncube, Nyathi, Sibanda and Dingani Maphosa to fill in. It seems Maposa, listed on the PSL registration as having come from Hwange-based Baobab Rovers did not warrant further investigation by the league.
"PSL sent in communication that the players must be suspended, these are Lewis Ncube, Bothwell Nyathi and Phelius Sibanda. They sent in forms for four players to fill in, Dingani Maposa was the fourth but his name is not appearing on the latest communication we got from the PSL,'' said Moyo.
The acting Bulawayo City most senior member of the secretariat said the registration of players was done by suspended coach Philani Ncube and team manager Tizirai Luphahla. He added that it seems that all birth certificates for the three lads were applied for on the same day in Tsholotsho.
Luphahla confirmed he was involved in the player registration process but referred all questions to the club chairman Jerry Sibanda or secretary general Horace Ndubiwa.
"I was involved in the process, speak to the chairman or the SG,'' said Luphahla.
Sibanda also directed the reporter to his deputy in the club executive, former Highlanders striker Zenzo Moyo who chairs the Bulawayo City disciplinary committee.
"Speak to Zenzo, he is the one handling the issue, he chairs the disciplinary committee, the players were registered in March, he was already there,'' Sibanda said.
Moyo said they were also carrying out their own probe into the matter and if anyone at the club is found to have assisted the players to alter their ages, then the culprits will be dealt with.
"PSL are investigating the matter, we are also doing our investigations as a club. PSL notified us to stop using those boys. We are not protecting anyone at the club, anyone who was involved has to face the music,'' said Moyo.
Investigations carried out by Sunday News showed that there is something irregular about four of the five players registered by Bulawayo City as being Under-19. Ncube, a former Highlanders junior has his date of birth on the PSL website as being 24 January 1997 yet his 2015 Zimbabwe Football Association issued player licence when he was turning out for Zifa Southern Region Division One side Black Boots shows that he was born 24 January 1993. His names are listed as Lewis and Pride. This is confirmed by his birth certificate as well as the national identity document.
Ncube, a right back who can also be deployed in attack was at Highlanders for a number of years with the club constantly sending him out on loan until they cleared him in July last year to join a team of his choice. His ID with number 08-2014472P79 also bears 24 January 1993 as his date of birth. His birth certificate applied for in Bulawayo on 4 February 1999 which indicates that he was born at Luveve Clinic has 24 January 1993 as his date of birth. Even his passport in a file kept at Highlanders shows that he was born 24 January 1993 which makes him 23, a clear indication Bulawayo City were not supposed to register him in the development players slot.
Nyathi was at Highlanders up until February last year when Amahlolanyama released him. Records with the PSL indicate his date of birth 1 October 1998 yet our investigations reveal that he was previously registered as having been born 1 October 1995.
Sibanda, a former junior player at Ajax Hotspurs and Magwegwe Stars is registered with the PSL as being born 25 November 1998 yet records show that 24 November 1994 has been previously put down as his date of birth. The central defender was part of the Agent Sawu coached Bulawayo provincial team for the 2012 Youth Games held in Bindura.
Ndlovu, a Highlanders junior product is another player whose records show discrepancies because according to his PSL registration, he was born 21 November 1997 yet the team sheet for the 2012 Bulawayo Youth Games team has his date of birth recorded as 17 November 1994 which means he is 21 years old now.
Investigations carried out on Maposa showed that the same information supplied to the PSL concurs with that held by his previous club. A player licence issued out to Maposa in 2015 indicates that he was born 17 July 1997. He was turning out for Baobab Rovers in the Matabeleland North Zifa Division Two League. Maposa, a striker who can also operate behind the attackers joined Bulawayo City at the beginning of this year having been spotted by suspended assistant coach Farai Mujokoro in Hwange.
A source at Bulawayo City said they have since engaged the police in the investigation because they want the people who were involved in helping the youngsters to obtain new birth certificates in Tsholotsho to be exposed.
Twitter: @Mdawini_29