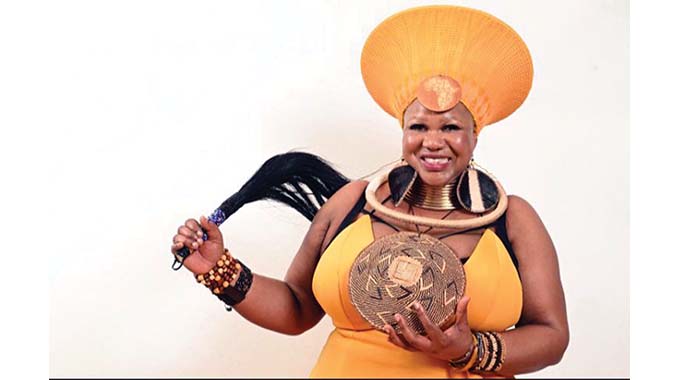 The Sunday News
Mthabisi Tshuma, Sunday Life Correspondent
THE year 1992 will forever be a mark in the history of the arts scene locally, regionally and internationally as it marked an entry of a newbie artiste eager to change the face of the country's art corridors.
Going by the name Busi Mhlanga, the culturally strong woman has gone to be regarded as the Queen of AbeNguni through being a veteran traditional dancer, gumboot dancer, choreographer, song composer and actress.
Nguni people regarded as AbeNguni are a group of closely related Bantu ethnic groups that reside in Southern Africa. They predominantly live in South Africa, Eswatini, Lesotho and Zimbabwe.
To be given such a high post dubbed to be a recognition most similar to the Queen of London requires a strong character in terms of cultural knowledge and this is the case of Busi.
Last week she was named Zim Achievers Awards Cultural Ambassador in the UK and this is to cement her role in preserving the culture of Southern African people since her first stint in the creative sector in 1992 when she was a lead vocalist for Bulawayo's first female troop, Umhlathuzi which was under the mentorship of Black Umfolosi.
In 1995 she became the lead vocalist for Albert Nyathi and Imbongi Arts Productions and left in the year 2000 to pursue her solo career in Denmark then eventually settled in the UK.
Busi says she learnt a lot from Albert Nyathi and got a lot of opportunities and recognition.
Sunday Life caught up with the United Kingdom-based artiste and she gave a glimpse on how her role came about.
"The name Queen of AbeNguni came after I was called to perform during the London Music Festival in 2017. Many people attended including one of the original members of Iphi Intombi veteran actor Zwelibanzi Ngubane and his friends. When I finished performing to my surprise the veteran artiste and his friends came on stage and knelt down before me in tears and said to me from today onwards you are the Queen Of AmaNguni, you are the Queen Of AbeNguni Music and that the likes of Miriam Makeba and Busi Mhlongo have risen in you," said Busi.
Busi said she was astonished by such sentiments that left her out of words.
"When they gave me such a role I was shocked and I also knelt down before them in respect of the gesture they had done seeing they were elders and I thought I did not deserve this kind of honour. So instead of Queen Of AmaNguni I chose AbeNguni as the Xhosa and other parts of Nguni Kingdoms in Malawi, Zambia and in South Eastern parts of Africa where there is Ngunis. Well, that's a long history on its on, but I Am Queen Of AbeNguni," said Busi.
Commenting on her award at the Zim Achievers Awards, Busi said, "As I always say, I have always been a cultural ambassador for so many years and I have carried the Zimbabwe and African culture with me wherever I go through the way I dress, my music, dance and the way I carry myself. The award is just a bonus because even if I was not going to be nominated or won the award, I will still carry on and do what I was ordained by God and the ancestors to do. Why I say it this way doesn't mean I am not appreciating the award but I am so happy, feel honoured and want to encourage other cultural ambassadors that were not nominated or given an award never to stop or feel discouraged but keep doing what they do best.
Thank you so much for the recognition and for the Award. I will carry on doing what I love and enjoy best, representing my culture so that the younger generation learn and follow our footsteps to take our culture forward with dignity without shame."
Busi said as she heads to three decades in her career she extends gratitude to her family members who have stood with her.
"My inspiration came from my family who used to attend the family's traditional gatherings that were organised by my grandfather who was a traditional healer. My inspiration also came from St John's Apostolic Faith Mission where I led the choir at a very young age," she said.
"The first circle I appreciate is the Mhlanga and Takobana family which I was born into, then other circles being the community at large, the church, the schools she attended, friends, the African continent she comes from, the world at large as I travel along and finally God Almighty as the biggest circle that surrounds and controls all her circles," said Busi.
Over the years Busi has performed in various festivals in Europe and Africa. She has shared the stage with various well known artistes including the late Hugh Masekela and Oliver Mtukudzi. Performing in London Wembly Arena, she shared a stage with Zahara, Femi Kuti, Twoface Idibia and Winky D. — @mthabisi_mthire.