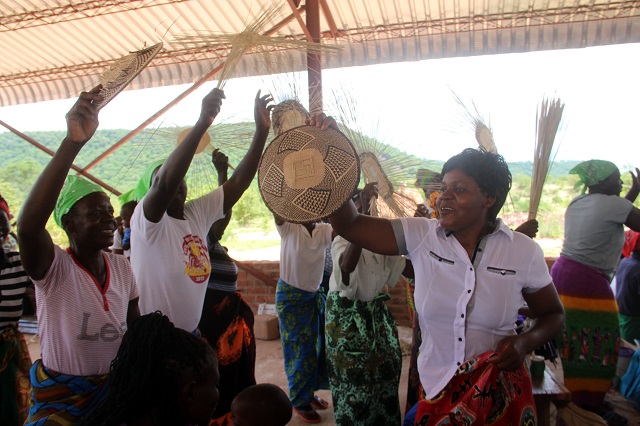 The Sunday News
Dumisani Nsingo, Features Reporter
AS the rooster crows heralding a new day, Mrs Notani Munkuli (48) gathers herself and collects her sickle and a sack, heading to a stream near her homestead, though it is quite a tiresome distance to reach the water source on foot.
Mrs Munkuli has over the past two-and-a- half decade embarked on this tedious journey to the stream — yet she does not have an option because it is a source from which she ekes out her living and that of her family.
Every summer, Mrs Munkuli, a mother of four, braves the scorching sun as she goes through the strenuous chore of cutting palm grass using a sickle by the stream and most of the time she has to bare the pain as she mistakenly cuts her hands while harvesting the grass.
For almost 26 years she has been harvesting reeds and various fibrous or pliable materials to weave an array of basketry products and selling them by the roadside together with hoardes of other women from Siantungwani II Village in Binga District, Matabeleland North Province.
However, despite toiling for years to perfect her craftsmanship to catch the eyes of the "top" buyers, she has realised little to uplift her livelihood and that of her family from trading her baskets apart from a "handful" of groceries and second-hand clothes.
Mrs Munkuli has largely remained impoverished through barter trading her baskets for foodstuffs and second-hand clothes from urban dwellers and foreigners that flock her area.
Those unscrupulous buyers go on to make a killing through reselling the two-or-three-dimensional artifacts such as mats or containers obtained from the poor rural basket weavers to lucrative markets in cities or abroad.
Mrs Munkuli's husband is unemployed and engages in various chores performed by men at their homesteads such as livestock rearing, tilling the land for cropping activities as well as fetching water and firewood.
"I started weaving baskets in 1992 but there is nothing tangible which I have done with regards to improving the livelihood of my family. I, together with other weavers, have over the years been struggling to get a lucrative market for our products and we have been relying on barter trade. We exchanged our artifacts with groceries and second-hand clothes, rarely are we offered cash," said Mrs Munkuli.
The barter system has led to the Binga weavers' lack of a common unit in which the value of their goods and services should be measured. There being no common measure of value, the rate of exchange is arbitrarily fixed according to the intensity of demand for each other's goods. Consequently, one party is at a disadvantage in terms of trade between the two goods and in most instances the weavers are always on the losing end.
However, there seem to be a glimmer of hope for the Binga weavers to improve their livelihood with Zubo Trust partnering Lupane Women's Development Trust (LWDT) to seek viable markets as well as imparting them with requisite basic business skills.
"We are very grateful over the gratitude shown by LWDT in assisting us to market our products. We are now able to pay fees for our children as well as buying various households implements while also improving various aspects of our homes," said Mrs Munkuli.
Zubo Trust is involved in various women empowerment projects in Binga while LWDT is one of the country's most successful rural women empowerment and emancipation organisation, which has been marketing artifacts made by its members drawn from Lupane District on the global scene.
"We noticed that weavers in Binga were being exploited by buyers that were profiteering at their expense while they remained impoverished largely due to lack of proper costing. We also noted that very few people were prepared to buy basketry products in Binga using cash but resorted to the barter exchange mode of payment.
"Zubo Trust managed to ensure that the women formed groups and then co-ordinated the production and transportation of the artifacts to our Centre where we later marketed them to foreign buyers late last year and during the beginning of this year," said LWDT manager Mrs Hildegard Mufukare.
LWDT trained a substantial number of weavers from Binga on standardising their basketry products to enhance their attractiveness to viable markets.
The organisation managed to sell the weavers' baskets to buyers in Mozambique, Holland, Turkey, Mexico and the United States of America (USA) for $9 242 and handed over $8 354 upon deducting its facilitation fee.
Mrs Munkuli's was the highest seller with her wares fetching her $508.
"Realising substantial revenue from selling of their baskets empowers women and raises their status as decision-makers at home. Buyers also have to realise that when purchasing a fairly traded basket they receive a beautiful artisan product while helping a family in a developing country to raise their standard of living," said Mrs Mufukare.
Liechtenstein Development Service LED regional representative for southern Africa, Mrs Elizabeth Atzinger said the partnership between Binga weavers and LWDT would go a long way towards improving the livelihood of the former.
LED is one of LWDT's main donors.
"We are really looking forward to you having a really strong relationship with LWDT and I think we have started something that is going to surprise you in terms of what you will be reaping out of it. They (LWDT) will teach how to do some basic business planning, marketing and a few basic business courses because in essence most of you don't cost the time you spend. These Tonga identity baskets are actually present at Choma Museum in Zambia and they are being marketed abroad, in USA and Europe because these identity baskets are just unique," said Mrs Atzinger.
Binga baskets are woven using the over and under style of ''simple'' weaving and a 16-inch diameter basket can take around two weeks to complete. The baskets are finished using a coiled rim with a distinctive herringbone pattern.
These baskets are made from all natural and locally harvested materials such as wild grasses, small vines, and palm leaves dyed with tree bark. The largest sized bowls are still used by the Tonga people for their original purpose of winnowing grains.
Zubo Trust programmes manager Ms Michito Mudimba said LWDT would play a pivotal part in ensuring Binga weavers access to viable markets.
"For these women it's not about the money. It is all about access to markets since time immemorial. They (women) have been doing basket weaving for sometime but there are so many middle-men along the way. People come here and get baskets in exchange for t-shirts or groceries, to me it's a bit unfair . . .," said Miss [email protected]